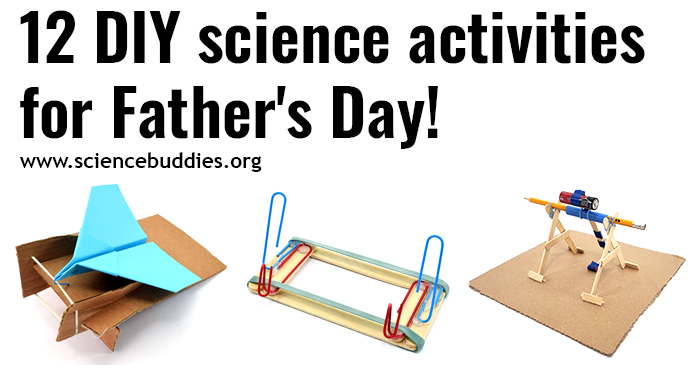 Father's Day is coming up! Creative STEM activities are a fun way for kids to make something with that perfect DIY flair to mark the day.
STEM Activities to Make or Do and Give!
Giving something to celebrate Father's Day (or Mother's Day) should be simple! It doesn't have to cost a lot to make something one-of-a-kind and special to give to Dad, a father figure, or another special person. Many of the ideas highlighted below use materials you can probably find around the house. Try one of these 10 science and engineering activities for a unique "I made this" gift for Father's Day:
Move over desktop Zen sand garden! Made from wooden popsicle sticks, this mini trebuchet is fun to build and will definitely make a novel conversation starter on a desk! For home fun, set up a target basket and take turns to see how accurate your launches are and who can score the most points.
This suggestion requires a bit more planning (and ordering), and for this one, we recommend making a "to do" kit for Dad (or your recipient). Buy the parts needed for the mini popsicle stick drone and then spend time together building and experimenting with the drone. The basic build will get you started. After that, there is a series of additional builds to explore other aspects of drone flight science. (Note: This is a fun series for tinkerers, but note that many of the activities use an Arudino and additional parts, so check the individual materials lists and plan ahead.)
Tip! Make it special! Choose colors for the craft sticks and propellers to customize the drone. You can also decorate the sticks with markers, paint, washi tape, or other craft supplies. Find added inspiration in the drones our engineer created for Star War's Day and Mario Day!
Make a special card using paper circuits! With copper tape, a coin cell battery, and an LED, kids can create cool custom cards that light up. Have extra supplies on hand because the recipient might want to experiment with paper circuits and make one, too! (Be inspired! For a look at the kind of imaginative creative scene kids can make with paper circuits, see Creative Paper Circuits with Copper Tape.)
If your family likes puzzles and brain teasers, using a Caesar cipher to encrypt your Father's Day message can be fun. Be sure and give the recipient the "key" so they will know how to shift the alphabet to decode your note!
This simple launch device is perfect for indoor target practice since it launches soft cotton balls! This activity earns bonus points for using up empty toilet paper rolls. Will it work with ping pong balls or mini wiffle balls?
If Dad likes ice cream, making homemade ice cream is an awesome plan. The Make Ice Cream in a Bag activity has directions for "shaking up" ice cream in plastic baggies. To make custom flavors, kids can experiment with adding to the ingredients or adding toppings in the bowl! See how these kids made ice cream modeled after their favorite, fancy, "gourmet" scoops!
Flying paper airplanes is fun for all ages, and this homemade paper airplane launcher is sure to be a hit! Kids can decorate the launcher they build to customize it for Dad — make two for some side-by-side flying fun!
Design and make a useful back scratcher from recycled materials. Long? Short? Multiple scratchers? It's up to you to design a custom scratcher you think will really help get the itch!
With shaving cream and food coloring, kids can make colorful marbled art cards or pictures to hang on the refrigerator door or in the office. These swirly art pieces will brighten Dad's day!
Use simple materials to build a handy cell phone stand that can be used in the car or at home for hands-free convenience. Figuring out the exact design specifications to make it "just right" for a specific person or use is half the fun and half the design challenge!
With a few electronics parts, you can design your own custom junkbot robots with bodies made from recycled materials! (With the Bristlebot kit, you can also make other kinds of simple robots, including an ArtBot, Brushbot, or Bristlebot.)
Use this free-form engineering design activity to make a set of sports-minded toys to use outside. This activity invites kids to create a fun game for the family — and the tools you will need to play. You might make a set of putters for drive-way putting practice or for a homemade mini-golf course, for example. Or you might make mallets for DIY croquet in the yard!
More Ideas!
Most of the creative, hands-on STEM activities in our Mother's Day collection easily do double duty for Father's Day, so be sure and check there for even more hands-on science and engineering ideas to celebrate with creative flair.
You Might Also Enjoy These Related Posts: