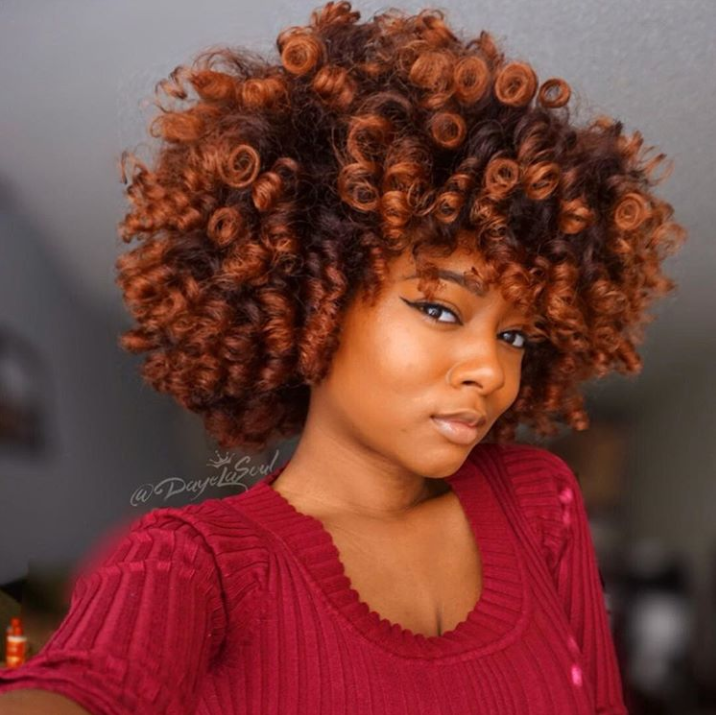 Instagram is full of veteran naturals with drool worthy hair. Their photos are inspiring and encouraging, but some end there without giving much advice. Instagram can be a source for inspiration, but these 5 beauties also offer information and push a healthy hair narrative.
This beauty is known for her large, red ombre curls. She is the queen of roller sets and her hair is so full, that you can' t tell the difference between her protective hair styles and her natural hair styles! She gives great advice on how to maintain the health of your hair and she's big on locking in that moisture. Her followers respect the fact that she's cautious about the advice that she gives. Want to see what products she loves? Follow #DaylaSoulReview to see her faves!
AMerie is a beast with wash-n-go's and perm rod sets. She gives great tips on how to stretch your wash-n-go and keep your curls poppin'. She doesn't mind a little frizz and keeps her healthy hair routine very simple. A girl who can make a perm-rod set last 7 days is someone I want to know!
After four years of growing and cutting her natural hair, Appolonia decided it was time to grow it long. She started training her hair to retain length by deep conditioning and doing two strand twist protective styles. It looks like her hair training paid off because her hair is flowing and healthy.
Portia (that's me!) is a natural hair veteran who has learned a lot on her journey. She doesn't mind sharing her experiences with others and encourages them to embrace their kinks and curls. She recommends products to her followers and has the twist-out down to a science. Portia is big on moisture and prefers her fro to be free. She follows less natural hair styling trends and focuses more on the health of her natural hair.
Although Chanel is very versatile with her natural hair styles, she doesn't skimp on healthy hair practices. She pays attention to her hair's needs and adjusts her regimen as her hair changes. She is also big on communicating that there is no overnight hair growth pill. Retaining length through healthy hair practices is the key to her success.
Ladies, who are some of your favorite healthy hair Instagrammers.