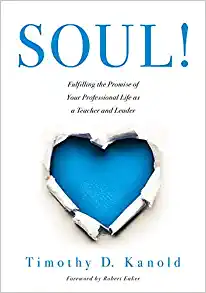 SEL is top of mind these days as research continues to show positive impacts of social and emotional learning in schools. And as Aristotle once said, "Educating the mind without educating the heart is no education at all." Lucky for you, we can help you do both this summer with six excellent books for educators on the topic of social and emotional learning. Discover how to ignite hope while you sip a summer beverage. Find out how to build relationships while you swing in your hammock. Educate your heart and mind in the sun this summer with these SEL picks! 
1. A Book for Self-Awareness
Title: SOUL!: Fulfilling the Promise of Your Professional Life as a Teacher and Leader 
Author: Timothy D. Kanold 
Focus: Examine and reflect to discover your SOUL story and fulfill your professional promise. 
2. A Book for Self-Management
Title: Real Talk About Time Management: Best Practices for Educators 
Author: Serena Parister and Edward F. Deroche 
Focus: Try tips and strategies to streamline your time management as an educator. 
3. A Book for Social Awareness
Title: Teaching with a Social, Emotional, and Cultural Lens: A Framework for Educators and Teacher Educators 
Author: Nancy Lourié Markowitz and Suzanne M. Bouffard 
Focus: Expand your thinking of SEL to include culturally responsive practices through a new framework for integrating key skills into daily practice. 
4. A Book for Relationship Skills
Title: Teach Up!: Empowering Educators through Relationships, Rigor, and Relevance
Author: Venola Mason
Focus: Discover how positive student-teacher relationships and high expectations pair up to set students up for success.
5. A Book for Responsible Decision Making 
Title: Keeping It Real and Relevant: Building Authentic Relationships in Your Diverse Classroom 
Author: Ignacio Lopez 
Focus: Gain new insights about relationships by learning how to cultivate deep, authentic connections for a positive impact. Check out Course 5058:Building Strong Relationships in the Classroom: Care to Connect which uses this text. 
6. Bonus SEL Book
Title: Start with the Heart: Igniting Hope in Schools through Social and Emotional Learning 
Author: Michelle Trujillo 
Focus: Find out how you can ignite hope! Register for Course 5203: Social and Emotional Learning Starts With You to learn more. 
Want to continue to learn and grow this summer and beyond, check out our SEL course category! 
---
Learners Edge Offers 100+ Self-Paced, Online,
Graduate Credit Continuing Education Courses for Teachers