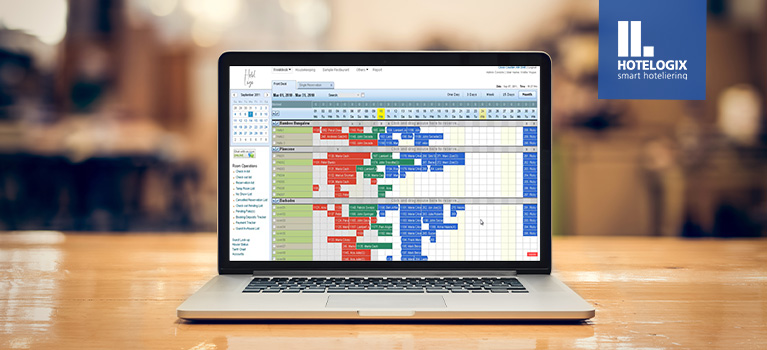 Following the first wave of COVID-19, the hospitality industry has embraced technology advancements. As a result, a hotel PMS system is becoming increasingly important. From revenue management by incorporating dynamic pricing to simplifying reservations from various channels, hotel PMS is a great tool for every hospitality business. Moreover, it contributed to offering an exceptional customer service 24*7. With smart PMS software, hoteliers can overcome everyday operational difficulties and automate monotonous tasks.
A sophisticated property management system hosted in the cloud like Hotelogix frees workers from tedious paperwork and enables them to focus on their key duties. Hotelogix's PMS has additional benefits like an easy to integrate PMS Channel Manager which eliminates duplicate reservations, prevents cancellations and promotes positive guest experience. And if you thought that is all, here are 6 more reasons to invest in Hotelogix's PMS today –
#1 Comfortable single-view dashboard
The first and probably most important feature of a property management system is the ability to simplify hotel reservations. The primary function of Hotelogix's PMS is to enable easy tracking of reservations from all your sales channels with one dashboard view. The simple booking view can be used to determine which rooms are booked and when. It is also a convenient way to access your inventory and update it manually, in case of walk-ins. A simple, single dashboard view allows your front-desk employees to use the PMS system with almost no training. It's intuitive design and color-coding fulfills all the basic requirements of a fast running hospitality business.
#2 Seamless integration with Channel Manager
It is no secret that hoteliers often list their inventory on a number of different platforms – both direct and indirect. This helps them stay profitable in the business and reach their target audience. Common sources of direct channels include the hotel's own website, word of mouth, and internet. A large number of reservations, however, are made through indirect sources, such as online tour operators and travel websites. As a result, hoteliers have to learn how to efficiently manage all these channels.
Given the importance of indirect channels, it is important for a hotel management software to have the provision to integrate with channel management tools. Hotelogix's team identified this challenge early on and supports hassle-free integration with almost all third party channel managers.
#3 Contactless check-in functionality
A relatively new element in the hospitality business is contactless contro. Since the first wave of COVID-19, contactless check-in has gained the traction it deserves. Hotelogix's contactless check-in and check-out allows guests to use their mobile phone to check-in their rooms. This newest feature lets guests skip the reception area and directly enter their room. This new feature automatically assures that your property management software syncs check-ins and changes occupancy information across all other platforms too.
#4 AI-powered training
In recent years, automation has progressed enormously and has been implemented in a variety of industries. Hotels have also started using AI technology to provide remote training to their employees in the middle of the COVID mayhem. Auto-learning systems and contactless learning have demonstrated their efficiency in the training staff.
Jumping on the AI-bandwagon is the latest feature of Hotelogix – its one-of-one self-learning Automated Coaching Engine (A.C.E). This AI-powered technology not only trains your employees without human involvement, but also lets them practice what they have learnt through a hands-on module. You can rest assured that your staff has gained all the training they need since it also includes a certification module.
#5 Remote work management
Smart modern hoteliers need to consider whether to host a PMS on site, in the cloud or via a personal cloud-based server to promote remote operation. Each has its own advantages, challenges, and issues of cybersecurity. But when compared, a cloud based PMS software is considered to be the best option.
The key advantage of having a cloud-based hotel PMS lies in the remote access it provides. Property managers can carry out hotel operations remotely without any compromise. Moreover, it also stores all the guests' information, especially for large group bookings. Establishing a mobile-friendly and remote work management makes it possible for hotels to function effortlessly across shifts. It also enhances privacy of the guest data, which is now a major concern for most people.
#6 Automated Invoice
Selecting and collecting payments is one of the most under-rated characteristics of the property management system. Payment processing for front desk workers and e-payments for online reservations by credit or debit card are necessary in every hotel PMS. Furthermore, automating transaction confirmatory emails is an added benefit of a good hotel property management software. Hotelogix makes all of this possible! You can collect payments from a variety of currencies depending on the guests you host.
In addition, the invoices or receipts for guests can also be automatically generated by the PMS software. You can simply print these at the time of check-out and settle the folios conveniently. Any extra services the guest has had throughout their stay can also be added making Hotelogix the one-stop solution for invoicing and payments.
Functions of Hotelogix's Hotel Property Management System (PMS)
#1 Enhanced profits:
Hotelogix's PMS manages and distributes room rates from a central platform throughout your online and off-line sales channels to enhance RevPAR. It provides a single log-in access to all the inventory. If you have multiple properties, you can use this centralized system to view and control all of your member properties. This unified access assists you to sell more and dynamically change pricing based on the demand. Hotelogix's PMS enables managers to customise their inventory on various channels depending on the season, local events and so on.
#2 Efficient management of income
With Hotelogix PMS you no longer need the skills of a revenue manager. Another key element of Hotelogix's PMS software is its ability to manage revenue. It simplifies the evaluation of hotel performance by hotel managers and personnel by organizing performance metrics like ADR (average daily rate), RevPAR (revenue per room available), etc.
#3 Centralized supervision
It may sometimes be difficult to monitor your complete inventory, if you have many multiple hotels or properties distributed across various locations. To deal with this problem, Hotelogix has created a robust PMS. With a single sign-on functionality using your Hotelogix's cloud hotel PMS, you can manage operations throughout your hotels remotely. This not only ensures regular, uniform management but also controls all hotel activities by applying the consistent business standards.
#4 Regular reporting
Data is the new oil and so you need to keep up with the number. Even if you manage several hotels centrally, Hotelogix's hotel PMS guarantees you will never have to face an obstacle when you access the MIS. You will have access to multiple reports on important metrics, such as reservations, accounting, night audits, guest folios and housekeeping schedule. The best part is that all these key operational reports are accessible in one location. You can use filters to eliminate the fluff and make informed decisions to promote your business at the right time. Hotelogix also offers scheduling of reports on daily, weekly, monthly and customizable intervals.
#4 Personalization
Increasingly, the hotel industry is driven by data to offer guests a personalised experience. This requires client data management as part of your PMS system. Hotelogix's PMS enables your staff to get instant access to contact information, check-in dates, and other guest information within minutes.
Hotelogix's smart PMS software can also enable consumer loyalty programmes. This will help you drive your marketing campaigns successfully by providing you with the data necessary for personalization. With a little help from Hotelogix's PMS, you can create unique campaigns including exclusive deals and discounts and provide hyper-local marketing efforts to target your guests from a given location.
Summary –
Adopting an intelligent cloud hotel management system such as Hotelogix can speed things up for not just your hotel operations but also promotion. Hotel PMS softwares helps you to adopt an effective centralised approach to manage the flow of information across one or all your properties. It also helps in monitoring, analyzing and even optimising your efforts to drive a profitable business. Here are some strong reasons Hotelogix should be considered for leading multi-property operations —
Single sign-on to control all your hotel activities centrally
Dynamic pricing strategy for revenue management
Real-time room inventory updates
Offline and online reservation management
As vaccination drives pick up pace, we can be 100% sure that tourism will soon be booming again. It is best to stay on top of the game and gear up to welcome your guests with fresh, new, and excited experiences.
​
​

​