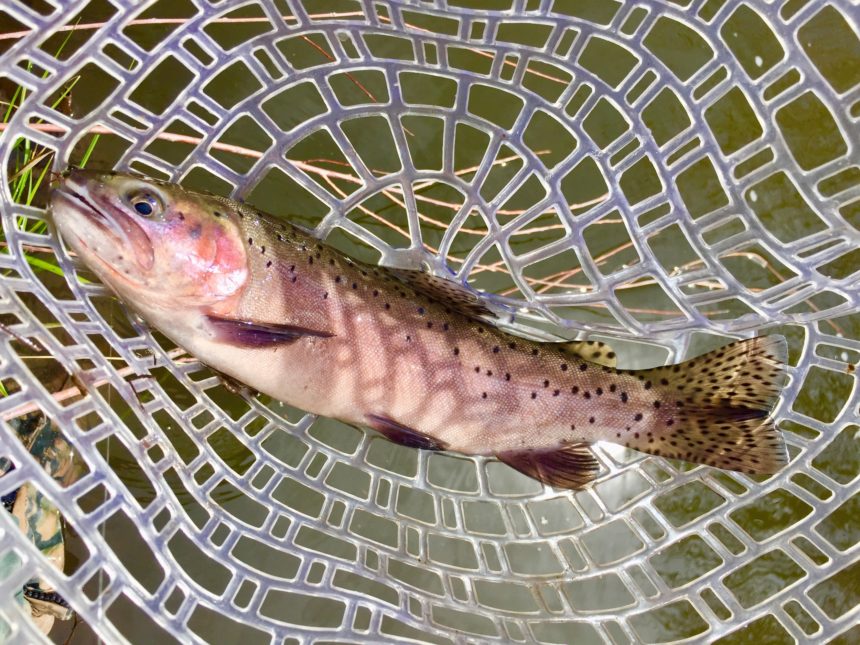 Willow-Whitehorse Cutthroat
In my obsessive pursuit of weird fish in weird places, I can count on one thing: Someone is going to ask "Are there actually fish in there?" That was the case as I walked with a fly rod through the eastern Oregon desert, a land known for alkali flats and expansive sagebrush, not trout streams.
But I was seeking the Willow-Whitehorse trout, considered by trout expert Robert Behnke to be a separate subspecies and by others to be a stream-form of the Lahontan cutthroat. Either way, this trout is found in just a couple isolated desert waters. These are tiny streams, but the fish I caught were a foot or more with a deep pink color.
Trout, of course, have been stocked widely around the globe, at the expense of other fish. Including other trout. Beautiful native trout species and subspecies have disappeared in the onslaught of hatchery rainbow trout, brook trout and brown trout introductions.
The Great Basin of Idaho, Nevada and Oregon still contain some stunning native trout varieties. These trout have adapted to life in the desert and are able to withstand higher water temperatures. This has made them less susceptible to non-native introductions. Even here, non-native trout can dominate, but in remote streams, you can still find some gems. Like the Willow-Whitehorse cutthroat.
There are so many great native fish across North America, and too few native fish advocates. That is fortunately changing. Groups like the Native Fish Coalition, North American Native Fishes Association and Roughfish.com argue that all native fish have inherent value.
Photographer Joel Sartore has highlighted many freshwater species in his Photo Ark that documents the world's biodiversity. And a cadre of fish biologists and fish nerds are sharing the coolness of all things finned on Twitter and Instagram. Whether with a snorkel, a fishing rod or a naturalist's eye, take a minute to learn more about your local stream. Then join the important work of protecting and preserving our freshwater biodiversity.