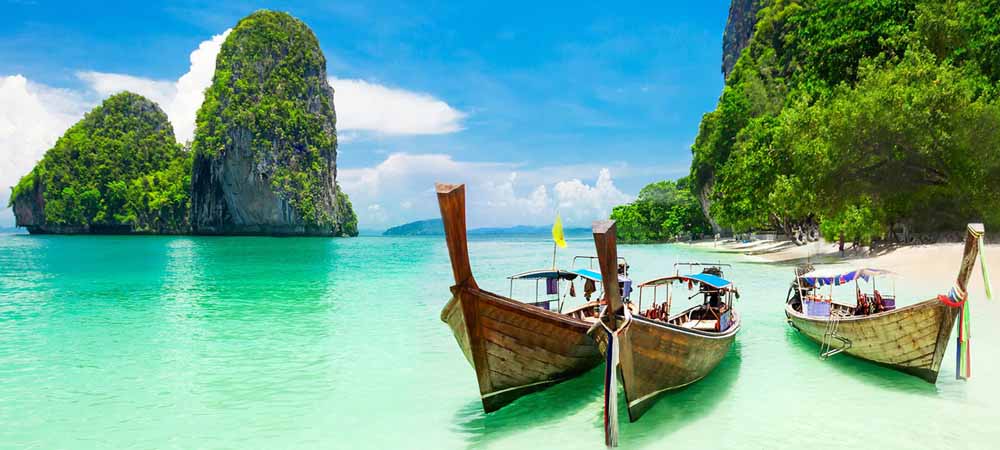 Dear Traveler, 
First and foremost, Happy New Year! I don't think there was another time in recent decades this phrase meant so much to so many. Boy, what a crazy, ugly, depressing 2020 was. Just so very glad it's over, and that we can all look forward to the brighter days ahead.
Twenty-twenty was supposed to be an exciting year for us here at Explorient. We were awarded preferred tour operator for Lions Clubs International Convention (LCICon) to be held in Singapore in June 2020, many of you had already booked your long-waited trip with us, we brought on new staff to help with the anticipated workload. 2020 was going to be a busy year. Instead, we spent February and March canceling bookings, refunding customers, then hunkering down for the rest of 2020 waiting for the storm to pass. It was devastating to say the least. But as we turn the page to 2021, and with the COVID vaccine on the way, I am optimistic the darkest hours are behind us.
Like you and me, everyone is longing for those "normal" days. We're all dying to see our family and friends, dine at our favorite restaurants, get back on the road for those much needed weekend getaways, and frankly, to make up for lost time. Personally, besides getting back to work, probably the biggest thing I'm looking forward to is taking my family on a vacation – near, far, domestic, international. Doesn't matter. Having been homebound for nearly a year, I can now truly appreciate the power of a holiday break – to have something to get excited about, to rejuvenate, to have fun, to feel normal again. What a difference traveling makes.
So What's Next?
For those who are like me anxious to get back on the road, I'd like to share my outlook on traveling abroad in 2021 and beyond. As you know, the COVID vaccine is key to countries re-opening and travelers again feeling comfortable getting on a plane. Despite the slow rollout of the vaccine in the U.S., my belief is the general population in North America will have access to the vaccine by the summer of 2021. This will be by no means easy, but achievable in my opinion. Once that happens, countries around the world should begin to re-open sometime in Q3. When they do, I think that's the time to get in, and get in early.
Much of our planet has taken a much-needed breather from the effects of over-tourism over the years. I remember visiting Phuket for the first time in 1998. Although Phuket was already a popular vacation destination, it was a time before the crazy mass tourism had taken hold of this little island gem. We found a mom-and-pop shack on Surin Beach where we picked our fish, crab and lobster out of the red plastic coolers for the night's feast on a wooden picnic table overlooking the Andaman Sea. We strolled up and down Patong beach when the night market was quaint and vendors playful.  We saw Phi Phi Islands that actually resembled those on postcards or the cover of National Geographic. Fast forward 20 years, Phuket was no longer how I remembered it. I took my wife and two boys to my vision of this idyllic beach paradise back in 2017 and what a disappointment! Surin Beach converted to a public park, the iconic Phi Phi islands filled with roaring motorcraft spewing exhaust fumes, crowds everywhere, less-than-friendly local vendors resulted from years of abuse from ugly tourists, and gone were any traces of local charm. Thankfully, the boys had a good time because they didn't know better. But for me it was a total letdown.
Unfortunately, what happened to Phuket isn't all that out of the ordinary. It's everywhere. Italy, Machu Picchu, Bali, the Grand Canyon, the list goes on and on. So, if you're thinking about traveling abroad, my suggestion is to go sooner than later. Take advantage of the airline and hotel deals, and that small window when beaches are free of crowds and corals resuscitated, when locals once again welcome and embrace the first wave of foreigners. It's as good as it gets. But don't wait too long, the tsunami of the masses will again hit the shores, hopefully later than sooner, but for sure they will come.
Where To Go?
I think the best places to consider are those with a limited time window before the masses return. Places like Thailand, Bali, Italy, or Peru. After zeroing in on a few of these time-sensitive destinations, deciding where to go will be driven by which countries are open and when, as well as what deals are out there. Airlines and hotels will mostly likely offer special promotions along with flexible cancellations in effort to stimulate demand for the short term. So when the stars are aligned – jump on it right away.
Of the destinations we operate, our top picks are Thailand, Bali and Peru. Yes, Peru. Starting in 2021, Explorient will be offering tours to parts of South America. More about this later. Let's start with Thailand. The ornate temples, warm, friendly people, stunning beaches, amazing foods, and just pure fun make Thailand my favorite place on Earth. In fact, I love Thailand so much I hope to retire there some day. But Thailand also desperately needed a break from tourism. To put it in context, the number of foreign visitors went from roughly 14 million in 2009 to almost 40 million in 2019 – that's nearly triple in ten years. With my most recent trip there in 2018, the effects of overtourism could not have been more devastating. Fast forward to today, international arrivals to Thailand in 2020 since the pandemic was a miniscule 4,300. In short, we will probably never see Thailand like this again in our lifetime. So get there now!
The other destination I am really excited about is Peru. Machu Picchu, the site of the 15th Century Incan Citadel sitting high on a mountain ridge overlooking the breathtaking Andes, has become one of the hottest tourist spots in the world. Machu Picchu sits atop just about every avid traveler's bucketlist. Unfortunately, like most beautiful places in the world, Machu Picchu was no stranger to overtourism. Though the visitor numbers aren't nearly as staggering as Thailand's (~4.4 million vs. ~40 million in 2019) and Machu Picchu does impose strict visiting schedules and protocols, the experience of soaking up these sacred grounds differs greatly with and without crowds. But beyond Machu Picchu, there is so much more to Peru than just this legendary site.  Its plethora of breathtaking landscapes, stunning archaeological marvels, alluring culture and world class cuisine make for a multi-faceted holiday for just about anyone – from the history buff to the adrenaline junkie to the nature lover. If Peru isn't already on your list, it's definitely worthy of a look. For ideas and sample itineraries, check out our fantastic Peru and South America tours!
My third post-pandemic pick is Bali. This tiny Indonesian island was reintroduced to the world by the hit movie "Eat Pray Love" where Bali was depicted as a serene tropical paradise for spirituality and relaxation. Well, since this tantalizing Julia Roberts flick hit the shelves in 2010, everyone began flocking to quiet little Bali and the number of visitors skyrocketed by 135% in ten short years. The fact is, Bali is still very beautiful, romantic and exotic – just not with so many people. The pandemic has given this idyllic paradise a breath of fresh air, the locals free from the nuances of heavy tourist traffic, and spirituality back to the sacred temples and mountains that were once so revered. Besides all the things that make Bali such a popular vacation destination, another good reason for choosing Bali is logistics. Because of its topography, Bali offers a two-in-one holiday experience – the beach scene where you can choose between a secluded or vibrant setting, and the mountains where you can relax, do outdoorsy things, and soak up the heartwarming Balinese culture – all within a short drive in the comfort and convenience of your private vehicle. So for those who just want to get on a plane once and do it all without all the hassles, Bali might just be that perfect spot.
As for other great all-around vacation destinations irrespective of the pandemic, Japan and Vietnam are always among our travelers' favorites. Japan with its eclectic culture, beautiful classical gardens and air of mystery offer the visitor something totally different than just about anywhere on the planet. And Vietnam, a land rich in heritage, stunning natural beauty with over two thousand miles of beautiful coastline, warm friendly faces simply overloads the senses. Both countries are perfect for those seeking something different from our daily lives; both are great for honeymooners, families and everyone in between.
Introducing our Latin America Tours!
Having had some unwanted downtime over the past year, we took this window of opportunity to expand our service to South America, something we've been wanting to do for a long time. So, over the summer, we went on an exhaustive search for a reliable partner for South America, much like ones we have in Asia. Luckily, through referrals from one of our Asia partners of 20 years, we were able to find a really good ground operator who we can entrust to take care of our esteemed travelers, one who shares the same principles as ours, and one who has the creativity to deliver itineraries that are both intriguing and rewarding.
With some hard work and a ton of due diligence, Explorient is proud to open our doors to Latin America beginning in 2021. Our first phase will include a suite of hand-crafted tours to Peru, Chile, Colombia, and Ecuador. Like our Asia trips, our Latin America vacations will feature private tours, 4 and 5-star hotels that are as unique as the destinations themselves, immersive cultural experiences and stimulating activities. Each tour is infused with a perfect balance of luxury, adventure and relaxation so you get the most of your trip while still feeling like you're on vacation. Without being too verbose in selling these destination (for I will not do them justice in an e-mail), let me leave you with the following food for thought.
Chile. Perfect for those who really, really love nature. Chile's broad spectrum of topography offers a glimpse of mother-nature at her rawest form, and some of the most unique and breathtaking landscapes on the planet. Must dos include a visit to the driest place on Earth in Atacama Desert, Patagonia's awesome glaciers and rugged snow mountains, and Chile's Lakes District dotted with alpine lakes and snowcapped volcanoes. The foodie and wine connoisseur will enjoy sampling fine wine in Chile's wine country and soaking up Santiago's chic metropolitan vibes.
Peru. Few travelers take a trip to Peru without stepping foot on the great Machu Picchu. But beyond that, Peru has just about every ingredient for a memorable holiday experience. It's got plenty of history and culture cultivated through its indigenous roots infused with Spanish Colonial-era influences. Visit a primitive Incan village by day and stroll the charming former Incan capital in Cuzco by night. Food lovers will find an endless array of delicious fares – from mouthwatering street foods to the finest restaurants in the world. Nature lovers will be delighted by Peru's range of landscapes – from rainforests deep in the Amazon jungle to the spectacular Andes high above the Earth in Sacred Valley to the tropical Easter Islands in the middle of the Pacific. Wildlife enthusiasts will be thrilled touching down one of the world's top ten megadiverse countries in the world that boasts over 1800 species of birds, 500 species of mammals and 300 species of reptiles.
Colombia. In 2018, Colombia was ranked #2 on New York Times' 52 Places to Go list. But how? Well, for one, Colombia is off the typical tourist map and virtually undiscovered. But more importantly, Colombia offers a range of authentic and "earthy" travel experiences for those who relish culture and nature. And because Colombia hasn't caught on to the mass tourism scene, it remains relatively inexpensive and crowd-free. For decades, Colombia carried the stigma of being a dangerous country, but this is no longer the case. Since the early 2000s, the country has undergone an impressive and complete transformation from the "Narcos" days to a vibrant, progressive artist colony. Experiencing Colombia's modern-day culture and learning about its people's past, present and future is enough of a reason to visit Colombia alone. But Colombia also boasts plenty of interesting sights, sounds and tastes that make it a unique travel destination. Visit a coffee plantation or chocolate factory, enjoy a night out rum tasting or learning Salsa dancing, set sail to the Rosario Islands on a private catamaran, horseback ride on the virgin beaches of Tayrona, check out one of many ancient Incan ruins, or take a deep dive into the Amazon jungle. Colombia might just surprise you.
Ecuador. Last but not least, there is Ecuador. Like Machu Picchu to Peru, Ecuador is mostly known for its famed Galapagos Islands. But unbeknownst to most, Ecuador's mainland is literally a hidden gem waiting to be undiscovered. Occupying just a tiny corner of the South American continent, little but mighty Ecuador has it all: the tropical Amazon rainforest, the miles-high snowy Andes Mountains, pristine beaches of the Pacific Coast, quaint Spanish-colonial era cities and culturally-inspiring indigenous villages. It is also the most biodiverse country per square foot in South America. This translates to wildlife sightings just about anywhere you go in Ecuador – on land, in the air and underwater. And best of all, because Ecuador is so compact, most places are within relatively short drives, so you'll spend more time seeing and doing. And did we mention no crowds?
Our team will continue to expand our South America tour portfolio throughout 2021. And just like our Asia trips, all of our itineraries are fully customizable to suit your interests and requirements. Just let us know what you have in mind and we'll make it happen. For more information about our exciting Latin America trips, please visit our website at www.explorient.com/latin-america-tours/
Parting Words
In closing, while I know 2020 was a difficult year for many of us, I do believe the end of the tunnel is near. We'll once again return to our normal lives, see our loved ones, and travel the world in the not-so-distant-future. Let's continue to cherish our past travels and start dreaming about that next long-awaited adventure.  
Thanks for reading. We look forward to the pleasure to reconnect you with the world once again. Until then, stay safe, healthy and have a great 2021!
Warmly,
Kervin Yu
General Manager, Explorient