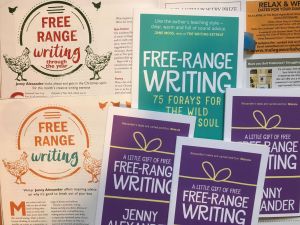 Last year, I was writing about recycling as part of my new children's non-fiction work on helping the planet. As we go into this new year, I'm thinking about recycling again, but this time about recycling writing.
There are lots of ways I do this, and if you haven't been doing it too, you might be missing a trick.
First, there's recycling rejected manuscripts. Sometimes a book may be rejected simply because the timing isn't right. One publisher my agent sent a manuscript to turned it down because she had just accepted one on a similar theme. I bumped into her at a conference a few weeks later, and she advised me to send it again in a year or so. I told her I would redraft it and do just that, but she said, 'No, don't change it. Send it just as it is.'
Another story I wrote for younger children was about a rabbit. My agent liked it and sent it out, saying that with any luck we might find a publisher that had a 'rabbit-shaped gap.' Rejections don't always indicate that your work is just not good enough.
Then, there's writing for different readerships. A lot of non-fiction topics can be adapted for children as well as adult readers , and within that for different ages of children. Stories can sometimes be adapted for different kinds of reader by switching the point-of-view character and seeing the situation through their eyes.
You can also write about the same non-fiction topics for different levels of expertise, from beginners to readers with a similar level of knowledge and experience to your own.
Finally, there's recycling ideas across different genres. When I'm in the zone with a theme, I usually develop fiction and non-fiction around it at the same time. I always submit magazine articles on the themes of my books as well; they're easy to write, once you've got your ideas clear in your mind through writing the book, and they also help to promote it.
Because this has always been my natural approach to writing, I like to mix things up in my workshops too. That's where the idea for Free-Range Writing: 75 Forays for the Wild Writer's Soul came from.
To take that book as an example of recycling, I've gone on to write articles about free-range writing for several magazines and now I've got a regular monthly column in Writing Magazine, called Free-Range Writing Through the Year.
At the time of publication, I issued an ebook taster, with the idea that people might buy and try, and then go on to get the book itself, but that didn't sell. So I withdrew it from sale, adapted the introduction and end pages, and recycled it into a lovely little stocking filler, A Little Gift of Free-Range Writing.
I've also written a talk about being a free-range writer and a free-range writing workshop, that I've been touring round the UK.
A few days ago, someone who came to one of these workshops emailed me to say she had developed a magazine article from the ideas she explored in the group, and asking if she should submit it to Good Housekeeping. I straight away thought of all the other magazines she could also pitch it to, using the same idea but adapting it to different readerships. And then perhaps, a book… And more than one book! It could be memoir, how-to, local interest, short story collection, novel…
If you write about things that matter to you, then once you're in the zone, you'll find there are all kinds of possibilities for the themes and stories you are developing. Writing for different readerships will help you build your profile too. For example, one of the things I'm known for is writing about bullying, because I've got fiction, non-fiction and articles about bullying out there aimed at children of all ages, teachers and parents.
So whenever you find a subject that engages you enough to write one piece about it, think about how you might develop and recycle your ideas. It makes sense, both economically and creatively.
Are you already recycling writing? If so, I'd love to hear about it in the comments!