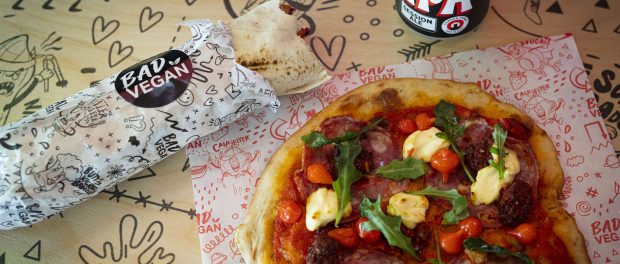 LabTech, owner of Camden Market, has announced the opening of plant-based restaurant Bad Vegan for its first-ever site, at Buck Street Market, the UK's first eco-conscious consumer market. The revolutionary 'fast-food' restaurant has taken two of Buck Street Market's shipping containers, covering 415 sq ft on its top floor.
The Bad Vegan ethos is 'no judgements' – the menu has been designed to appeal to vegans and meat-eaters alike, centred on plant-based dishes as the hero element. The brand aims to encourage non-vegans to consume more plant-based food as part of their diet, making the cuisine more accessible by including a limited amount of non-vegan toppings or sides for a sense of familiarity, while retaining a fundamentally vegan offer.
The menu, designed by experienced brand creator Mark Emms and the Tom Kerridge team, features fresh and high-quality ingredients, focusing on innovative and creative use of seasonal vegetables. Items include 'The Taternator', a crunchy potato finger wrapped in soft tortilla, and 'The Cauliflyer', crunchy cauliflower florets coated in a sweet, sticky chilli sauce. There are also vegan milkshakes served with a coconut foam, and Bad Vegan has partnered with Camden Town Brewery for exclusive collaboration beers.
Commenting on the opening, Maggie Milosavljevic, LabTech's Commercial Director, said: "Buck Street Market is very much at the forefront of plant-based progression in the UK, both in dining and retail. The Bad Vegan concept – aiming to normalise vegan food for meat-eaters while delivering what is fundamentally a great vegan product – is an ethos that will work well here, with our forward-thinking, open-minded visitors. We are excited to see them open and operating, and part of our Buck Street Market ecosystem."
Mark Emms, Co-Founder of Bad Vegan, said: "For so long there have been such limited vegan options at restaurants, and dishes almost always feels like an after-thought. Bad Vegan flips the emphasis around, creating a space where plant-based food leads the menu, but still somewhere that both vegans and non-vegans would be excited to visit. Our menu at Buck Street Market showcases the potential of vegan food, and we hope it will inspire non-vegans to become more aware of their meal choices and feel more comfortable adopting a more plant-based diet."
Tom Kerridge, Co-Founder of Bad Vegan, added: "When designing the menu, we knew we wanted to create something that brought out the delicious flavours of seasonable vegetables, whilst ensuring that it would be filling and affordable for a large audience. The 'Taternator' is a totally new dish and one we're excited for people to try, and we are delighted to be open and serving it at Buck Street Market."
 This announcement follows the news that Clean Kitchen, the vegan concept created by YouTuber Michael Pearce and backed by Made In Chelsea TV personality Verity Bowditch, has also signed for its first-ever restaurant space at Buck Street Market, set to launch in July.
LabTech acted on behalf of Buck Street Market, Bad Vegan dealt direct.