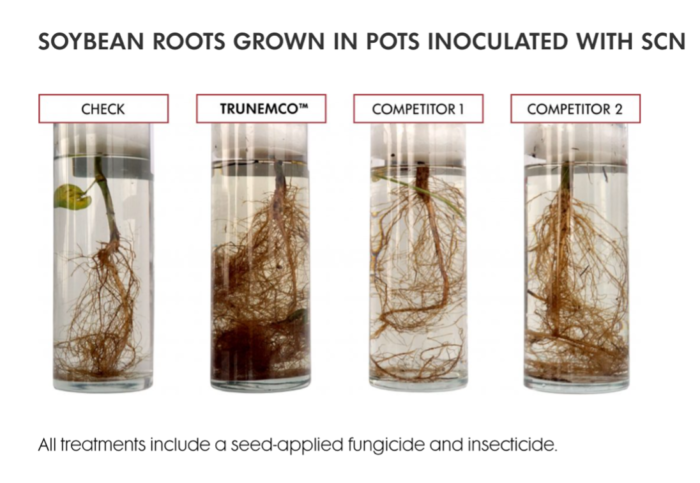 For five years, Nufarm has brought its innovative seed treatment portfolio to the LIFT program. With more than 35 years of experience in the seed treatment market, Nufarm's deep understanding of nematode seed treatment and crop protection provides retailers with the pre-plant solutions and understanding growers need to control nematodes that can wreak havoc on root systems if not attended to early. With products like Trunemco™ nematode seed treatment, Nufarm is well equipped to provide solutions for some of today's most difficult and challenging treatment applications.
We sat down with Nufarm to learn more about the importance of seed treatments and nematode protection.
Q1: Why should retailers recommend Trunemco to their customers?
Nematode protection is a must. They're one of the most prolific animals on the earth and are known to attack crops in all growing conditions. A product like Trunemco will bring higher yields in soybean, cotton and corn through nematode protection by increasing the percent of the plants natural defense genes; the average expression of beneficial genes in a nematode infected plant increases 98 percent with Trunemco versus 64 percent without it
This microbial protection supports root health, seedling vigor and uniform plant growth in crucial early stages, providing higher yield profiles and application convenience — the kind that can make a true bottom-line difference.
Q2: Not only are nematodes yield robbing, but they can be difficult to detect to begin with. In a recent blog post "Managing Resistant Soybean Cyst Nematode" you walk through how to identify nematode populations. Can you tell us more about that?
Sure. For soybean cyst nematode (SCN) the tell-tale signs can be few, as SCN may not show obvious visible negative effects as the pest draws down yield. That's why, in partnership with the SCN Coalition, Nufarm recommends farmers and retailers start with field scouting and soil testing to accurately measure nematode populations in the soil.
One of the best times to sample is in the spring before a soybean crop. To get an accurate sample, 15-20 or more 1-inch diameter core samples should be taken at 8 inches deep for every 20 acres. Samples should be taken in high-risk areas of the field and especially in areas where SCN presence is already known. Cores should be mixed well and put into soil sample bags and sent to an SCN testing lab. Once results are received and populations have been determined, farmers should work with their retailer to outline a plan for management.
Q3: Applying Trunemco will go a long way in battling nematodes, but are there other factors growers should know about that could contribute to growing nematode populations?
Unfortunately some methods implemented on-farm to achieve high yields are a double-edged sword when it comes to protection against common nematode pests such as root knot nematode and soybean cyst nematode. For example, nematodes prefer the cool, moist soils of early spring. The increased nematode populations during this time pose significant problems for growers looking to plant early. In the blog post "Achieving High Yields Through Added Nematode Protection" we weigh through the pros and cons of practices such as tillage and resistant plant varieties when it comes to nematode protection. An integrated approach with a nematode seed treatment like Trunemco can lead to the best results.
Q4: In the LIFT Academy Course "Managing Soil-borne Stressors in Soybeans" you highlight a lot of great data that underscores the importance of nematode protection now more than ever. Why is nematode technology needed for corn, soybean and cotton growers?
There are three primary reasons why new nematode technology is needed: issue escalation, solution resistance and limited product options.
First and foremost, nematodes aren't going anywhere. They cause an estimated $10 billion in losses in U.S. fields every year. When we say issue escalation this is what we mean; nematodes will continue to spread in key U.S. growing regions.
Secondly, resistant seed varieties are being overcome by nematodes. In past years, SCN pest pressure has been handled by soybean varieties that have either contained the PI88788 trait and or the Peking trait to provide protection. However, these traits are demonstrating lower efficacy today. The SCN Coalition estimates that as much as one out of every two nematodes on some farms may be resistant.
And finally, there just aren't a lot of nematode protection options out there for growers to choose from, which is where Trunemco comes in. Trunemco's patented technology primes plant physiology, activating its defense system for superior broad-spectrum protection against nematode invasion.
For more information about Trunemco visit the Nufarm website or talk to your local representative.