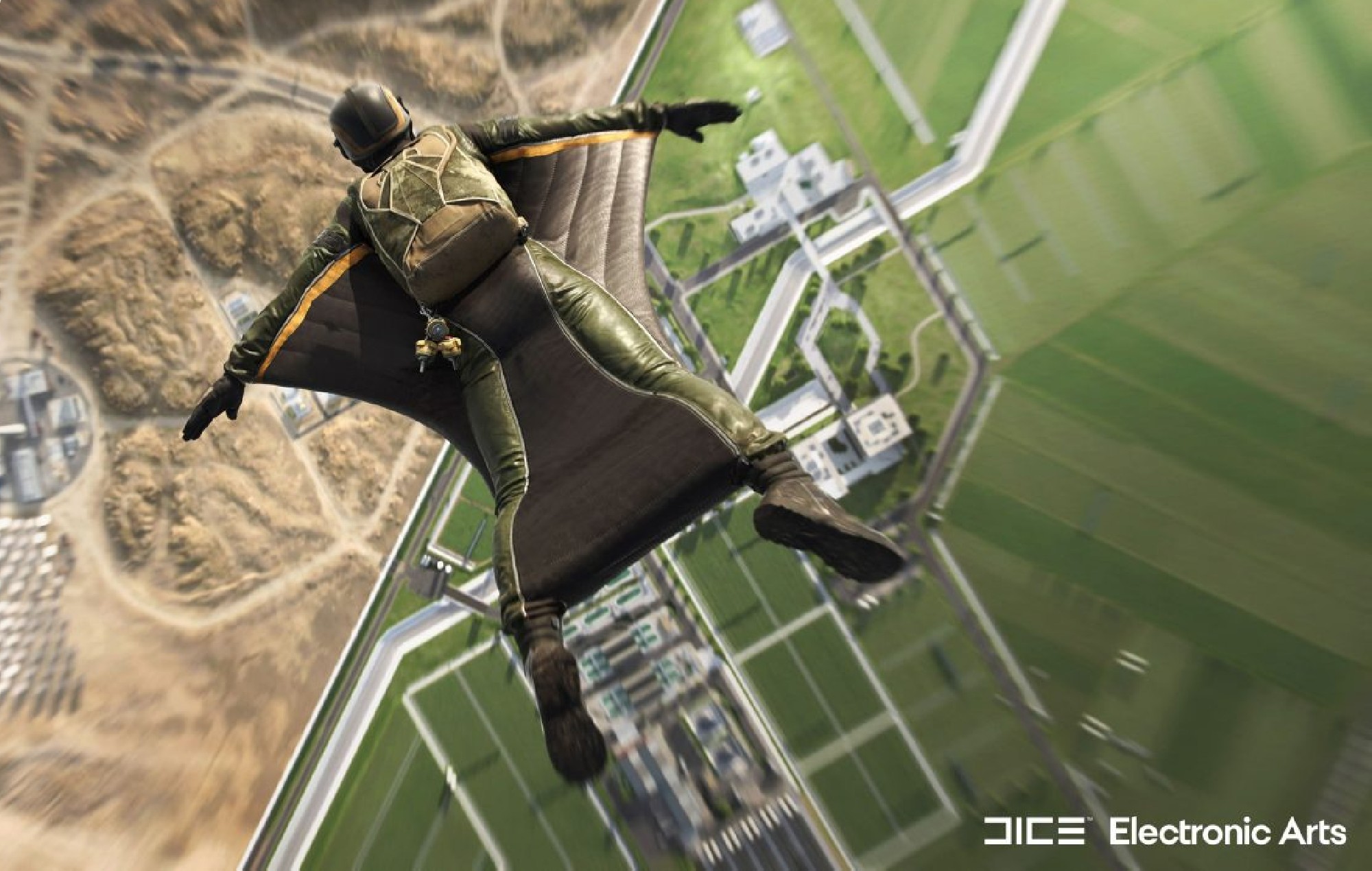 EA officially announced Battlefield 2042 earlier this month following months of speculation.
Officially announced prior to E3, Battlefield 2042 will release in October 2021. Fans will be able to get involved in a beta test during July.
EA DICE, the team behind Battlefield 2042 has described the game as the "most ambitious" in the franchise yet. The game will feature 128-player maps, AI bots, new weapons and gadgets and a whole host of futuristic vehicles to play with.
One of the biggest revelations regarding Battlefield 2042 is the addition of a grapple hook which allows players to traverse levels with ease. The new tool will add a major element of verticality to gun fights.
Battlefield 2042's E3 trailer showed off seamless transitions between gunfights in the street, through buildings and across rooftops. All of this happens while a sandstorm dominates the combat area, throwing planes, helicopters and just about everything else, into skyscrapers.
The game is set in the 'near-future' and will take players to unique and carried regions including an Antarctic tundra, a sandstorm-covered metropolis, and a futuristic neon-lit city. For the first time in the series
EA DICE has confirmed the game will not feature a single-player mode. However, there's plenty for fans to look forward to when Battlefield 2042 releases later this year.
Here's everything we know about Battlefield 2042
Battlefield 2042 release date, platforms and price
It's not here just yet – Battlefield 2042 is being released on October 22, 2021.
Available on PC, PS4, PS5, Xbox One, Xbox Series X/S, the new Battlefield game is available to pre-order now, with three different versions available.
The standard PS4, Xbox One and PC versions cost £59.99 while the PS5 and Xbox Series X/S versions cost £69.99. There's also a Battlefield 2042 Gold Edition available for £89.99 on PC and £99.99 on console. The Ultimate Edition costs £109.99 on PC and £119.99 on consoles.
If you pre-order any of these editions, you'll get access to the open beta.
Battlefield 2042 reveal trailer
During the highly-anticipated Battlefield 2042 reveal event, the first official trailer was revealed. The 'in-engine' footage, shows off the kind of shenanigans that can be expected in multiplayer including jumping out of a plane to blow up another plane, in an extended cinematic.
Battlefield 2042 gameplay reveal
Thanks to Microsoft we got our first look at Battlefield 2042's gameplay thanks to an explosive trailer which showed off impressive weather effects, vehicular combat, grappling hooks, and in-game weapon customisation.
According to EA Dice, Battlefield 2042 will be more of a sandbox-style game than previous instalments in the Battlefield franchise.
Maps will feature dynamic weather – including the all-powerful tornado and sandstorms that have been shown in trailers. This inclement weather is so powerful it tosses vehicles around like they're toys.
The gameplay trailer also gave us our first look at the wingsuit, showing a rolling battle transition from street, to building interior, to rooftop, and back to street level thanks to the wingsuit – all in one seamless gameplay sequence.
Finally, we saw on the fly weapon customisation during a quieter moment, where an operator was able to take a few moments to swap through weapon attachments via an in-game holographic menu, tweaking their loadout to suit different engagement styles.
With more new gadgets, weapons and vehicles expected, this looks to be the biggest and boldest Battlefield yet.
Battlefield 2042 weather will affect player combat
The recent Battlefield 2042 trailer shows off some apocalyptic weather including a tornado, a sandstorm and some pretty intense arctic conditions.
Now, it looks as though those harsh conditions will directly affect the game's combat.
Developers EA DICE recently showed off the game's weather systems during the Xbox Games Showcase Extended. And you can expect those harsh conditions to directly impact how you play.
A sandstorm will sweep across the new Hourglass map – reducing player visibility and forcing gamers to adapt how they use their weapons, tanks and helicopters. It will even directly impact the map itself, causing lighting changes and debris that could pose a problem.
The tornado is an interesting concept, too – wreaking havoc as it twists across the map. Expect tanks and debris to get caught in its path. And don't even think about stepping outside. Hunkering down and staying indoors is the best way to avoid getting caught up in it. Even if there are enemies at your door.
Battlefield 2042 beta and how to play it
If you're looking to get your hands on Battlefield 2042 before it launches, you're in luck – the upcoming game will be hosting a series of beta tests before launch.
The first of these is coming in July – EA DICE is hosting a technical playtest for US and EU veterans of the Battlefield series. The playtest is via invite-only and those who join in will be subject to a strict NDA.
But if you've pre-ordered Battlefield 2042 you'll also get access to the open beta.
At the moment, no details have been released about this, so you may have to wait until it's closer to the official launch.
Battlefield 2042 matches for up to 128 players
That's right – Battlefield 2042 will double the size of its matches, up from 64 players in Battlefield V. It's the first time the franchise has tried multiplayer maps on such a scale and puts Battlefield 2042 up there as one of the biggest multiplayer experiences you can get.
This means a bit of a change to the maps, too.
128 player maps will be divided into sectors – each one containing clusters of control points. Players will have to capture all control points to control the sector.
Battlefield 2042 uses bots to keep servers full
That's right – you may not always be up against other players. Battlefield 2042 uses bots to make sure those 128 player maps are bustling with troops.
A post on EA's website confirms that Battlefield 2042 will fill servers with AI soldier – both enemies and allies – to make sure matches reach their full potential.
"As a multiplayer-only experience, it's important for us to let you play Battlefield 2042 when and how you want," they explained.
As a result, you'll find AI soldiers in the following modes:
Multiplayer: Used for server-filling capabilities, ensuring matches remain full.
Co-op: Play together with friends, against AI soldiers.
Solo: Practice your kills by playing alone against AI soldiers.
Does this mean you can solo up on a server with 127 bots? It certainly looks that way.
Battlefield 2042 specialists will replace classes
Introducing Specialists – the new sort-of-class system in Battlefield 2042. Essentially, the different specialists allow the use of different abilities and gadgets. But it's more than that – they have names, backstories and can use any weapon you've unlocked.
The classic 'assault' and 'recon' classes are still there – sort of – but these are now categories of Specialists.
But gone are the days of Medics only having access to SMGs – the new flexible Specialists can mix and match the weapons you've unlocked with their unique abilities. At launch, that includes 10 Specialists – that's 10 unique combinations of gadgets and abilities you can use alongside your favourite guns.
You can also swap out attachments on the fly, so you can tweak your loadout for specific situations as you go.
Here's what we know about the four Specialists revealed so far:
Wikus "Casper" Van Daele:
Class: Recon.
Birthplace: South Africa.
Specialty: OV-P Recon Drone.
Trait: Movement Sensor.
Webster Mackay:
Class: Assault.
Birthplace: Canada.
Specialty: Grappling Hook.
Trait: Nimble.
Maria Falck:
Class: Support.
Birthplace: Germany.
Specialty: S21 Syrette Pistol.
Trait: Combat Surgeon.
Pyotr 'Boris' Guskovsky:
Class: Engineer.
Birthplace: Russia.
Specialty: SG-36 Sentry Gun.
Trait: Sentry Operator.
Battlefield 2042 modes – no single-player campaign, no battle royale
That's right – there are no plans for a Battlefield 2042 battle royale. At least, not yet.
There's no single-player either, so players will have to make do with the sprawling 128 player multiplayer modes.
EA DICE is calling its traditional Battlefield modes 'All Out Warfare' – including Conquest (your usual point capture mode) and Breakthrough.
But aside from this, there are also two new mystery modes.
One of these is called 'Hazard' and will apparently be a high-risk, squad-focussed mode. But that's all EA DICE would say about it for now.
A third mode, which prominent Battlfield leaker Tom Henderson detailed recently, will be a time-hopping sandbox. The mode titled 'Battlefield Hub' will allow players to revisit remastered version of past Battlefield maps, in Battlefield 2042's engine.
Henderson described the mode as "the ultimate sandbox experience and is going to be the 'fun' game mode".
We'll find out more next month.
Battlefield 2042 maps
The near-future setting of Battlefield 2042 is promising, and gives us a number of cool new maps to fight in. And while we haven't seen any official gameplay just yet, the new trailer has already hinted at what's to come.
There are some big set pieces such as the rocket we saw in the first trailer, and with a range of settings from snow to cityscapes, there's something to scratch every itch.
Here are the 'All Out Warfare' maps we know about so far:
Kaleidoscope: Sogdo, South Korea. Here, teams will clash over a 'quantum powered disinformation hub' after an attack threatens global comms networks.
Manifest: Brani Island, Singapore. Vital for American supply lines after the global warming collapse, this strategic choke point will prove pivotal in the battle.
Orbital: Kourou, French Guiana. Here, you're fighting over the rocket launch site as seen in the official trailer. A space race like no other.
Discarded: Alang, India. The goal here is to secure rogue nuclear assets amid tidal extremes – presumably a consequence of that global warming we've seen.
Renewal: Eastern Desert, Egypt. Team will battle to take control of a ground-breaking 'agricultural technology centre' in the middle of the desert.
Hourglass: Doha, Qatar. Sandstorms ravage a city centre as you fight over a lost shipping convoy.
Breakaway: Queen Maud Land, Antarctica. The snowy tundra seen in the trailer, teams fight for control of oil and gas pipelines.
Find out more about Battlefield 2042 in the first official gameplay reveal on June 13.