Sunscreen is important for protecting dark skin from the sun's damaging UVA rays (which age the skin, think: rough texture, lines, wrinkles) and UVB rays (which burn the skin, think: dark spots, hyperpigmentation, uneven tone). As a Black woman and a Skincare Expert, I am privy to a LOTS of skincare conversation amongst Black men and women. And I am always blown away when I hear Black folks complain that they can't find sunscreen that works on dark skin.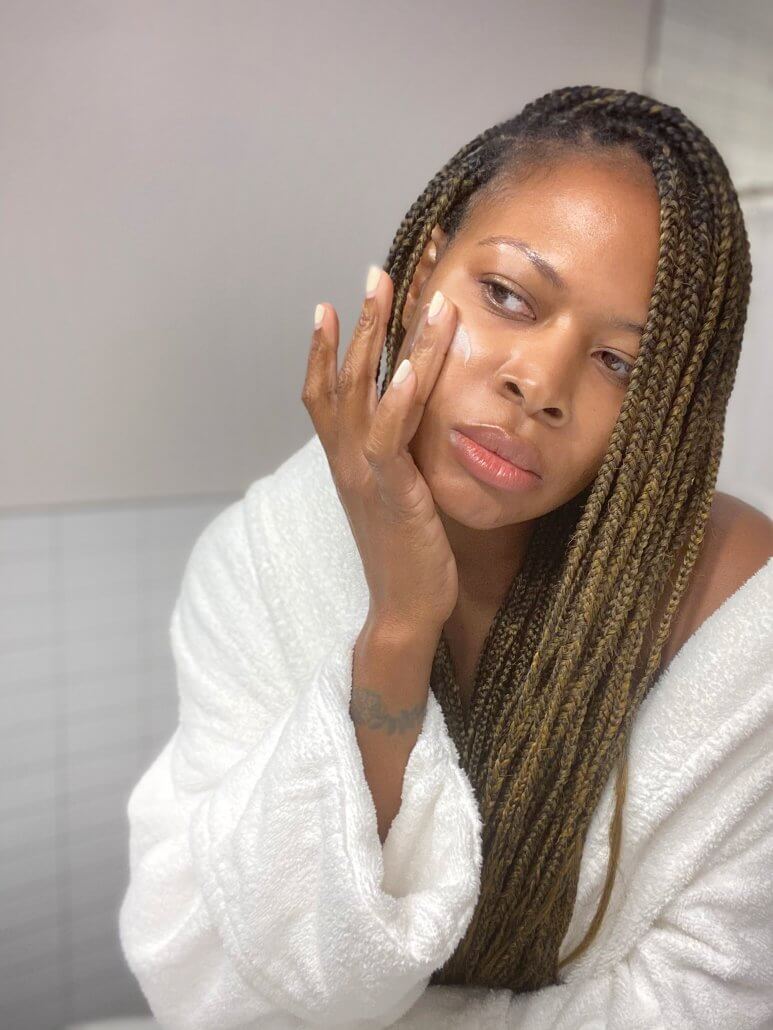 Wait. What?
While this may have been a valid complaint 15+ years ago — we cannot keep this narrative going in 2021. And we do know that Black skin does indeed need sun protection, right? (Especially if you're concerned with dark spots, uneven tone and hyperpigmentation.)
Listen, to be caught in these streets without proper sun protection is foolish. PERIYODT! You want your dark spots to get darker? Then ignore me!
By now you're probably wondering — "Ok, Felicia, since you know so much, what's the best sunscreen for dark skin?"

The answer is simple: The best sunscreen for dark skin is the sunscreen that you WANT to wear.
Meaning: The formula that works best for you is one that you will WANT to wear because you love the texture, finish, scent, ingredients, etc.  For this reason, I have included a mix of various:
Finishes (matte, satin, dewy)
Formulas (chemical, mineral, fragrance-free, oil-free)
Uses (body, lip)
My Dear Kings and Queens:
Sunscreen keeps skin bright, clear, even toned, and helps prevent premature aging— it's TIME to start putting on that sunscreen. Thankfully, I've done all of the work for you.  So, if you're struggling to find the perfect sunscreen for your beautiful melanin I got you.
CHECK OUT THE LIST BELOW — Your perfect sunscreen awaits!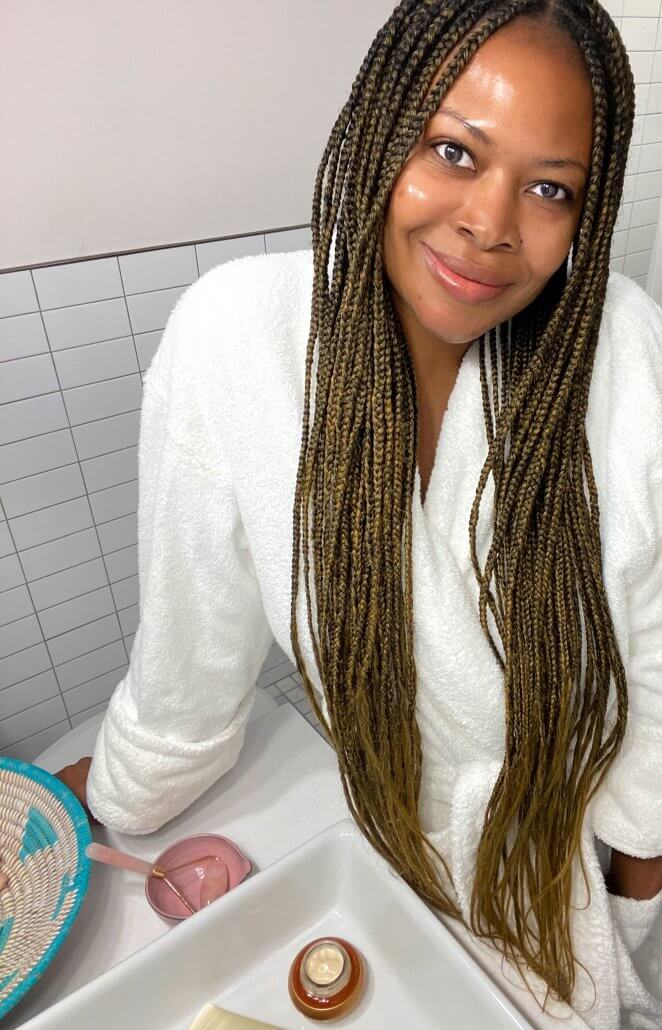 Naturopathica Calendula & Butterfly Ginger Eye Cream with SPF 40 
This lightweight, protective eye cream not only helps shield skin from harmful UVA/ UVB rays, it also awakens the look of tired eyes. Calendula helps to calm, Butterfly Ginger defends against blue light and environmental stressors, and micronized zinc adds a physical layer of sun protection. Such a solid choice for targeted protection. If you have dark circles, start here!
Sunday Riley Light Hearted Broad Spectrum SPF 30
Bye bye blue-light! This 99.99 percent oil-free sunscreen for face provides blue-light defense against your tech devices. It's also pretty unique in that in contains turmeric for the brightening of hyperpigmentation and dark spots. The finish is semi-matte — making it a nice option for under makeup.
StriVectin SUPER-C SPF 30 Vitamin C Moisturizer
It's your daily SPF and your bright-skin-transforming moisturizer, in one. This non-greasy, cast-free formula brightens & reduces the appearance of uneven skin tone. 
AMBI Even & Clear Nourishing Daily Facial Moisturizer with SPF 30
With sunscreen, not only will this lightweight facial lotion protect your skin from the sun, it will also hydrate, and regulate moisture in the skin without clogging the pores. It's formulated with a combination of natural extracts, proteins, and vitamins synergistically with other clinically proven emollients to give the ultimate moisturizing effect. 
HOURGLASS VEIL Mineral Primer Oil free Broad Spectrum SPF 15
This oil-free primer conceals redness while minimizing the look of pores, fine lines and wrinkles to create a smooth, even canvas. It elevates your foundation or is seamless on its own.
MELE NO SHADE Sunscreen Oil SPF 30
This fast-absorbing, sheer oil  formula guards skin against the harmful and aging effects of UV. Blends without a trace and gives immediate glow.
ReVive Perfectif Even Skin Tone Cream Dark Spot Corrector SPF 30 Sunscreen
Powered by Bio-Renewal Technology and a Dark Spot Correcting Complex, this powerful sun-blocker helps erase the appearance of dark spots and past damage. Perfect for all skin types who want a more even skin tone.
Elemis Pro Collagen Marine Cream SPF 30
This trifecta face cream protects against sun exposure, hydrates and firms. The light, bouncy texture sets this formula apart from the others. Formula contains Padina Pavonica and Ginkgo Biloba, which helps reduce the appearance of fine lines and wrinkles. 
REN Clean Screen Mineral SPF 30
Wonderful option for those who prefer a mineral matte formulation. Passionfruit extract helps protect against free radicals. Rice starch is used to give a velvety matte finish.

Perricone MD Cold Plasma Plus+ Neck and Chest Broad Spectrum SPF 25
This formula uses Vitamin C Ester, Vitamin B3 and Peptides to protect against damage and reduce the appearance of neck sagging.

MELE Dew The Most Sheer Moisturizer SPF 30 
This sunscreen guards against harmful UV damage to help prevent signs of aging. Blends withoiut a trace. Period! No Parabens. No Mineral Oil. 
Supergoop Daily Dose Vitamin C + SPF 40 Sunscreen Serum PA+++
This skin hero combines two of my skincare faves — sunscreen plus high potency Vitamin C. Oh, and did I mention blue light protection? This oil-free, hydrator is one of my favs. Supergoop knows sunscreen!
Paula's ChoiceResist Youth Extending Daily Hydrating Fluid SPF 50
This has been one of my favorite sunscreens the last couple of years. The age-fighting formula is oil-free and weightless.
Contains antioxidants to protect against and address premature aging. Is gorgeous on its own or under makeup.
Supergoop Unseen Sunscreen Broad Spectrum SPF 40
If you prefer more of a matte finish, this one's for you! This innovative, antioxidant-rich multitasker has a unique oil-free formula. Water resistant, slightly mattifying and doesn't leave a white cast.
Shiseido Ultimate Sun Protector Cream SPF 50+ Sunscreen
If you've been looking for a slightly dewy sunscreen for everyday use, this works. The lightweight, luxurious cream delivers continuous coverage and hydration without a greasy feel. Free of oxybenzone and octinoxate. 
Cle de Peau Long-Lasting Hydrating Veil SPF 21 Primer
A moisturizing primer and sunscreen all-in-one. Helps to prevent makeup meltdown and sebum breakthrough. Very delicate and luxe formula. A serum-like texture. Super hydrating!
Peter Thomas Roth Water Drench Hyaluronic Hydrating Moisturizer SPF 45
This super light formula drenches skin with a 30% hyaluronic acid complex and ceramides to help hydrate and diminish the appearance of aging skin. Free of sulfates SLS and SLES, parabens, formaldehydes, formaldehyde-releasing agents, phthalates, mineral oil, and contains less than one percent of synthetic fragrances. Such a winner!
bliss Block Star Daily Invisible Sunscreen
Great price – $19.99! This sheer mineral-based sunscreen blends to an invisible finish. Grab it at Target! 
Good Beaute Vita C Moisturizer SPF 50
This one is a real work horse. In addition to broad spectrum UVA/ UVB coverage, the formula uses potent peptides to brighten discoloration and diminish dark spots. Contains Licorice Extract is to inhibit the production of  hyperpigmentation. White Lotus Flower Extract helps repair, calm and brighten skin. Black-owned.
Supergoop Mineral Sheer Sheen SPF 30
I love that mineral formulations are showing so much improvement. Supergoop is truly a sunscreen pioneer and authority and they have 5011 formulas to match 5011 preferences.  This formula is totally sheer, weightless, 100% mineral, and provides SPF 30 protection.
cocokind daily SPF 32
This one is really speaking to lock down life because it protects skin against UVA and UVB, ND blue light. Hallelujah! The finish is natural, lightweight, and not greasy at all.
Absolute Joi Daily Hydrating Moisturizing Cream SPF 40 (Shade: Mocha)
This is tinted sunscreen done RIGHT! It's also black-owned which makes me so happy. Currently available in two shades…I'd like to see one more deeper shade added. This is mineral-based and shockingly good!
Elta MD UV Clear Broad Spectrum Moisturizing Sunscreen SPF 46
The formula is a heavy hitter — It contains Niacinamide, Hyaluronic Acid and Lactic Acid: All the good ingredients we love for glowy, healthy-looking skin.
MD SolarSciences MD Creme Mineral Beauty Balm SPF 50
Available in two shades (light/ medium & medium/ dark), this Mineral Beauty Balm contains Caffeine and Niacinamide to repair, calm, and reduce discoloration. I love the rich texture. It's nourishing without feeling heavy. Mineral + tinted is hard to do, so I applaud the medium/dark shade. It works well for my complexion — but I would love to see the brand add a dark/ deep option in an effort to cover a wider audience with this very beautiful and elegant mineral formula.
Supergoop Matte Screen 100% Mineral Broad Spectrum Sunscreen SPF 40
A smooth "poreless-feel" 100% mineral matte sunscreen. This sunscreen is a light-textured formula. Matte and silky. Instantly blurs the appearance of pores
MD SolarSciences MD Hydrating Sheer Lip Balm SPF 30
Cmon, cute and protected lips! I was not expecting all of this color pay off in a sunscreen lip balm. Mind blown! I'm wearing this all summer 2021. Period.
Seeing is believing: