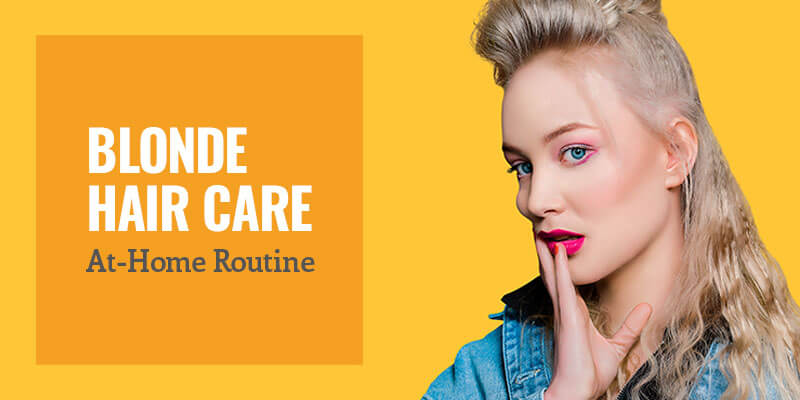 The models on the runway and the glam girls on silver screens make blonde hair look effortlessly beautiful, but if we were to ask the girl next door if managing it was is as easy, we might just get a strong NO. Blonde hair, as gorgeous as it looks can sometimes be a hassle to manage. In general, when you opt to lighten your hair, you need to take extra care of your hair and owe it the due maintenance it deserves, such is also the case with going blonde. With brassy tresses, dryness, and the worry of breakage constantly haunting your worst nightmares, we can understand how challenging it can get to maintain blonde hair. Thus we have crafted for you a hair care guide especially for blondes so you can ensure your golden locks look as gorgeous as possible, the way they are meant to be. 
USE A SHAMPOO DESIGNED FOR BLONDE HAIR
Blonde hair care starts with shampooing right. Choosing a shampoo is crucial but choosing a shampoo perfectly tailored to care for and nurture blonde hair is highly critical. Hair experts recommend opting for a purple shampoo to tackle brassy undertones and offer ample hydration. The GK Hair Silver Bombshell Shampoo is the perfect shampoo for blonde hair that not only deals with brassy undertones but also hydrates hair to give it a more nourished and healthy look and additionally repairs damage and restores hair health. The Silver Bombshell Shampoo for blondes is fortified with Juvexin, natural seed, plant, and grain extracts to offer a dose of healthy nourishment to hair and strengthen tresses from within. The natural ingredients present in the shampoo leave the hair looking truly toned and healthy. 
MASQUE IT UP 
The power of a good Masque often goes unnoticed. Blonde tresses are prone to damage and brittleness and exposure to heat can cause a lot of damage. Using a masque not only fixes blonde hair problems on a temporary level but goes down layers deep to nourish hair and give it a natural dose of health to ensure a permanent solution. 
The Ultra Blonde Bombshell Masque is a color reviving masque that features nourishing properties owing to the natural ingredients present in it. The masque for blondes offers the highest level of toning for platinum blondes and neutralizes warmth. This is the perfect grab for blondes who see the magic of their cool tones fade away; this masque is sure to bring back the beauty of gorgeous hair with the added promise of health and nourishment. The masque contains the signature keratin protein blend, Juvexin in addition to natural extracts and Vitamin E. So, go for this masque if you want brighter blonde hair that is soft, smooth, and strengthened. 
BLONDE HAIR AFTERCARE
The ideal blonde styling aid, the Leave-In Bombshell Cream is an elixir to beautify blonde locks. The Cream is fortified with Juvexin, natural oils, and fruit extracts. It effortlessly eliminates frizz and adds a natural dose of health and shine to blonde hair. It perfectly eliminates unwanted undertones and acts as a styling aid by offering heat protection. Use the leave-in cream on damp hair for better results – shiny and gorgeous looking blonde hair. 
Here are few additional handy tips 
Hydrate your hair 

Avoid direct sun exposure

Refrain from overheating and over styling

Deep condition your hair often 

Refrain from taking extremely hot showers
We hope you find this blog useful. Do follow us on our social media pages for hair inspiration and updates on hair care. Explore more hair care options only at www.gkhair.com where hair care solutions are inspired by you, for you.