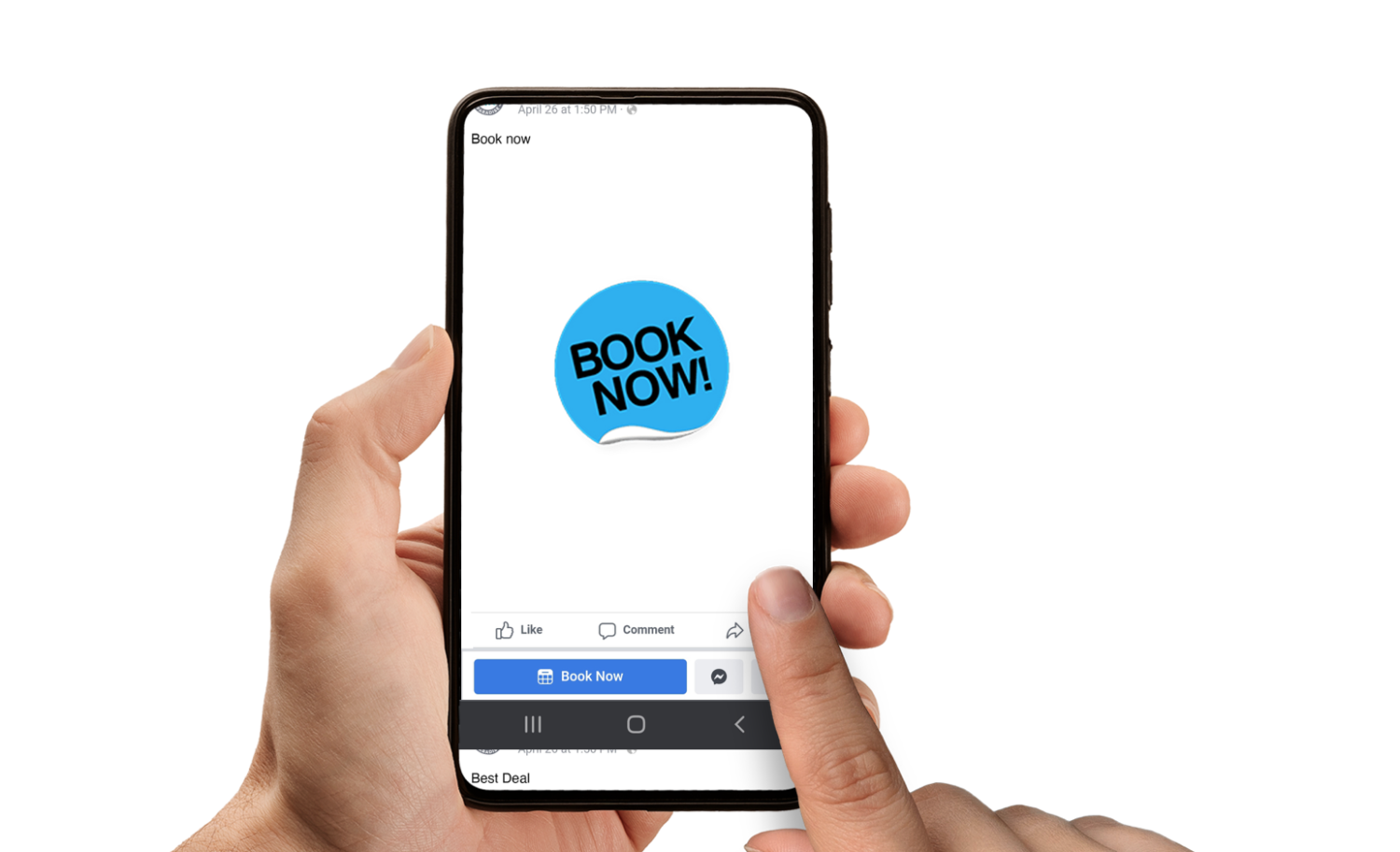 In the previous blog, we discussed social media's growing presence in travelers' lives and ways hoteliers can fish for more guests. This time, we will demonstrate how travelers use their social media feeds to make booking decisions and what content your hotel should be posting to influence them to book with you.
Scroll Speed
With more hotels becoming active to attract travel in the busy summer season, more content is circulating than ever before. As a result, attention spans are shortening, and your window of opportunity to capture a traveler's interest is shrinking. According to Facebook, users spend an average of 1.7 seconds with a piece of content on their smartphones. That's less than 2 seconds to explain why they should choose your hotel versus another. 
Social Scrolling
That's why posts that say, "Book now!" do not work. Hotels that share content like this are simply checking a box. It is not a strategy – it's an online flyer, a coupon book. Social users are not looking for content like this on their feed. They are looking for inspiration, an escape, a story.
Social Story-Selling to a General Traveler
So that is what we are going to talk about today: selling your hotel's story. Or what I call social story selling. Let's check out an example. This story starts with a post that has nothing to do with the hotel. In fact, other than the profile, the hotel's name is not even mentioned in the post. 
But the objective of this post is not to sell the hotel; it's to engage and interest users by starting a conversation about books. So let's say a follower of this account shares this post to their page because they find it engaging and interesting; one of their friends and followers sees the post and enjoys the content so much they decide to check out the property's profile. 
As they scroll, they start to click and engage in other content they find interesting, like things to do in that local area or events that are going on in the near future. Suddenly, that traveler starts to imagine themselves visiting, and they find themselves wanting to know more specific information, like what do the rooms look like at this property? Is it worth checking the prices for this weekend? And as they continue to scroll, they see a post encouraging them to do just that. 
By this point in the booking decision-making process, you have them interested in your hotel's story. They have become familiar with your rooms, amenities, lobby, and everything you have shown them on your social media profiles. This is how you win guests on social media. Let's take a look at another example.
Social Story-selling to Beach Travelers
This is a social story that almost every traveler loves to see: the beach. But really, this could apply to any hotel that has an excellent grasp of its target traveler. We start this social story-selling by posting a picture of the beach with a goal in mind: to inspire its online audience to get out and travel.
So the last story we shared started with entertainment; this one starts with inspiration. The next thing travelers are going to want to know is how the rooms look. This is a great post because the property recognizes that more families travel to their property and want to showcase their spacious rooms with multiple beds. It might be harder for a family to imagine themselves at this property if they saw a room with only one king-size bed.
We never want our followers to only get some of our social stories and feel like they need to go somewhere else for more information about your property or leave your profile with unanswered questions.
The property has also seen an influx of their guests ordering food and picnicking on the beach. Taking advantage of this trend, they post a list of local take-out restaurants that could inspire both their guests and future travelers. And finally, the hotel makes a call-to-action post, providing an easy-to-click channel straight to a direct booking. Let's check out one final example.
Social Story-selling for City Travelers
This last example is for properties in a metropolitan/city location, where your target traveler spends more time outside of the property than inside. This property starts by suggesting a getaway girls' weekend in the local area and posting an article with tips and ideas.
Capitalizing on the hotel's location further, the property posts another article about the top Instagram-able spots nearby. Next, the hotel shares a picture of one of its rooms – for the best result, they'll advertise a room type with multiple beds, perfect for the getaway girls' weekend that they have been promoting. Finally, the hotel should share that all-important call to action.
For hotels, social story selling is most effective when you know who your guest is. As we wrap up, I challenge you to visit your hotel's social accounts. What story are you telling to travelers, and will your target guest be interested in the hotel story you're selling?
TMG's Social Solutions Sell Your Story to Guests
Our social media solutions at Travel Media Group include managing your hotel's posts on top sites like Facebook, LinkedIn, and Twitter. We include 4 to 5 custom posts per week, selling the hotel stories of our social partners and putting them in the best position to win occupancy against their competition. We even include social media ad spend, ensuring we are targeting your ideal guest. Learn more about how we can start selling your hotel's story by visiting our social media solutions page.