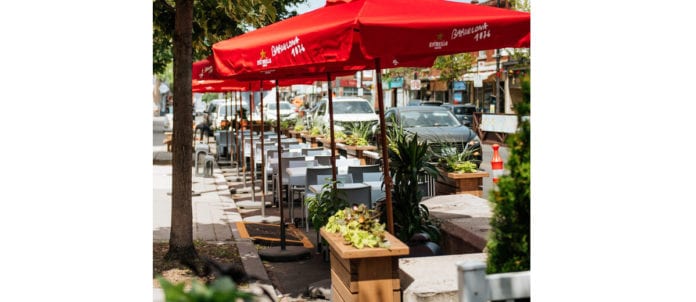 TORONTO — For the second-consecutive year, Toronto's CaféTO program has returned to the Junction. Until Nov.1, 2021, the Junction — which stretches along Dundas Street West between Indian Grove and Quebec Avenue — will be transformed with 52 unique patios and more than 17,000 sq. ft. of additional outdoor dining space and immersive activities.
"We understand the struggles that small businesses have faced over the past year and a half, and now more than ever, we need to support local retailers and bring back our bustling community that makes the Junction shine," says Carol Jolly, executive director, The Junction BIA.
The Junction will be launching various displays to engage residents, including an augmented-reality mural, the first of its kind in Toronto. The Junction will also feature four re-designed parklets sponsored by local community partners NAK Design Strategies, Evans Real Estate & Toronto Mortgage Financing Services, Sidorova Inwood Realty and Stu Sells Realty. The patio space will also feature a butterfly garden and a wishing tree.
Many local restaurants in the Junction will be opening up their patio spaces for the CaféTO program, including: ATAI Bistro, Indie Alehouse, Kanto by Tita Flips, Decò Ristorante & Wine Bar, Isaan Der and many others.
"We're thrilled to participate in CaféTO and welcome patrons for a delicious French-Moroccan-inspired meal that they can safely enjoy outdoors with family and friends amidst the hustle and bustle of city traffic," says Sean Devereaux, general manager, ATAI Bistro.