Good morning, and welcome to our live, rolling coverage of business, economics and financial markets.
British aerospace manufacturers Ultra Electronics and Meggitt have both taken a step towards the exit from the FTSE 250 on Monday as US money looked likely to take over two venerable companies.
Ultra, which makes parts for fighter jets as well as submarine-hunting sonobuoys, on Monday announced that it had agreed a takeover by Cobham, the aerospace manufacturer owned by US private equity firm Advent International. The deal values Ultra's shares at £2.6bn.
Meggitt, which makes parts including wheels, brakes and fire suppression systems for military and civilian jets pushed ahead with an agreed takeover by US manufacturer Parker Hannifin, publishing offer documents on Monday without waiting for details of a possible rival bid from TransDigm, another US aerospace company. TransDigm's has said it is considering a 900p-per-share bid to Parker's agreed 800p deal.
The two deals would together mark an extraordinary period in the British stock market for aerospace companies and indeed for mid-sized UK companies, who have been the object of a buying spree that is by many measures unprecedented.
Private equity buyers (like Advent) in particular have been able to make deals at valuations that are inconceivable for investors on public markets, thanks to historicaly low borrowing costs. In the first half of 2021 there were more private equity-backed takeovers of UK companies by value than in any point since at least 2005.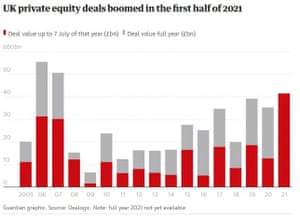 Cobham's deal with Ultra, at £35 per share, would be a 63% premium to its share price before the interest was announced. Cobham and Ultra both said they would engage with the UK government over potential national security issues, after people close to business secretary Kwasi Kwarteng signalled he would pay close attention to the deal.
Alongside Ultra and Meggitt there are more signs that British aerospace has been undervalued. Rival manufacturer Senior turned down an approach in June from private equity bidders, while Advent has been selling off parts of Cobham – Advent reached a deal with Cobham only in December 2019, after months of wrangling resulted in some assurances given to the British government on keeping jobs in the UK.
The agenda
1:30pm BST: US New York Federal Reserve manufacturing index