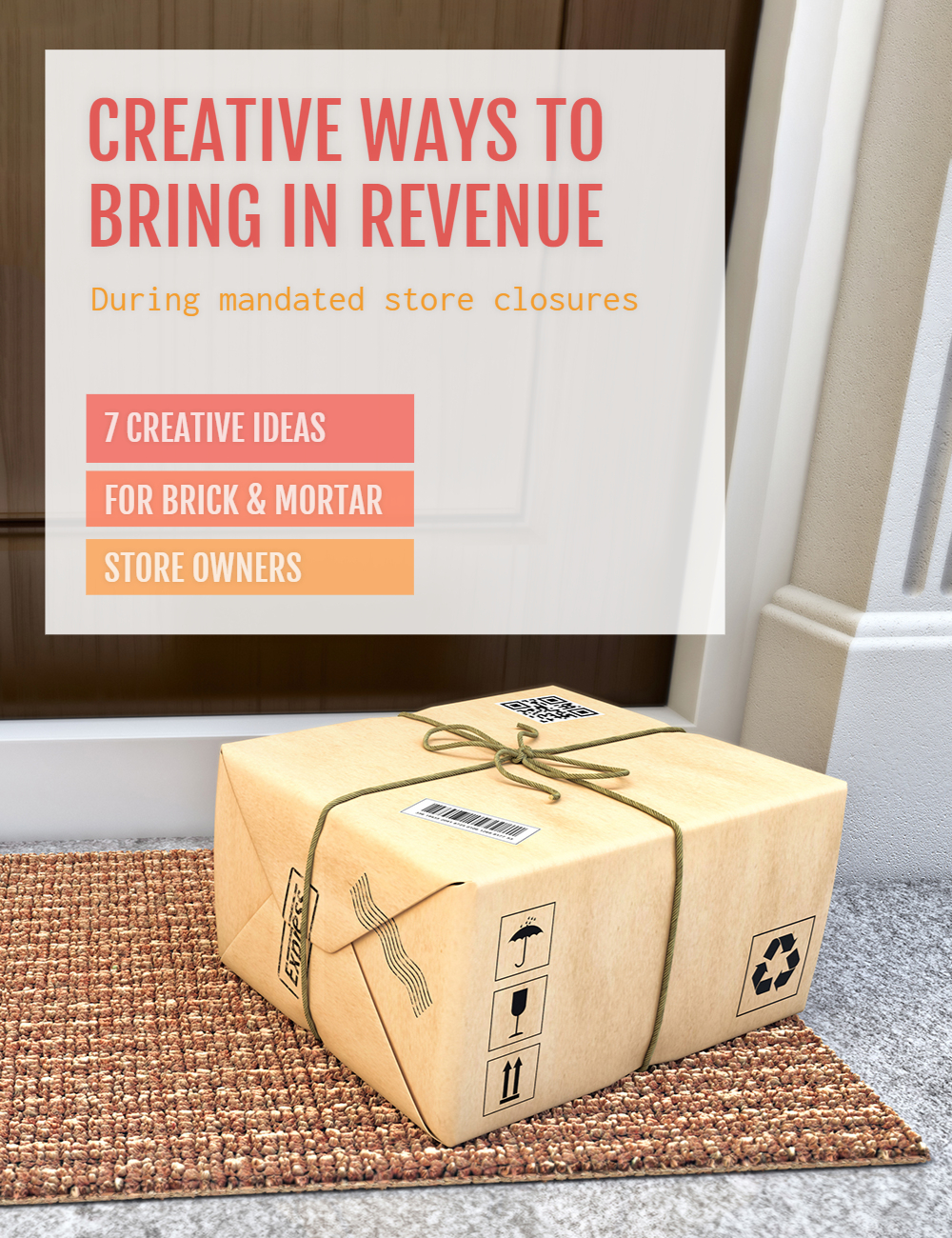 The past few weeks have been a whirlwind for brick and mortar store owners. I have been right there with you. We went from open as usual, to a modified version of selling by offering pickup and delivery, to closed doors in just a matter of weeks. Not only are we dealing with Covid-19 as business owners but we're all adjusting in our personal lives too. We're independent retailers so we already know how to roll with the punches, and although this one hits the gut, I am confident we can prevail. So today I want to share some creative ways to make money and sell when there is NO foot traffic.
Prior to this, I hope as a business owner you were already shifting to an omnichannel business model but if you weren't this is going to push you into that direction.
What is omnichannel?
"Denoting or relating to a type of retail that integrates the different methods of shopping available to consumers (e.g., online, in a physical store, or by phone)."
No need to panic!  Let's get you headed in that direction or optimizing what you already have in place. So let's get to it!
7 creative ways to make money during mandated closures:
#1: Use email marketing!
This is a great way to stay in touch with your customers but also a great way to sell.  You should, at a minimum, be sending out one email per week. If you haven't started an email list, it is NOT too late – better late than never.  Listen to episode 21 of the Savvy Shopkeeper Retail Podcast for more tips on email marketing.
#2: Offer delivery options
This could be in the form of free shipping, in-person delivery, curbside pickup.  So many brick and mortar stores have been ordered to close so we have to get "scrappy."   You have most likely been nurturing your customers since you opened your doors. And that means many of your customers know, trust and love you. Whether you sell through a social media post or online, simply add a disclaimer that customers will receive their orders once your store is permitted to open again.  They won't get immediate gratification like they do when shopping IN your store, but you might be surprised at how many of your customers will still place orders.
#3: Take orders any way you can
Usually to keep things flowing smoothly in the store I co-own with my sister, we direct customers to our website to order online. However, at this point, we're telling customers to call us, text us, message us and we'll either get an invoice to them or take payment over the phone. I love good processes and systems, but right now we need to focus on generating revenue so we can continue to pay bills and be prepared to open our doors again.
#4: Go Live on Facebook AND Instagram! 
If you're comfortable going live – you'll want to pick up the frequency so you can stay in contact with your customers and remain at the top of their minds whenever possible.  If you have never gone "Live" on social media, this is where I'll ask you to step out of your comfort zone. Even if you can't be in your store right now, you can still go live from home. Connect, engage, talk about a new offer or promotion, provide helpful tips and maybe even do a tutorial.
#5: Start a VIP Facebook group
This takes a little bit of work but if your store is closed you might have a little more time to dedicate to it.  Ask customers to join the group. The more engagement you get from your group members the better. You can promote engagement by offering giveaways, running promotions, posting funny GIFs or memes. And yes, you can sell merchandise in this group too!
#6: Get creative by bundling items for a gift box, offer a craft kit, etc.
Retail businesses come in all forms and sizes. If you have a gift shop or offer creative workshops in your store, you can really have fun with this.  Your customers are looking for some peace of mind and they are looking for fun things to do to consume their time. Fill this need by doing what you do best and giving them something that will bring them joy! 
#7: Sell gift cards
This is a great way to get a bit of a cash injection right now.  Remind customers that you don't plan on going anywhere and they can shop with you when you open again.  Give them hope and give them the ability to support you. Remind them how fun and personal it is to shop at your store.  
_____________________
If selling makes you uncomfortable right now, I get it. But as business owners, we shouldn't assume that our customers can't or don't want to shop right now.  There ARE people who have the funds to shop and there are many who WANT to support small businesses right now.
Remember to be compassionate, avoid constant selling online, protect your profit margins, get creative, and you will be fine.  
Most important of all, make sure you are taking care of yourself and your family through all of this.  Stay healthy!
Since founding The Salvaged Boutique with her sister in 2013, Kathy watched her passion grow from a fun blog and hobby with her sister on the side of her full-time job, to a thriving brick and mortar home decor store. After running the store for years, she saw the need for an online community where small business owners could find resources. So she took it upon herself to create Savvy Shopkeeper, a blog and online business dedicated to educating, motivating and building a community of shop owners. From a full-time job to full-time entrepreneur, Kathy helps hundreds of store owners and makers navigate store ownership while running a store herself.