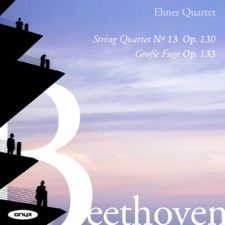 Review by: Jed Distler
Artistic Quality: 9

Sound Quality: 9

Coming to the Ehnes Quartet's recording of Beethoven's Op. 130 quartet after having reviewed the Tetzlaff Quartet edition is almost like encountering another piece. Violinist James Ehnes and his colleagues favor timbral and expressive characteristics that evoke both the Guarneri Quartet's hearty directness and the driving intensity typifying the Juilliard Quartet's 1960s/'70s incarnation. Their sound world radically differs from the Tetzlaff Quartet's hyper-detailed control that teeters between refined calibration and micromanagement. Several examples should suffice to explain what I mean.
In the second movement, the Tetzlaffs both underplay and overphrase the main theme, yet speed up for the Trio, pulling out the aggressive stops. The Ehnes' consistently brisk and taut reading conveys a terser, leaner impression. By contrast, they read the fourth-movement "Alla danza tedesca" as a genially inflected minuet, whereas the Tetzlaff's quicker pace and pronounced crescendos and diminuendos won't entice you to the dance floor. Much as I like the Tetzlaff's swifter than usual yet lyrically sustained Cavatina, the Ehnes' expansive, fuller-toned traversal falls within more "conventional" parameters.
The Tetzlaff edition includes the original Grosse fuge finale, but not Beethoven's revised last movement. The Ehnes Quartet offers both, so that listeners can choose. The Tetzlaff's clipped style and low-level dynamics transform the Grosse fuge's gnarly, combative string writing into ersatz Mendelssohn, while the Ehnes ensemble plows through the music, chewing and spitting out each szforzando hammer blow as if gorging on nails.
Miraculously, nothing derails. Intonation is dead-on, attacks and releases transpire with military precision, while moments of lyrical respite are more about refueling than wallowing. In short, a distinctive Op. 130 that holds its own alongside my digital Smetana Quartet, analog Alban Berg Quartett, and Takács Quartet references.
Recording Details:
Reference Recording: Smetana Quartet (Supraphon or Denon); Alban Berg Quartett (Warner Classics); Takács Quartet (Decca)
Share This Review: