In my last blog The Power of Data-Driven Retail Execution I talked about how CPG Brands leverage all kinds of data to inform and improve their retail execution, ultimately increasing sales by driving performance through the insights that data provides. I mentioned that we've worked with thousands of field teams over the years at all stages of growth, from 'Mom & Pop' operations just breaking into retail to multi-billion dollar companies operating all over the world. Along the way, we've developed quite a few insights of our own about the maturity curve associated with how organizations use data.
There has been a tremendous amount of research and thought leadership published around how organizations manage and leverage data since the beginning of the 'Big Data' era, which I put at the early 90s, a time when storing more than one Gigabyte of data became commercially viable for businesses of any size. The data maturity models put together by the likes of Gartner, HP, and AMR Research all describe how organizations derive more value from data when they evolve their capabilities from simple, reactive, backward-looking analysis, towards more complex, integrated, and forward-looking discovery. I'll try to consolidate what we've learned into a short read for you in this two-post series in the hopes that you might recognize where your organization is on this curve and discover how you might evolve to the next level, driving even higher returns from your data and insights.
Range of Experience
In the early days of innovation at Repsly, we focused on simplicity, ease of implementation, and ease of use more than anything else. These tenets have stayed with us at our core, and have been particularly important to both small emerging brands and innovative groups within large organizations that were given license to be lean, agile, and disruptive in their markets and inside their own companies. Over time we watched and learned from literally hundreds of brands as they grew their market share, and as the larger companies extended their use of Repsly more broadly.
We developed an understanding of how these organizations evolved their approach to Retail Execution as they gained distribution in more and larger retail chains, and across broader geographies. We saw the shift from extremely passionate founders, to high-energy brand evangelists, to organized teams and eventually complex workforces that drive execution in the trade. We've seen and understand how brands morph from dedicated in-house teams to broker and retail services partners, and in some cases to crowdsourced field activities, and how over time they optimize their field presence across multiple of these channels.
What has become extremely clear to us as we've engaged with, supported, and learned from these relationships is that while there may be general frameworks around how CPGs go to market, the exact method employed by any given brand is unique. The best way to optimize sales of a particular product is heavily influenced by a very long list of factors: price, channel, category, shelf life, distribution model, level of competition, stage of disruption… the list goes on. What this means is that there is no single way for a brand manager to know exactly what is right, and as a result, they must be flexible and agile in both the data that they work with and how they leverage that data.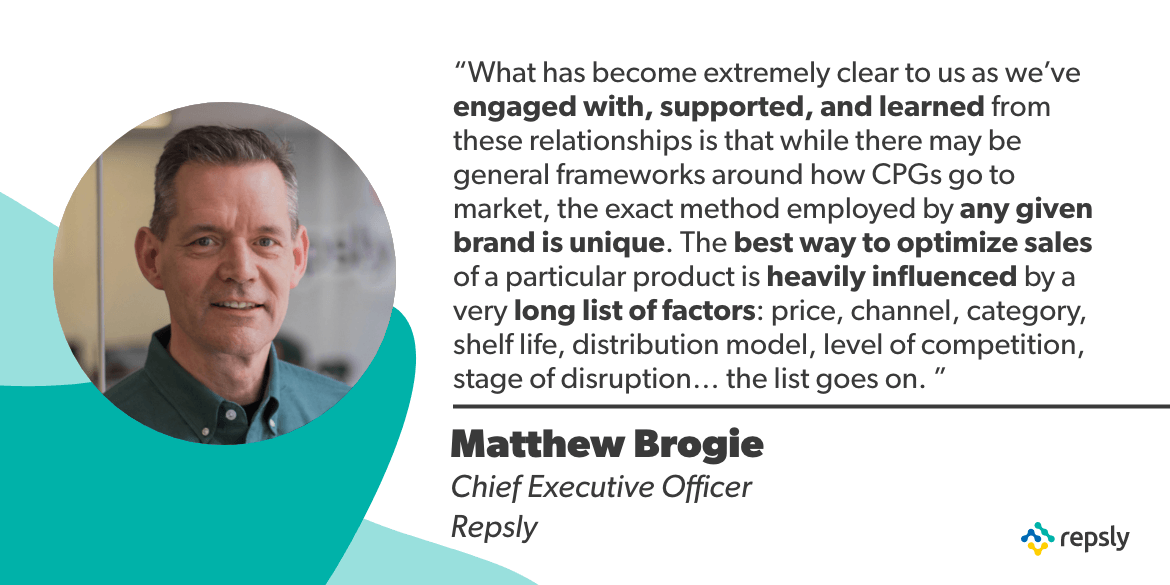 What is also abundantly clear is that as organizations grow, and their access to resources changes, they can manage and leverage more types of data more effectively. For example, a pickle company selling $5M of its product in independent grocery stores will take a very different approach to data and analysis than a $250M pickler distributing through Walmart, Kroger, Albertson's, and Costco.
Working with so many of our customers, and seeing them perform and evolve at all parts of this business maturity curve has shaped our understanding of the data maturity model as it applies to growing CPGs.
Types of Data
Just as all of our customers evolve and grow over time, Repsly is on an ever-advancing capabilities journey as well. We entered the age of "advanced data analytics" about four years ago, with the introduction of our Advanced Reporting capabilities. Before that, our customers were able to export/synchronize data to their Business Intelligence systems, or leverage our Data Visualization features to see data summarized in simple graphs. For the most part, they were looking at Activity Data like the number of store visits made by each rep, the duration of those visits, and possibly what their reps were able to get accomplished in the visit. The primary purpose of tracking and reporting on this kind of data is to drive accountability and to measure the discipline of the team in executing the brand's coverage model.
Our more advanced customers included some 'Observational Data' as well, things like the level of competitive activity, shelf position and price, or points of presence (PoP) within the store. With this kind of data, our customers were able to understand not only the amount and depth of coverage they had, but a bit about the effectiveness of their teams in executing retail execution plans, as well as the in-store environment. Reps were able to act as the eyes and ears of management as they developed in-store marketing plans.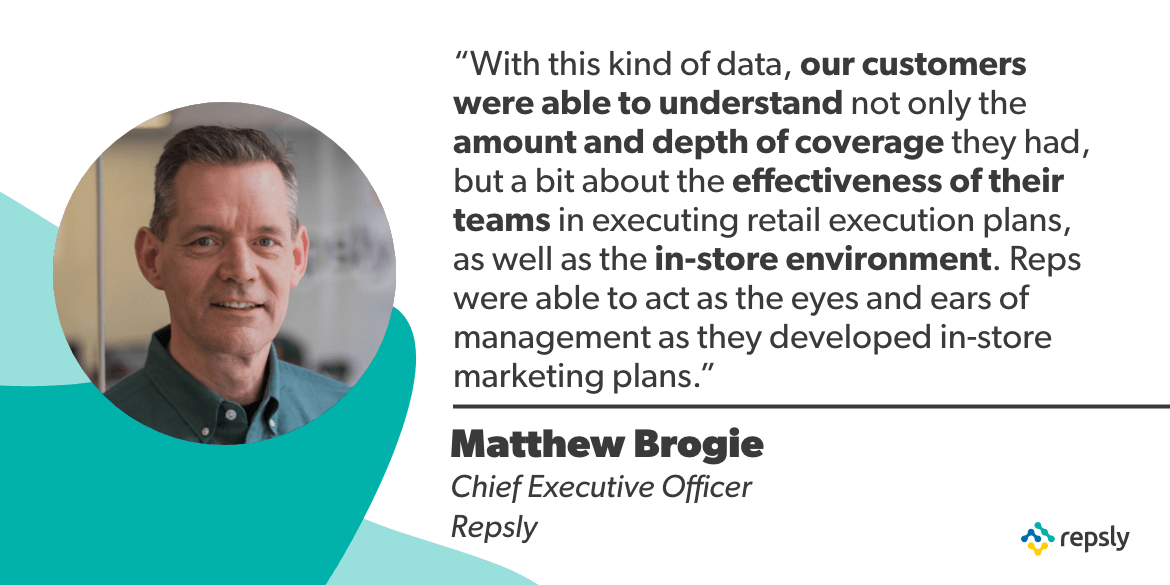 We began to hear from our customers that they were interested in understanding the Return on Investment(ROI) they were getting from their field teams and wanted to be able to measure the impact that each rep, or better yet each visit, had on sales. This was the beginning of our understanding of just how powerful data could be for our customers.  We started with simple imports of Point of Sale (POS) Data that could show how sales of a particular product changed at an individual store over time. This could be used by managers to understand the impact of a visit in actual dollars, and by field reps as they provided evidence to store managers of how a secondary placement, for example, impacted sales.
We began to see that this data could tell us things that might not be evident when just looking at the activity and in-store conditions – like that a sudden drop in sales of a product at a store meant there was some On-Shelf Availability (OSA) issue that a rep would need to investigate; or that adding an additional PoP provided a measurable lift in sales that could be different depending on where in the store it was placed. These are very powerful insights that make Retail Execution teams much more effective at optimizing their impact on sales. Knowing how visit frequencies, and specific in-store activities impact sales at the store level gives managers the ability to plan and prioritize how resources are used in the field and can provide meaningful feedback on the value that field teams and individual reps are driving.
As we implemented the infrastructure needed to manage and understand these essential types of data, and create the insights to drive field performance, it became clear that data itself can not only expose issues in the field, it can also help to predict issues and ultimately enable field teams to create a meaningful impact on sales. Additionally, we saw that the more types of data that an organization is capable of working with, the more value they can derive from that data.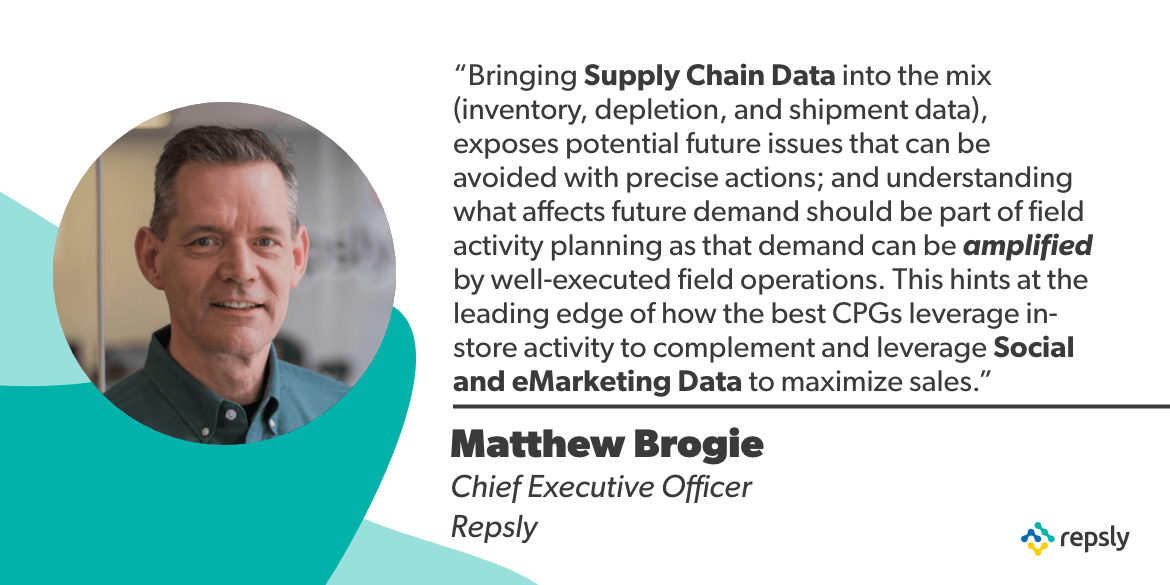 Bringing Supply Chain Data into the mix (inventory, depletion, and shipment data), exposes potential future issues that can be avoided with precise actions; and understanding what affects future demand should be part of field activity planning as that demand can be amplified by well-executed field operations. This hints at the leading edge of how the best CPGs leverage in-store activity to complement and leverage Social and eMarketing Data to maximize sales.
---
Interested in reading more from our Endcaps & Insights series? Check out Repsly CEO, Mat Brogie's blog on the incredible impact that successfully using data can have on the top and bottom lines of CPGs.