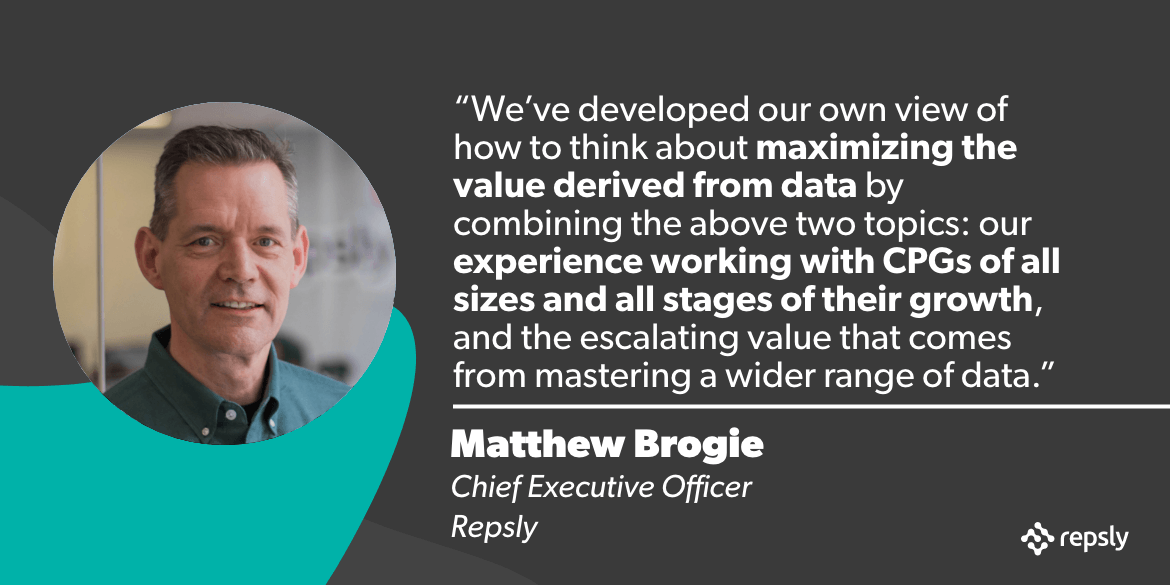 In my last post, I wrote about the range of experience we've seen with CPG companies in their data maturity, and the types of data points that when harnessed effectively, produce real impact on a CPG manufacturer's ability to execute successfully in a Retail environment. Now, let's move onto the various stages and roadmaps CPG's can explore to enhance, and up-level their data maturity in Retail Execution.
Data Maturity Model
I mentioned earlier that there's been a great deal written about how companies can and do approach working with data to drive performance. We've developed our own view of how to think about maximizing the value derived from data by combining the above two topics: our experience working with CPGs of all sizes and all stages of their growth, and the escalating value that comes from mastering a wider range of data. Ours is a four-stage evolution of 'data maturity' that starts with a simple look backward at what has happened, and over time develops into a forward-looking discipline that leverages data in an agile way to anticipate the impact of future actions and create a cycle of continuous improvement.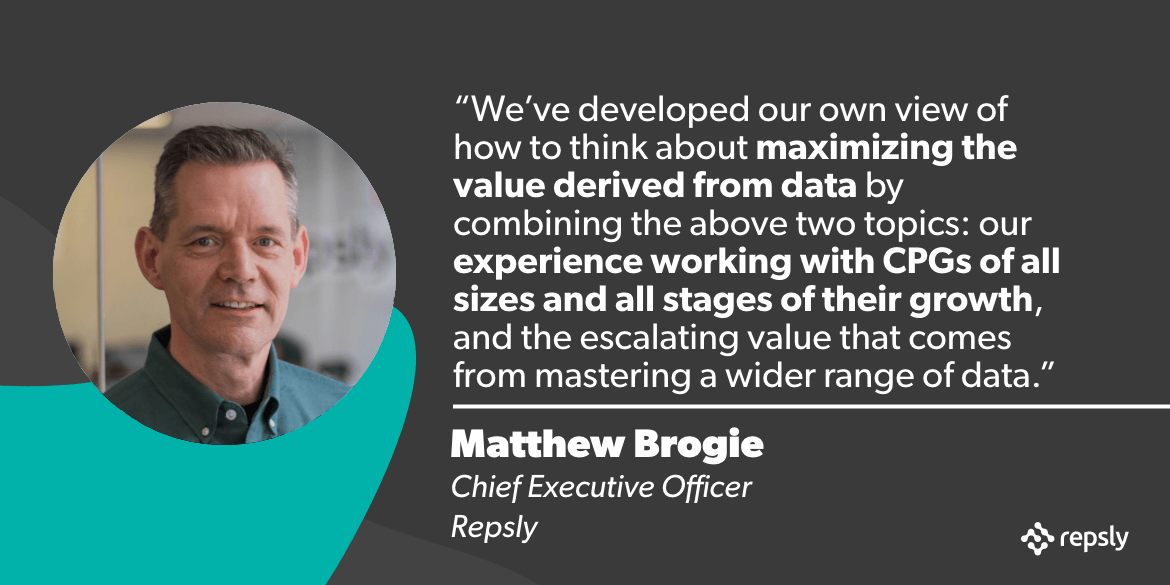 Our view of data maturity is tied to the number of data types that an organization works with, and how that data is leveraged. I've anonymized some clear examples of how some of our customers use data at various stages of growth and maturity to illustrate what we've learned. For this exercise, we'll use the fictitious beverage company 'BrandGood' and its various stages of evolution as the backdrop for these examples.
BrandGood was the culmination of a year's worth of experimenting with recipes and processes to bring a fantastic beetroot-based probiotic beverage to market. The team was perfecting the product while selling at local farmers markets in southern California, and sharing with friends and family when they got their big break – a regional buyer from Whole Foods gave the team a shot in eight stores to pilot the product. The founding team worked frantically to produce enough product to keep it in stock and to make sure that there was plenty of demand to keep it moving off the shelves. They spent time in production, marketing (online and in-person), and making sure the product was always fresh, featured, and available to consumers in those eight Whole Foods stores. After three months of great success, their dreams came true and they got the authorization to sell through 125 more Whole Foods stores. After a lightning round of raising money, they hired a team of six field reps to manage their presence at these stores and to open new doors at independent retailers in the region. Meanwhile, the founders worked on expanding to other regions, and other banners. 
Over two years, distribution went from a single SKU and a few cases per week at farmers markets to a dozen SKUs and over 25,000 cases/week through several large banners and distributors across the country. The field sales team grew from a couple of multi-hat-wearing founders to over 100 territory reps driving fantastic growth!  
Yes… BrandGood's entire business changed, and a huge part of their success was due to the continuous development of their data maturity.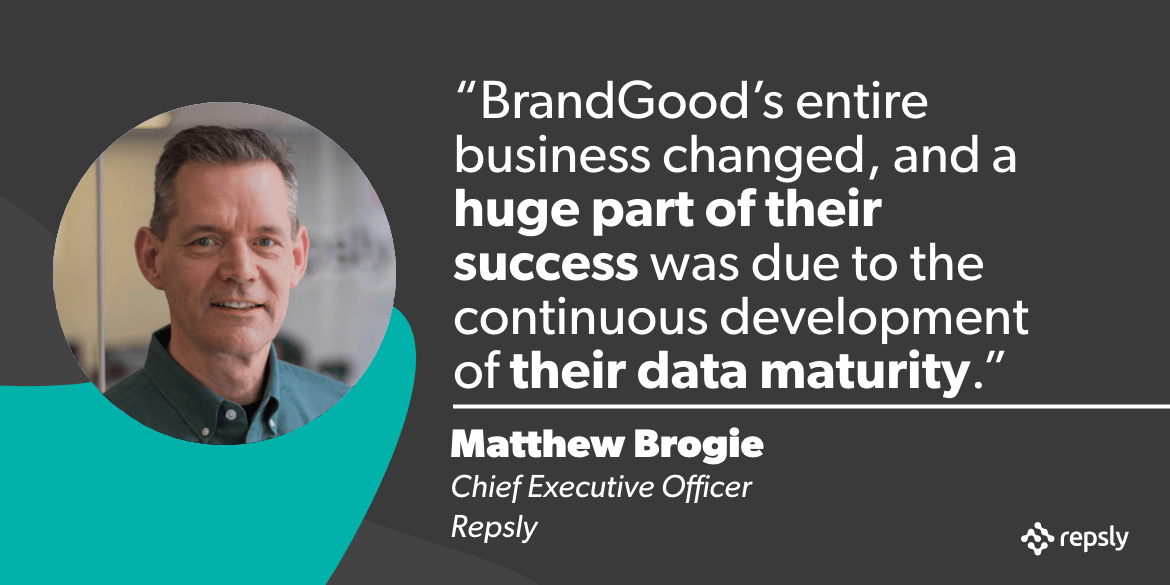 Stage 1: Reactive
In the early days, when BrandGood was just building their field team, they deployed Repsly to give managers visibility into what was happening in the field, answering questions like: How many times did Joe go to the Palo Alto Whole Foods last week? Was there enough inventory at the store? Was the product in the functional beverage cooler near the produce department? 
They wanted to make sure that Joe was covering the stores according to their plan, and wanted to be aware of any issues with stock levels or contract compliance. The data came in quickly and in a very simple, consumable format, and the team could easily scroll the list of visits to get a very quick sense for how things were going in the field. It was perfect for their size and stage… anything more involved would have been a distraction from the 1,000 other things they were trying to get accomplished.
BrandGood was very successfully operating in Stage 1 of data maturity as they established themselves as a successful brand at the regional level. They were receiving data about what happened in the field, and they were able to react to that data in order to address issues.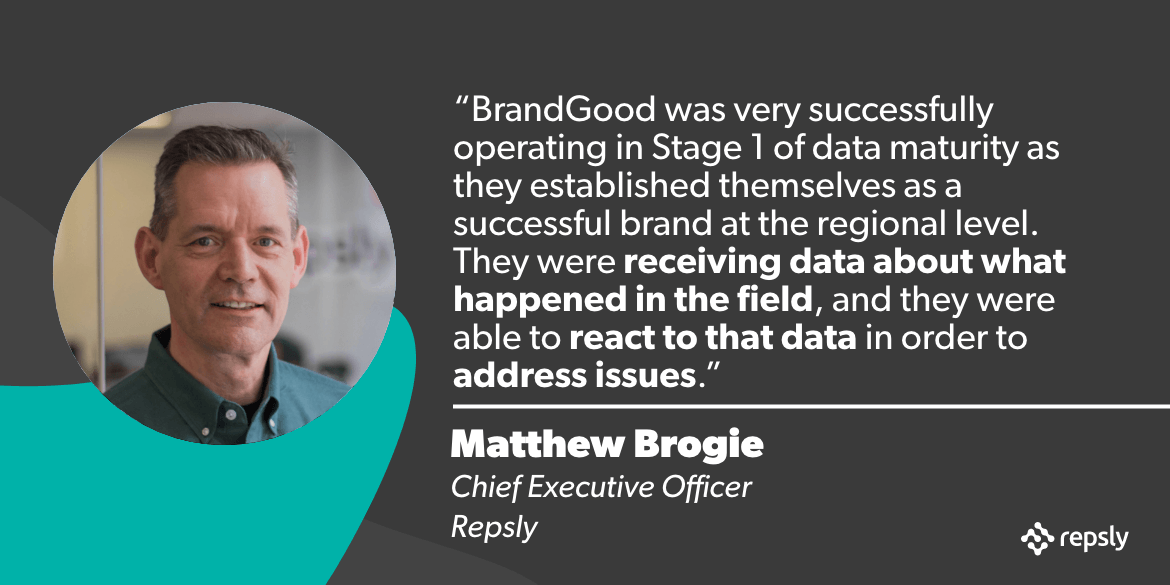 Stage 2: Proactive
When distribution began to expand to other regions and banners, and the field team grew to 25+ people, the BrandGood team found themselves relying more heavily on its field reps to drive sales beyond what would sell based purely on brand marketing efforts. They needed to understand which actions their reps took in the field had an actual impact to sales; instead of making sure things were as expected, they began to affect change to drive more sales. BrandGood was developing its retail execution capabilities as it was scaling. For example, the BrandGood field reps were able to build one-on-one relationships with store managers, and in many cases were able to convince the managers to allow them to put the product in a secondary location in the store, such as the beverage section in the produce area. Having a secondary location almost always has a significant impact on product velocity in a store. Knowing which stores had a higher propensity to allow this kind of 'off contract' marketing, and being able to identify which stores had not yet been approached for a secondary display enabled BrandGood management to proactively prioritize visits and actions to those stores, driving higher sales.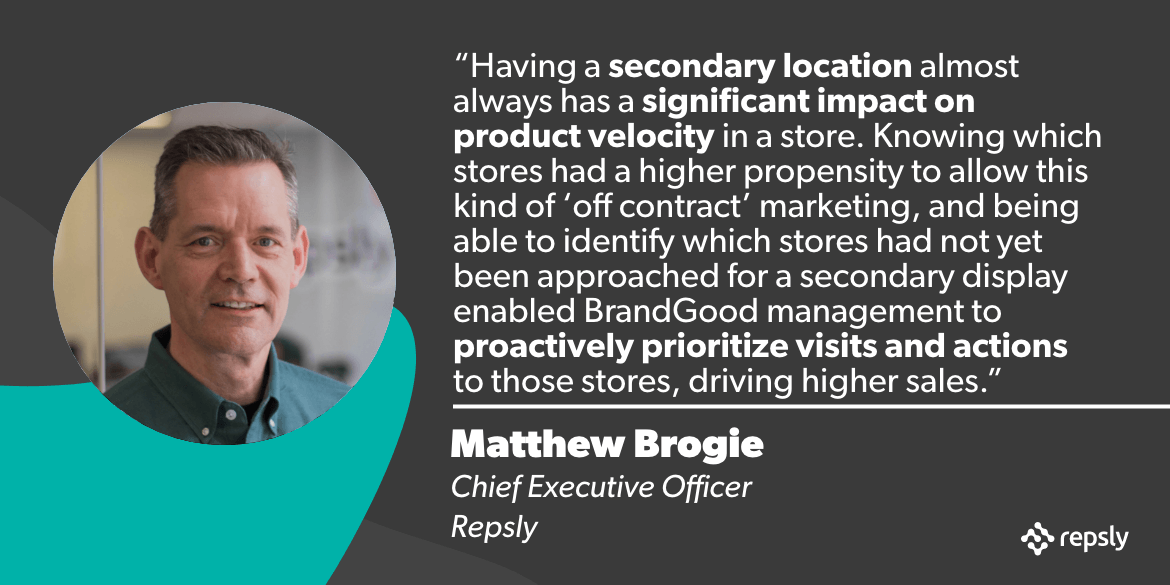 Stage 3: Predictive
As BrandGood continued to grow and become more sophisticated with managing the business, they began to gain access to new data sources, such as Whole Foods sales data through its vendor portal. They found that merging the sales data with the rep activity data gave them incredible insights enabling them to become predictive about things like how much lift a secondary display would provide; how long the 'afterglow' of increase sales lasts after a store visit by a rep; and what the actual dollar impact of a merchandising visit or sampling event would have. By bringing external data into their retail execution system, BrandGood was able to be smarter about how to allocate field resources and drive more ROI from their field team.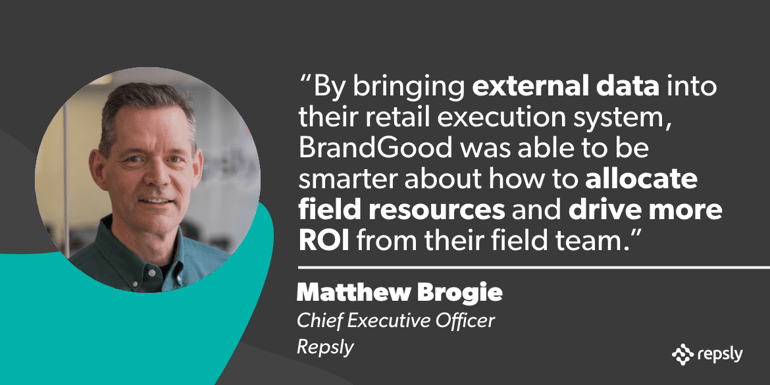 Stage 4: Agile
As BrandGood continued to develop sophistication around business operations, their use of data continued to increase and pay more dividends. Adding promotion data (Promotion dates, promoted SKUS, and expected lifts) into the mix gave BrandGood what it needed to react quickly to maximize the return from its promotional activities. BrandGood was able to use their compliance dashboard to see where they were and were not getting the expected lift after the first day of a promotion. Instead of deploying their reps to visit all stores over several days to discover problems, they were able to target their reps at the specific stores where the results were not being realized. Their field team had become truly agile, adapting to situations to remove impediments to growth in near real-time! With this strategy and this level of data analytics, BrandGood was able to get their promotional compliance up from roughly 70 percent to over 90 percent, driving substantial incremental sales!
Summary
In summation, a company's data maturity is measured by the number of data types and sources that are used effectively to drive business results, and by the type of decisions that these data-driven insights enable. Simply having access to data is not enough to realize business benefits. The organization's ability to systematically combine and analyze multiple sources of data in ways that deliver a step change to how effectively that organization operates is where the transformative impact comes from. As organizations grow, the stakes get higher, and the relative importance of being able to be Proactive, Predictable, and Agile increases as well. The organizations that purposely drive up the data maturity curve are the organizations that we've seen emerge as the winners in their space.
---
Miss part one or interested in reading more from our Endcaps & Insights series? Check out Repsly CEO, Mat Brogie's blog on the incredible impact that successfully using data can have on the top and bottom lines of CPGs.