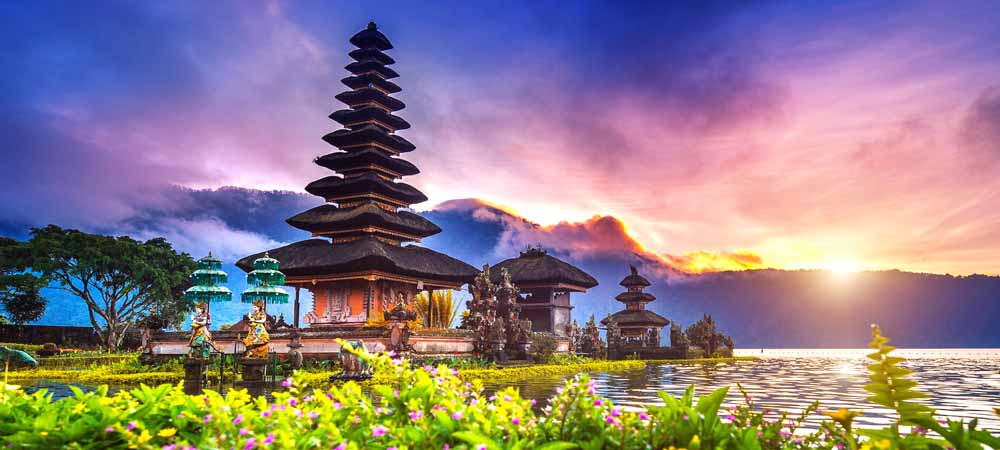 6. Bali, Indonesia
You'll be hard-pressed to find a more sublime paradise than Bali. Perhaps it's the spiritually strong culture infusing calming vibes into the air, or the warm hospitality of the people, but there's no doubt the island offers a peaceful and welcoming ambiance. Relax at one of their high-end, seaside spas in Jimbaran, or transcend to a higher realm at a retreat nestled in the mountains of Ubud. Discover rich art, architecture and traditions dating back 900 years. Embark on active adventures cycling through the countryside, trekking atop the iconic rice terraces, or white water rafting in the majestic Ayung. Abundant with rich culture, stunning natural vistas, and and a heavy dose of serenity, Bali earns the #6 spot on our list.
5. Koh Yao Yai & Koh Yao Noi
A pair of small islands tucked between Krabi and Phuket in the Andaman Sea, Koh Yao Noi and Koh Yao redefine Paradise. Here, discover the road less traveled completely shielded from modern day influences just a short boat ride away. There are few cars, no neon lights and no shopping malls – just primitive fishing villages, virgin beaches and family-owned eateries. Rent a scooter and zip around the island to experience Thailand as it was half a century ago. Afterwards, retire in your pool villa overlooking the Andaman at the stunning Santhiya Resort Sea where your worries magically melt away. 
4. Paro, Bhutan
Almost eclipsed by the expansive neighbours of India and China, Bhutan exists snugly between their borders. Continuously ranked as the "Happiest Country in Asia," this Himalayan treasure is also known as "The Land of the Thunder Dragon". Paro Valley is recognized as one of the most beautiful in Bhutan, a favorite among those who thrive in nature. Tour the some of Bhutan's incredible dzongs, which at various points in history either served as monasteries, fortresses, or district seats of authority. One of the most amazing sights is Taktsang, "Tiger's Nest" – a famous monastery perched on a cliffside, more than 10,200 ft above sea level. It's a good 5-hour trek but the memories will last a lifetime.
3. Yunnan Province, Lijiang
Beautiful Yunnan Province spans the most mountainous and most biodiverse terrain in China. Shangri-La exists as a nod to the utopian paradise from James Hilton's novel, Lost Horizon. With a heavy influence of the Tibetan culture dotted with stunning monasteries and local villages, one of Shangri-La's highlights is Pudacuo National Park which offers incredible glimpses of the native wildlife and picture-perfect views of the alpine meadows, marshes, and valleys.
Lijiang's 800 year history has earned its UNESCO World Heritage Site designation. This ancient city still retains much of its rustic charm, with cobblestone streets, small shops, and waterway canals intricately weaving through Old Town. Other notable sites nearby include the Black Dragon Pool, Tiger Leaping Gorge and the impressive Jade Dragon Snow Mountain.
2. Borneo, Malaysia
The third-largest island in the world, and the largest island in Asia, Borneo actually spans three countries: Malaysia and Brunei to the north, and Indonesia to the south. We love the Malay side of Borneo which showcases an inspiring array of natural beauty, with some of the oldest rainforests in the world. A visit to Kinabatangan Wildlife Sanctuary offers a unique opportunity to observe stunning wildlife, including the distinguished orangutan. You'll also have a chance to see the proboscis long-nosed monkey, the world's smallest bear – the Malay sun bear, the clouded leopard, the Sumatran rhinoceros, and so much more! Kota Kinabalu boasts some of the most prolific marine life on Earth. Relax on the white, sandy beaches, or explore the pristine waters by snorkel or dive.
1. Bagan, Myanmar
Earning the top spot on our list is Bagan. Having closed for decades to the outside world, Myanmar is a kaleidoscope of unspoiled culture, stunning natural beauty, and warm friendly faces. Located along the banks of the Irrawaddy, Bagan is home to thousands of elaborate ancient pagodas, temples and palaces. This birthplace of Burmese civilization offers a glimpse into its ancient past among these breathtaking ruins.
Despite its new entry into the travel scene, Myanmar did not miss a beat with the realm of luxury travel. Choose from an array of unique, opulent hotels on land, or enjoy an Irrawaddy River cruise in style on board one of several luxury river cruiselines. But whatever you choose, be sure to get there soon. This modest gem is transforming quickly as it gains incredible traction on the world's travel radar.