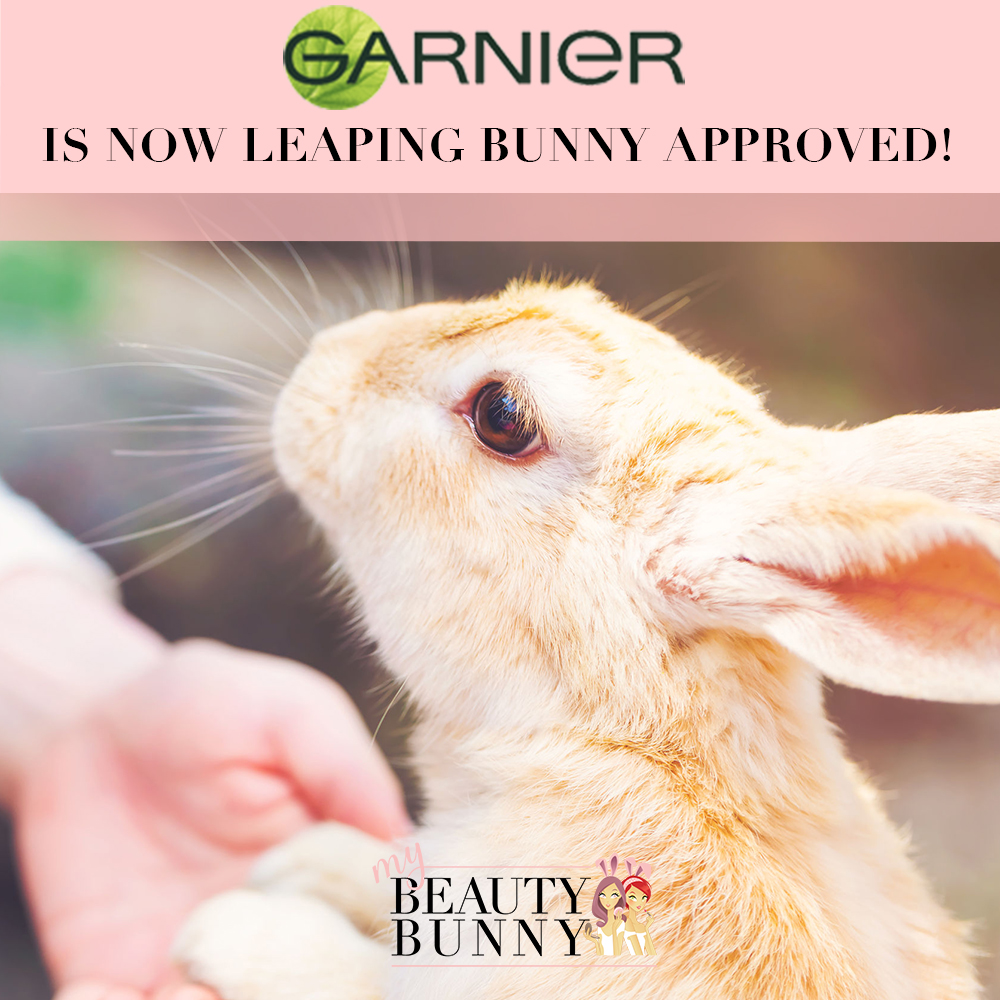 This post is sponsored by Garnier. All opinions are my own. You know I keep it real with you guys!
Hopefully, by now you've heard the big news! Garnier is now approved as cruelty free under the
Cruelty Free International Leaping Bunny program! Garnier has officially joined the cruelty free family! Garnier is one of the biggest global brands CFI has ever approved under the Leaping Bunny program, so this is a huge deal!
I spoke to the teams at Cruelty Free International and Garnier to get the scoop. After 2 years of working with 500+ different suppliers to get signed cut-off date declarations, the popular hair care, color, and skincare brand was able to secure that coveted cruelty free badge of honor. Garnier is part of a supplier monitoring system and will be audited periodically by Cruelty Free International. The brand is still owned by L'Oreal (which is not 100% cruelty free but owns other cruelty free brands like NYX, Urban Decay and It Cosmetics). Garnier is NOT sold in China and the brand has no current plans to sell there. 
Since I posted about this back in early March, I have been trying out some of the Garnier hair and skincare products. I bought several hair care products and their micellar water (loving them all so far), and the brand sent me a few products from the Fructis Sleek & Shine line. I'm really thrilled that I can recommend an affordable drugstore brand, because that's usually what I get asked about the most!
As many of you know, a couple months ago, I moved from Los Angeles to my hometown of Baton Rouge, Louisiana. My husband, our two pets, and I wanted more space so we moved to the South where we were able to rent a house with a yard. We were living in a small 2-bedroom apartment in a 4-plex, surrounded by a few palm trees and… lots of concrete. We didn't have a yard or balcony, so during the pandemic, we started to get really claustrophobic. Now we're actually gardening (never thought I'd be into that!), and our dog, Riley, has somewhere to run around and sniff all the things! We still plan to visit Los Angeles often, since our friends and Gregg's side of the family are there. We are really enjoying being so close to my side of the family in Louisiana. For the past 19 years, I've only been able to see them once or twice a year, so this is really nice!
Anyway, Louisiana is known for many things – some good and some bad. One of the bad things is HUMIDITY! The fall and winter are not so bad, but spring and summer are FRIZZ CITY, especially for my fine, wavy hair. So, I was excited to try Garnier Fructis Sleek & Shine to see if it would help. I tried the Fortifying Shampoo, Fortifying Conditioner and Intensely Smooth Leave-In Conditioning Cream.
First let me say, the price is RIGHT! Each of the products is less than $5. The products are cruelty free, vegan, and paraben-free. The shampoo and conditioner bottles are made from 100% recycled plastic, and the ingredients are fairly traded and sustainably sourced.
The claim is that the Sleek & Shine products will work in up to 97% humidity and keep your hair sleek for up to 3 days when you use all three (shampoo, conditioner, leave-in). They are recommended for straight and curly/wavy hair types. The products are made with fruit proteins, B3, B6, Vitamin E, argan oil, and other fruit and plant extracts. The active smoothing ingredient is dimethicone. I find that my hair loves "cones" and it's the only thing that will keep it from being frizzy and out of control.
When I tested these products, I was worried that they would make my hair so relaxed that I wouldn't be able to keep my hair curly/wavy. Luckily, there was no problem with that! I washed, conditioned, and then added the leave-in from mid-shaft to the ends. I don't usually add leave-in conditioner to my crown, so I can keep some volume on top. I finished by scrunching with my usual hair gel and I let it air dry. I was impressed to see that my curls were shiny and defined. My hair was not weighed down at all. I road-tested the products and they work very well for a typical Louisiana day, but on rainy days, all bets are off. To be fair, I don't think any products can help my super fine, curly hair on rainy days. All I can do is throw my hair in a ponytail or bun, or just let it do what it wants to do!
Overall, I'm impressed with these products! The photo above was taken after the rain on a very overcast, muggy day (pardon the squinting – it was bright!). Considering the high humidity that day, I think my waves look pretty great! Also notice that there is tons of body – my hair wasn't weighed down by the products at all.
Garnier also has many other frizz-busting styling products like a serum, humidity smoothing milk, frizz cream, spray oil, hairspray, and many more. There are SO many products – you can cocktail them to find the right mix for your hair. The prices are so good, so I have been experimenting with many of these. I'm really loving the trio I mentioned above, plus the Brilliantine Shine Glossing Spray as a way to smooth frizz throughout the day when it's raining out!
Which Garnier products have you tried, and which should I review next?