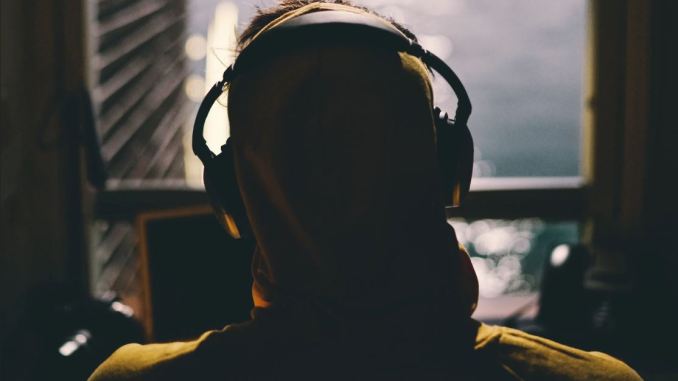 BY STEPHANIE ESLAKE
It's not every day that a piece for French horn tops a New Age Music Chart. But Michael Hugh Dixon's composition has resonated with listeners seeking calm and inner peace.
The French horn player wrote Of Fearlessness for meditation purposes. It was released in March, and peaked on the chart (with a shining review in the New Age Music Guide to boot).
Michael, who is New Zealand born and Sydney based, has released 13 singles in the past — though he's also big in the classical music world, having held posts with a number of Australian orchestras. These days, you'll find him with the Australian Brandenburg Orchestra or Omega Ensemble.
In this interview, we ask Michael to explain why the French horn — of all instruments — can help guide us through a meditation session.
You can give it a listen below, if you're anxious to relax.
Michael, a big congratulations for making it to No. 1 on the New Age Music Chart. What sort of achievement does this mean to you at this time in your career?
Hi Steph, thanks so much for the opportunity to talk about my music and meditation, and thanks for the congratulations. I didn't see the No.1 in the New Age Music Chart coming — or even in the top 10 of any chart — though I knew a few of my pieces would fit with the genre.
This certainly encourages me to write more in the new age style, and adapt a few earlier pieces into a longer form. Most of my compositions have a spiritual theme, so I'm very happy to be associated with the new age music movement.
Your piece is 27 minutes of French horn. I have to admit, I wouldn't have picked this instrument as your typical medium for meditation. But in an unusual way, it works.
I think it is the sonic breadth of the French horn that is contributing so well.
Like other instruments, and the voice, every note played has a bunch of higher notes — harmonics — present within the sound. When the low notes are played on the horn, the harmonics that are present within them are still not especially high in our hearing range. I think this provides warmth and a feeling of settledness in the mind and body.
So how do you like to incorporate meditation in your practice as a French horn player? Do you often use this instrument as a way to find calm, or do you put down the instrument and enjoy a different meditation routine?
Nice question. I don't use the instrument to find calm, but the breathing associated with it does bring a settled feeling.
On the rare occasions I miss a day of practising, I really notice the body has a bit more stress in it. I also think the routine of doing a number of exercises — including simple breathing exercises — in pretty much the same way every day is beneficial. My meditations are often silent, but on some days music is what I need.
What do you personally find to be the benefit of meditation, and why were you interested in creating a resource that would encourage others to try it too?
Meditation brings me stability, helps me know myself better, and even allows compassion to surface.
I think some people find silent meditation to be sometimes confronting, as we are not used to 'sitting' with our thoughts and simply letting them be. Music can be a great bridge between daily life activity and the inner spiritual life. Some of my music might encourage others in that direction.
Talk us through the composition itself. What techniques did you use to achieve the style or atmosphere you were seeking?
The most clearly heard rhythm is the [Buddhist] mantra His Gesture of Fearlessness. A nine-beat arpeggio underpins the whole piece. A softer 12-beat pattern is also present from the start and is transformed into a melody 19 minutes in. These three things weave their way throughout.
I also tuned the pitches very carefully using a very small part of the universe of just intonation. The other important part is that I asked the sound engineer to position parts of the music in different parts of the stereophonic 'image', so my piece is best heard with earphones. For instance, the very low note is heard both far to the left and far to the right, allowing a great spaciousness.
How do you hope people will engage with your meditation music? And does this differ between a beginner's level of meditation compared to a person who is experienced in meditation?
I am really happy if people use my music to study or work with, or be fully engaged in listening. I hope people can find this space to connect with inner freshness and beauty.
Going comfortably and safely into the inner world is of value to any meditator. One doesn't need prior experience to do this.
Beyond the obvious benefits of meditation from a mental health perspective, how do you feel musicians specifically can use meditation to aid their creativity or creative output?
Many musicians talk of the benefit of engaging with nature to provide the inner spaciousness to allow creativity to occur. Meditation is similarly helpful. We all need quiet time to allow the flourishing of creativity when the mind is not trying to control the outcome.
Any final thoughts before people spend a quiet 27 minutes with your music?
Allow the mind to be alert and trusting. Follow the contours and rhythms. The music will take us to a greater feeling of spaciousness, becoming quieter and more focused, then gently bring us back to 'normal' life leaving us refreshed and warm inside.
Learn more about Michael Hugh Dixon on his website Heart & Mind Music.