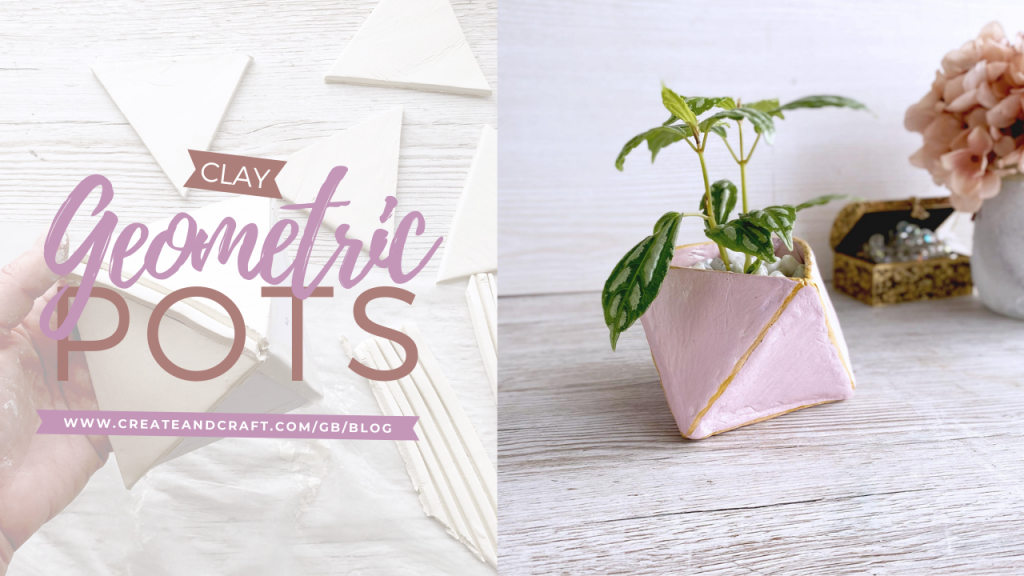 Geometric pots are right on trend this season, and look fantastic housing a plant or a succulent. Why not try making one of our stylish geometric flower pots yourself? Check out Penelope Quinn's step-by-step tutorial below, and try the tricks she's learnt along the way to ensure your achieve project perfection!
You Will Need:
How To Make Geometric Flower Pots
Step 1:
First, build a card version of the geometric shape. This is what we'll use to help us form the shape so the clay doesn't collapse as we build it! I cut out 7 triangles measuring 10cm on all sides (download a printable stencil here). Lay out one triangle, then tape another triangle to each side using masking tape. Tape these three to another three triangles, so all the sides meet. There should be a hole in the top.
Step 2:
Roll out your air dry clay to around half a centimetre thick. I like to lay down baking paper first, so the clay doesn't stick to your surface. I used three lolly sticks stacked and taped together, and put one each side of the clay to help get an even thickness.
Step 3:
Cut another triangle, the same size, out of card – we'll use this as a guide to cut 7 triangles from the air dry clay. Spend some time smoothing out any wrinkles or rough bits with your finger and some water. Cut strips of the leftover air dry clay, approx. 0.5cm thick.
Step 4:
Start with the bottom of the pot – lay down a clay triangle, then add another one of the sides – 'fuse' these together by adding a strip of clay we cut earlier, and then scoring all the surfaces to blend them together.
Step 5:
Keep going until you've attached all the triangles to each other. Be careful of moving it around too much – it's best to keep the opening resting on a surface, and working around it. Spend some time smoothing out all the surfaces, with your finger and some water.
Top Tip: If you have bumps, try dragging a lolly stick over the bump until it disappears.
Step 6:
Wait at least 24 hours until it dries. If it still seems a bit damp, you can put on the lowest heat in the oven for 10 mins, then turn off the heat and leave in for a further 20 mins. Leave another 24 hours to air dry, and repeat this step if necessary. Be careful with this method though; if you use too much heat your pot will crack! It's best to be patient. Once it's dry, use sandpaper to remove any rough bits or fingerprints.
Step 7:
Seal with Mod Podge. Once dry, give two coats of light pink acrylic paint, and paint around the joins with metallic gold.
Step 8:

Your pot is ready to welcome a new plant or your desktop knick-knacks!
Feeling inspired? Check out the rest of our creative home crafts ideas, projects and tutorials right here!