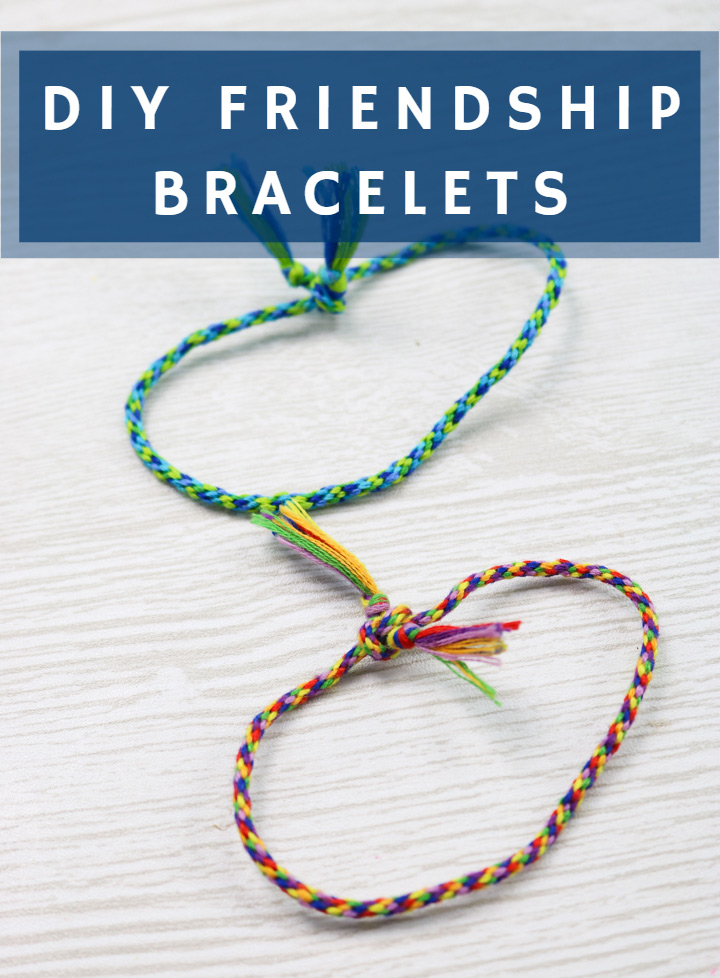 Learning how to make friendship bracelets is an easy craft and perfect for kids. They can make these cute bracelets to keep for themselves or to give to their friends. Today we are sharing how to make jellyfish friendship bracelets but there are so many more designs that you can make. Just grab a pack of embroidery floss and start making friendship bracelets for yourself.
How to make friendship bracelets supplies:
How to make friendship bracelets instructions:
Start with a scrap piece of cardboard and cut it into a circle shape with a pair of scissors. You can do this by tracing something like a drinking glass. Then cut 8 slots into the cardboard circle. You can number each slot with a marker but this is not required. You will also need to poke a hole in the center of your cardboard circle.
Pick seven colors of embroidery floss. You can literally choose any color combination that you like. Cut pieces from each of the colors about 30 inches long. I found this length to be just about right for an average-sized bracelet. If you have smaller children, you can try 20 inches long. Gather up all seven strings and tie them in a knot on one end.
Then you will want to put this knot through the hole in the center of your cardboard circle.
On the opposite side from the knot, add each of the strings to slots one through seven.
Then you can start making your bracelet. Each time you move a string it should "jump over" two other strings. So I move 5 to 8 first and jump over 6 and 7.
You just continue in this same manner. So, the next move would be that 2 would move to 5 jumping over 3 and 4. And so on and so on. Your bracelet will start to take shape and come out of the hole in the center.
The "jellyfish" portion of this bracelet is the excess string hanging from the cardboard circle. You also want to make sure those don't get too tangled as you go. Then just make your bracelet any length that you want.
Once complete, knot off the other end and cut off any excess string. Then tie into a bracelet and wear any place you would like!
Make as many of these cute friendship bracelets as you would like! They are easy to make and will keep the kids entertained for a bit.
Now that you know how to make friendship bracelets, you can use this tutorial for an activity for the kids or even for some crafty summer camp fun.
Angie blogs at The Country Chic Cottage where you can find creative crafts, vintage finds, home decor, and DIY all with a little farmhouse flair. Angie has been blogging for several years and is married with three kids. Stop by her blog where you will find everything from small, quick crafts to major furniture and home makeovers.