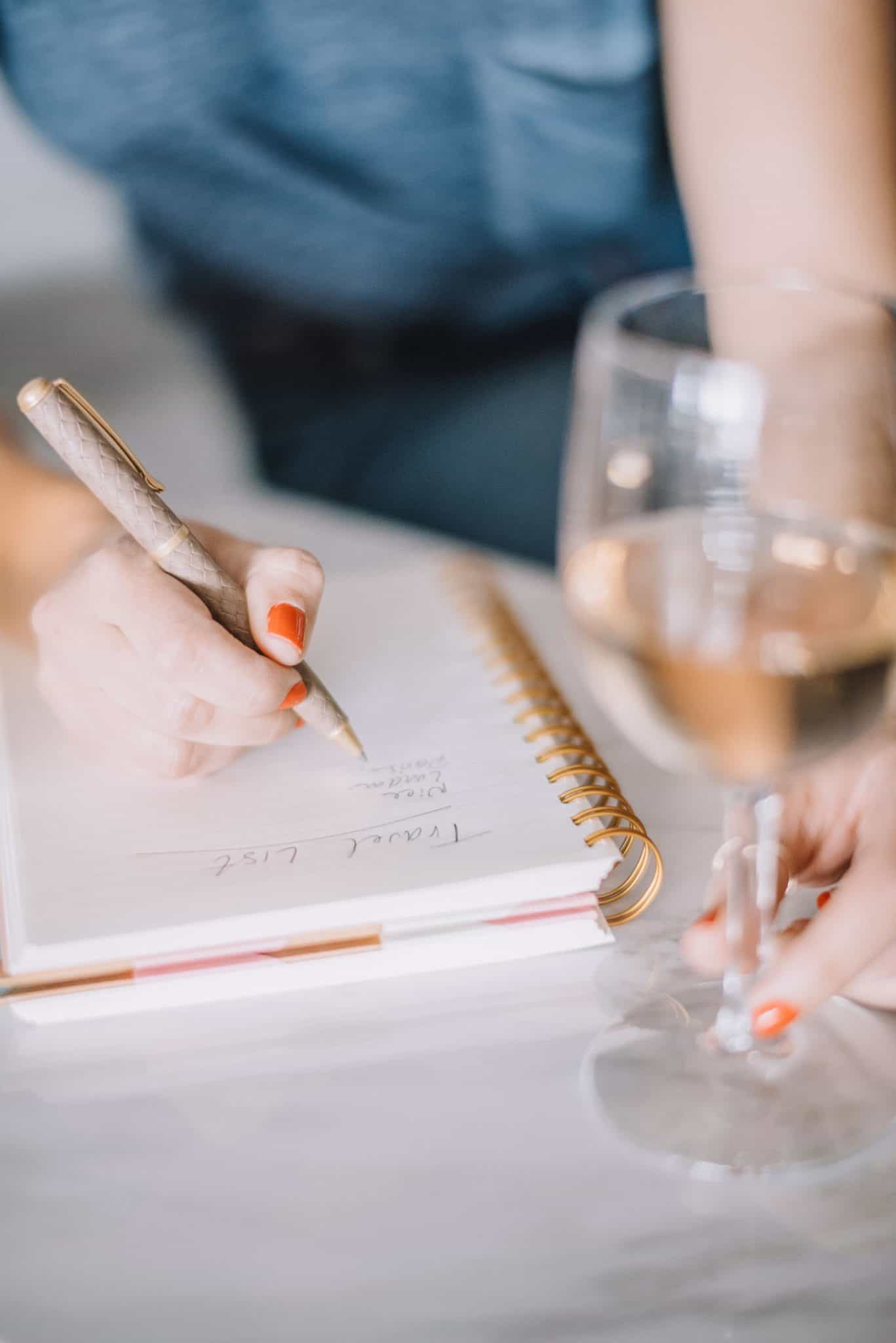 Taking a trip somewhere International is always exciting! But figuring out exactly what to do, where to stay and how to get around can be a little overwhelming. This is the case with any new place, but there's definitely an added level of stress when doing this Internationally.
Sure there are places like Paris or London or NYC where you can pretty much just walk around or do a quick Google search and find an endless amount of great things. But what about trips where they're more off the beaten path? Or it's your first time going through customs? The more you do it, the more you'll feel comfortable traveling internationally. But no matter if you're a seasoned traveler or not, planning a big trip and figuring out an itinerary that's efficient and fun, requires a little bit of effort before packing your bags. Planning my first trip abroad was a total mess and I had zero plan and it made me not enjoy the destination one bit. So don't make the same mistake I did. These are my best tips for how to plan an international trip. And my go-to tips for traveling efficiently!
How To Plan An International Trip
So now that you've booked your flight, and hopefully you got a SWEET deal from these tips to finding cheap flights, let's start planning your big International trip. There really is so much to consider and research. Although you can definitely just wing it, you may be wasting valuable time once at your destination, or you may forget important things. Plus, many major tourist attractions require advance ticket purchases! So to be sure you make the most out of your next big trip, here's how I like to plan my International travels. Let's dig into it.
Start Researching + Make A List Of Must Visit Places
This starts with some Googling, researching, and diving into articles and tips from friends, family and whatever else you can find. Everyone always has a must visit recommendation when you mention you're traveling somewhere. Write it down. Keep an ongoing list of what people are recommending to you, or what you continue to stumble onto when searching online. It can be helpful to create a simple Google Doc or note on your computer or phone so you can just add a bunch of stuff and keep coming back to it.
You'll start to see a pattern. A lot of people recommended XYZ, only a few people mentioned that one tourist spot. Or someone said something that resonated with you. Maybe your go-to travel friend gave you some great advice on what to do; write it down. This is how you'll start to narrow things down. Research each one and see what they're all about, and any other tips you can find on them. For example, some places require tickets to be purchased, some are only open certain days of the week, while many religious attractions like churches require a dress code. Take notes!
I also love to use Instagram to save things to a folder. It's easy to go down a rabbit hole of cute restaurants, what to order, and places to visit. Just start exploring hashtags, see where people are tagging or geo-tagging things and start saving away. The Instagram "saved" feature is one of my go-to. I create a folder for each destination I want to visit so they're all at my fingertips.
Utilize Google Maps
One of my favorite tools when it comes to planning a trip is using Google maps. I like to add my hotel as a "favorite" and then start searching for each main attraction you're hoping to visit. Google will usually have information right there for you too on times, tickets, etc. Keep favoriting or starring each one so you can visualize everything. Eventually, the city you're visiting will be marked up with lots of yellow stars or pink hearts. This not only makes it easy to plan your trip but also when you arrive, you can easily access this on your phone.
Create An Itinerary
Now that you've sort of marked up some things you want to do, and can more easily visualize it on a map, you can start to build your itinerary. With Google maps, you can see what is close to which attraction to organize and plan your days best. Maybe the museum you wanted to visit is on the other side of town, but a restaurant you wanted to try is on the way. Perfect! Make that part of your day. Or that out-of-the-way museum is near something someone mentioned that you weren't so sure about, now you may consider adding it to your itinerary to check it out.
To build my itinerary, I just use Google Docs and put everything in it for each day. I quite literally just write out each day that I'll be on the trip including travel days. I include the day, day of the week and then break up the day. Breakfast, activities, lunch, activities, dinner. If you need a nap, work that in. If you're having a travel day, add that in. This not only helps you stay organized, but you can also include any notes, links and so on. Plus, it's easy to share! Once your trip is complete, you can also use this to share with friends who may be visiting another time.
TIP: Always add in some down time. Whether it's time between visiting museums, or an hour or two in the afternoon. Having a bit of a buffer will keep your trip feeling less stressed and allow you to explore your surroundings without feeling like you're on a serious time crunch.
International Travel Tips
Things You Need To Know About Flying Internationally
Flying internationally can be a tad overwhelming if you've never done it. For one, it's a LONG ass flight and there's proper documentation you'll need and carry on regulations can be totally different. Don't fret, I've got you covered.
Passports, Visas & More
First and foremost, make sure you have your passport and check that the expiration date is not within 6 months of your travel date. You read that right. If your passport is valid but expires a month after you get back from said trip, they may not let you on the plane. So make sure you're up to date and prepared!
Double check for any necessary vaccinations or medicines you may need. Some countries require this like many in Africa and even Asia. You can always call your doctor to confirm. Plus, this website lists out everything as well! With COVID now part of our lives, many countries are requiring a negative test and or vaccination.
You may need a Visa! Usually, when you book the flight, it'll tell you if you need one, or need to look into one. They're usually fairly easy to obtain but it's CRUCIAL you have it for specific destinations. You can also check this website for that information based on destinations.
Check for travel warnings and advisories. It's smart to just make sure there aren't any major issues with the destination you're about to explore. Oh like I don't know, a war. Right now we're seeing lots of advisories for Mexico and even some countries in Europe. Many are under a low threat level for terrorism. It's just good to be aware! You can learn more about each country here.
Trip Insurance
You may wonder if you need to get trip insurance, or medical insurance coverage for a trip. And honestly, there are arguments for both sides. Do what you are comfortable with and manage your risk. I personally have never purchased either and have not needed it.
---
---
Airport Tips
A few other tips to keep in mind is to leave a little extra time for checking in. Customs and immigration can take time so always be mindful of that. Whenever I'm traveling internationally on flights while overseas, I always get to the airport earlier than normal. You're not familiar with the airport, there's a language barrier and you just never know. Sometimes airports are easy, sometimes they're a hot mess. I have almost missed flights due to hot mess airports! Don't be like me! Give yourself that extra half hour to an hour that you normally would just to be safe.
Cell Phones & Cash
The two biggest concerns while you're away are usually these two things. How will I use my phone and what do I do about cash or using my credit card while abroad. For the cell phone, I like to just use the $10/day that AT&T offers. It allows you to use your phone the same way you do at home with no roaming charges. It can add up if you're spending a long period of time away. To save money, you may want to get an international SIM card instead. As for cash, I always bring my ATM card and pull money out of an ATM at my destination. There's always one as soon as you land usually at baggage claim. I've never not seen one when I traveled. This will give you the best exchange rate and save you money. And PS, Ally Bank offers no fees. Call your credit card company to see which charges an exchange rate fee. Some may and some may not. I have one card that doesn't so I'm usually in charge of buying all the things. I then use Splitwise with friends to split tabs during the trip. It's my favorite app!
International Travel Carry On Tips
I'll never forget the day that London Heathrow airport security threw out 75% of my toiletries. I disregarded their quart bag rule and had to toss most of my products before heading to my next destination. The US also has this rule, however, we don't enforce it the way they do elsewhere. You have to not only shove any liquids, gels and so on into a quart bag, but you have to ZIP IT CLOSED.
Always make sure your liquids and gels fit in to a quart bag that also ZIPS CLOSED!
My biggest tip to you is to use these containers for your products instead of bringing the bigger bottles. I use them for a lot of my face creams, and anything that you need in small quantities. Even though my everyday moisturizer is under 3.4 oz, I don't need that giant bottle taking up valuable space. For larger quantities, I like these containers. I also usually refill great travel-size bottles that last. They can be hard to find but when you find a good one, just continue to refill it with your favorite product!
Fun fact, I've gotten away with keeping my makeup in a separate bag and not putting it in the toiletry section. They usually don't notice it. Just have your quart size bag ready to go and pop it in the bin. It's your best bet to getting everything through.
Also, remove the lids if you can. I like to plan my quart bag at home and take the lids off (it saves a TON of space). But to keep things from spilling while traveling I keep the lids on until I head to security. But knowing I will get it all in is key. You will always find a quart bag in my toiletry bag. This way all I have to do is pull out the toiletry bag and the quart bag, remove the lids, and pop in the remaining liquids. Voila! It sounds like work, but trust me you'll thank me later when you can bring ALL the things you need.
When I pack for trips with many shorter flights I always want to carry on. It makes it easier, period. I use packing cubes and always plan my outfits. It's the best advice I can give and also makes getting dressed so much easier. You can also check out this post on my favorite travel bags! You can download my international packing checklist below! I wouldn't leave ANYWHERE without these items.
Want more?
Subscribe and get my weekend travel guide with my travel planning template, weekend capsule wardrobe and more.
Planning an International Trip Checklist
Never Forget These Items
I've made a downloadable list below that you can print out and actually check off the things you're preparing for your trip. Besides the usual clothing, chargers, comfortable shoes and what not, you don't want to forget some super important documents and items. Cash, in both currencies, converters and adapters, printed out itineraries for hotels and flights. You'll thank me later when your phone isn't working well and you can't access your boarding pass on your app. Paper always saves the day!
Download my international planning checklist. Plus, my must haves for my travel personal bag checklist!
<!–
–>