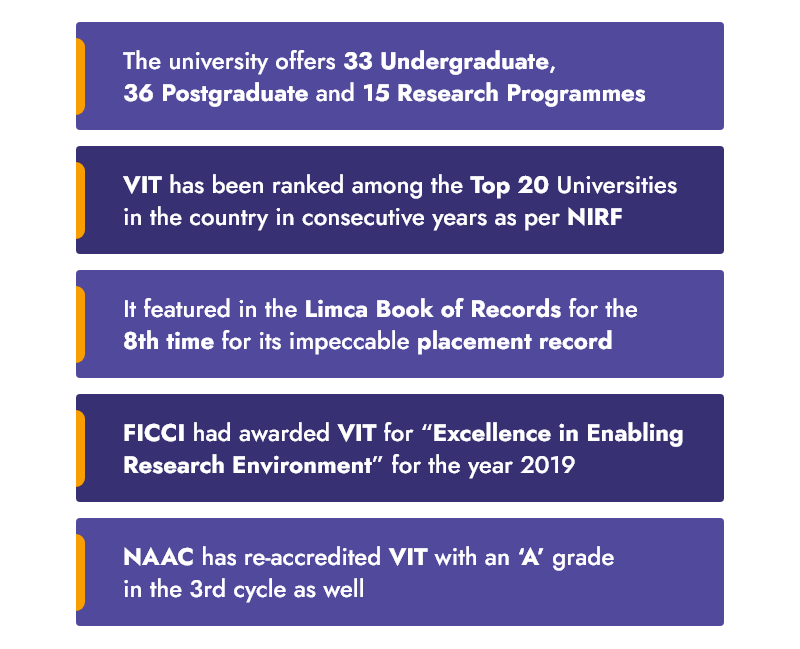 A premier institute with nearly three decades of excellence and an Institute of Eminence (MHRD, Govt. of India), VIT University is a name to reckon with. The university is synonymous with higher education on par with international standards and is known for its constant innovation. 
Getting admission to VIT is nothing short of a proud moment for Indian students and the many aspiring international students as well!
Background
VIT was established in 1984 as a self-financing institution called the Vellore Engineering College, under the University Grants Commission (UGC) Act, 1956. The Union Ministry of Human Resources Development conferred University status on it in 2001. 
The University is headed by its founder and Chancellor, Dr. G. Viswanathan. A keen student of life and a visionary educator, it was his foresight and dream that has made VIT what it is today. 
Campuses
All VIT campuses are modern and beautiful. The Vellore campus of the university is spread over 372 acres. It has over 54.51 lakh sq. ft. built-up spaces.
The Chennai campus of VIT is a 192-acre, eco-friendly one.
VIT-AP, Amaravati and VIT-Bhopal, Madya Pradesh are state-private Universities under the umbrella of the VIT group.
VIT Chennai Campus
What Makes VIT Outstanding?
Rankings & Recognitions
VIT has been ranked as the top Indian Private University for Innovation, as per ARIIA institutional ranking, Govt. of India. 
The Times Higher Education World Ranking by subject, 2019, had ranked VIT among the top 301 – 400 universities in the world (for Computer Science).
The QS World University Rankings, 2020 by Subject has ranked Vellore Institute of Technology (VIT) among the top 450 Universities in the world and the top private institution in India for Engineering and Technology. 
Teaching
VIT attracts thousands of students each year. The biggest reason for such popularity is the experienced and industry-oriented faculty here, who nurture the students. The focus on research is another strong reason for student success here.
The university has over 1700 faculty and 1090 other staff. In addition to this, more than 1500 industry experts visit the campus to give classroom lectures on various contemporary topics across subjects.
Student Life
The university has over 36,000 students, of which nearly one-third of them are girls. These include students from across 60 different countries and from each state in India.
Many VIT students pursue research projects in foreign universities and are an important part of high-quality contributions. Such work and student achievements have been a constant source of pride for the university.
The agile entrepreneurship ecosystem in the campus has helped establish a strong startup culture in the campuses. 
VIT 2021:
Placements:
VIT boasts of an impeccable placement record for its students with a record in its name! The university has a dedicated centre that ensures that students get placed in the best national and international companies. 
Students are offered career counselling, guided through lectures and get opportunities to interact with seniors students. 
719 companies visited VIT to offer dream placements to its students last year. The highest offer made was 39 lakhs per year by Microsoft. 
Over the recent years, many reputed companies have recruited students from VIT:
TCS, Wipro, Cognizant Technologies, Intel, Amazon, Dell, GE, Texas Instruments, Schneider Electric, DE Shaw & Co, Hitachi, HP, PayPal, Tata Motors, L&T, Dr. Reddy's, Bosch, Deloitte, Morgan Stanley, Qualcomm, Ashok Leyland, Honda, Ford, Global Analytics, Accenture, and Infosys. 
Partnerships
VIT has collaborated with over 300+ international universities. The university is also proactive in student and faculty exchange programs. VIT ardently supports several joint research projects. 
VIT Accomodation
The VIT difference
Students can choose their courses, faculty and schedule each semester and get to be a part of a new batch each time.
The lab marks are evaluated in the lab class itself, hence no separate practical exams need to be taken.
Students undertake project work every semester. 
VIT's societal contributions too are many. This was done through the adoption of villages and providing free education to district-level toppers in the government schools of Tamil Nadu.
Future At VIT
Programs at VIT will focus on niche areas such as Artificial Intelligence, Data Science, Cyber Safety and Security, FinTech and many more. The university will also launch innovative UG and PG programmes, in collaboration with Indian industries and reputed universities abroad. 
Ready to get the VIT university edge today? Click here to know more about the university and its programs.