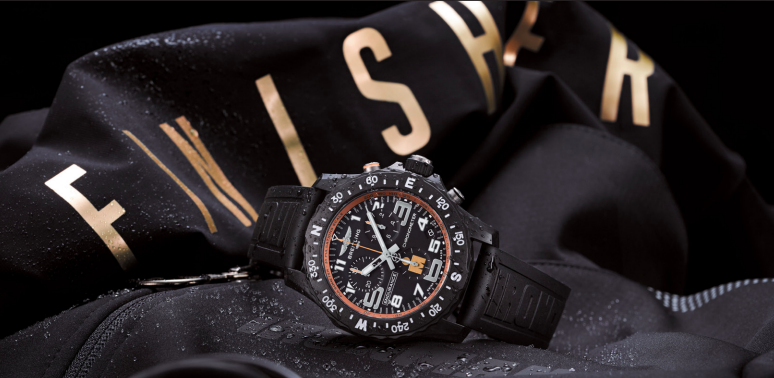 Breitling and IRONMAN have signed a long-term partnership and teamed up to co-design the Endurance Pro IRONMAN watches, a special series of Breitling's ultimate athleisure watch.
The result is a set of perfectly lightweight and lighthearted luxury sports watches combining high precision, innovative technology, and vibrant, colourful design. The launch features two exciting new watches: a red version available globally at all Breitling boutiques and retailers  for sports and timekeeping enthusiasts, and a black and gold piece exclusively available for IRONMAN race finishers with additional models reserved for the IRONMAN community are planned for the coming months.
In 2019, Breitling and IRONMAN launched the highly successful Breitling Superocean IRONMAN Limited Edition. This new partnership kicks off a long-term collaboration with Breitling becoming the new Official Luxury Watch of IRONMAN. To celebrate the partnership and offer a first look at the watches, a special event was held at the Breitling Boutique in Beverly Hills, co-hosted by Breitling USA President Thierry Prissert and President and CEO of The IRONMAN Group Andrew Messick.
In attendance as special guests were IRONMAN Hall of Famer and 1997 IRONMAN World Champion, Heather Fuhr; IRONMAN Ambassador and the first person with Down syndrome to finish an IRONMAN, Chris Nikic; IRONMAN Hall of Famer and the Voice of IRONMAN, Mike Reilly; and professional IRONMAN triathlete Ben Hoffman, who was also on hand to celebrate the new watches as well as his recent partnership with Breitling as a local ambassador in the US.
Since turning professional in 2007, Hoffman has won numerous IRONMAN, IRONMAN 70.3 and National Championship victories. "IRONMAN truly reflects our core values of performance and endurance. We've designed this to be an ideal watch for elite athletes as well as a casual, everyday sports chronograph for active people who want that winning combination of performance and luxury," said Breitling CEO Georges Kern.
This eye-catching watch perfectly captures the energetic and versatile spirit of the iconic IRONMAN Triathlon Series, finds Kern along with Andrew Messick , President and CEO of The IRONMAN Group. "We're thrilled to continue our partnership with such an exceptional and well-respected watchmaker. After the success of our collaboration in 2019, we are pleased to partner with Breitling in creating this new watch which embodies the strength and tenacity of IRONMAN triathletes," says Messick.
Know more about Sport360 Application