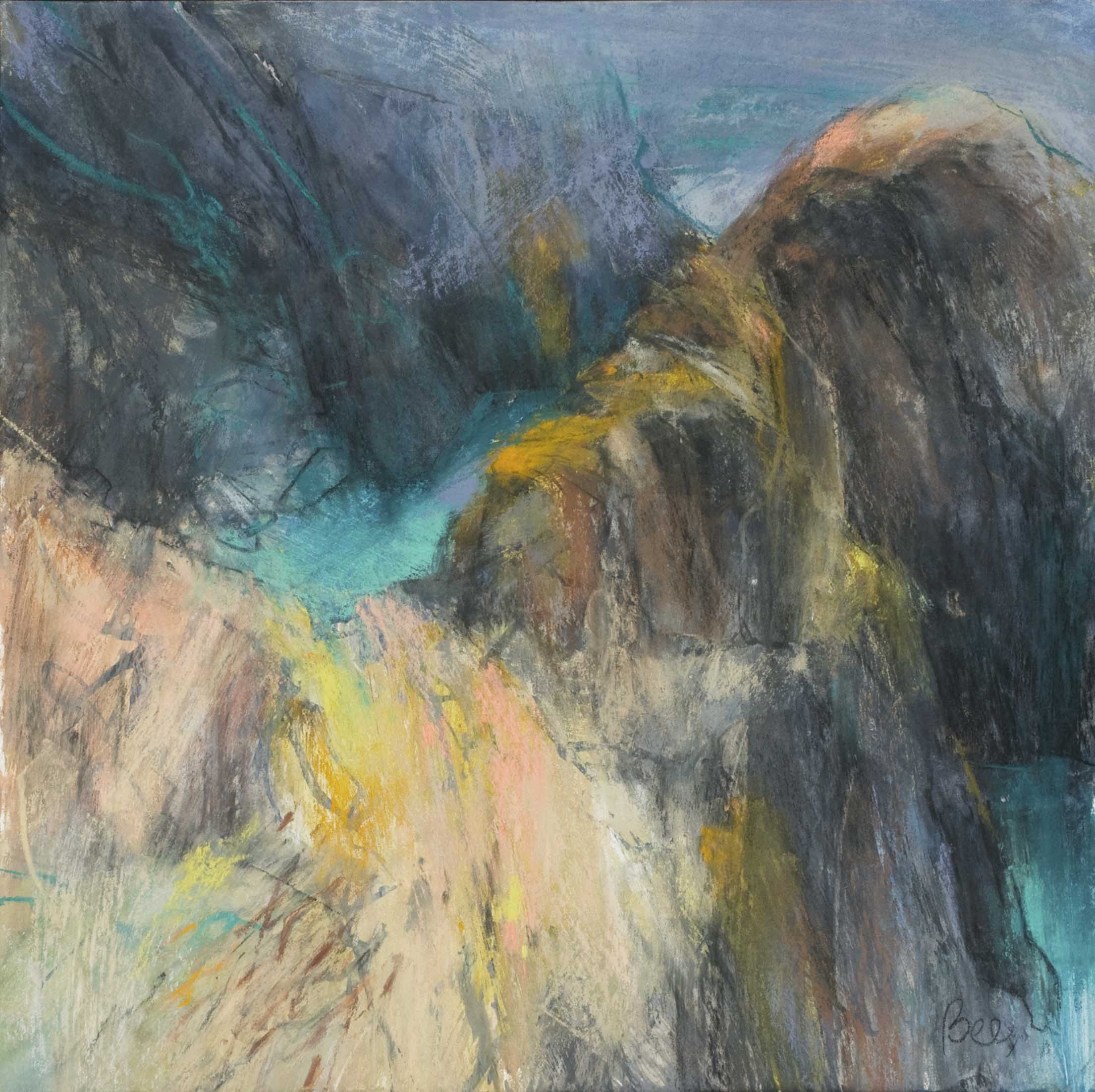 After the intensity of the Euro 2020 Championships, I think we all need something calming to focus on this week… Sarah Bee and I met many years ago when she worked as a make-up artist and body painter for commercial photography and film; incredibly talented and a brilliant colourist, it was no surprise when she went on to study painting. Today, her constantly evolving artwork reflects the texture, light and colour she sees in nature. 'The challenge of portraying the various juxtapositions and spontaneity of the natural world, is what gets me into the studio each day,' the 69-year-old, Devon-based artist tells me, 'I am constantly inspired by the visual commotion of the landscape.'
Working on mount board Sarah builds layers of acrylic paint and chalk pastel to achieve a lively, vibrant image. The rocky coasts, rolling hills, woods and rivers surrounding her home in Devon provide endless inspiration for her work, and she describes her relocation to south west England from London a decade ago as 'transformational'. Having grown up in Dorset, Sarah reached the point where she wanted to move away from the city, 'I've always been a country girl in my heart…I had a couple of friends in the area, as I was arriving alone. And I LOVE the source material for painting!!'
Sarah Bee is a member of The Pastel Society and has received several awards for her artwork. I caught up with the her to find out what she's working on at the minute – and am very much looking forward to seeing her in person at The Pastel Society annual exhibition, this week (details below):
Since the last time we met, you've moved to Devon! How's it going?
When I moved back to the West Country I continued to work in make-up and body painting, regularly spending hours on the M5 to jobs in the bigger centres of Bristol and Bath. Eventually this tiring way of life brought me to the point where I took a leap of faith and gave painting all my energy. I've not for one second ever regretted it. My work is my driving force and gives me a focus within my life. And I've always seized opportunities when they become apparent. I believe they only become apparent when one needs a change!
And what's the day-to-day life of an artist like?
I have been freelance and self-employed virtually all my working life, and like most creatives, there is no typical day. There is no weekend – there are just DAYS! I live alone and therefore also have the general stuff of personal and home maintenance as a couple of balls to keep juggling in the air. I often paint in immersive blocks of days and sideline all else. I usually come to a natural breaking point and then deal with the domestic stuff and enjoy catching up with friends and family. During painting days, I go to locations that interest me as potential source material. As a landscape painter, Devon is abundant in everything that inspires me, from coast to moor. You can visit the same places on a different day with different conditions and different emotions and the art created will never be the same.
I sketch, take notes and photographs and return to my studio to work up paintings from material gathered. My work is often mixed media, and a building of layers culminating in soft pastel. During the last year I find I'm also working more in acrylic, which is giving an exciting dimension to my landscape painting.
I'm nearly 70 and my only 'don't' is the retire-word, and I feel fortunate to have a strong urge to keep learning, creating and growing. I bore myself with repetition and am always open to new approaches within my work. I'm always making virtual paintings in my mind, until they need to be transferred from my head to a board. Needless to say, in my mind they are incredible masterpieces… in reality, often more challenging!
It's clear your paintings are inspired by the natural landscape – what do you hope to convey in your work? 
Devon has an incredible coastline with magnificent cliffs, rocks and sea. Dartmoor offers such wonderful textures and deep wide perspectives. There are fantastic racing rocky rivers as well as exciting woodlands and windblown trees. I love this visual commotion – the interplay of light, atmosphere and texture. It's the challenge of portraying the various juxtapositions of the natural world that excites me. It's the scratchiness of undergrowth next to a flat expanse of water, or the gnarly trunk of a tree against a brooding sky. The combined effect is sometimes subtle, sometimes dramatic – and all too easy to miss if you don't take time to really look.
I have found that a layered combination of materials – gesso, acrylic paint, and finally, pastel and charcoal – allows me to give my work depth, but also facilitates the kind of energetic, expressive mark making that I've always been drawn to. It's a process that's always evolving, and often challenging – but I hope to keep learning as long as I'm painting. I generally work in the studio from copious sketches and notes gleaned on location. I find this helps me to paint the essence of what I've seen and felt, without the distraction of extraneous information. Really, that's what painting is for me. Capturing the heart of that moment of seeing – distilled, perhaps heightened, and above all being alive.
What are you up to right now? 
As with many others, the pandemic and various lockdowns have played havoc with my usual work life. Up until the last few months I have found it extraordinarily difficult to actually paint. My mojo was very definitely lost. I also teach on a couple of short courses (nationwide) and obviously they were postponed. In June, at last, I led my first course after eighteen months in the wilderness!
I have two more short courses planned for September and October and will be exhibiting in August at Fresh Art Fair, Cheltenham. In 2005, I was elected to the Pastel Society, and this week I have work in the 122nd Annual Pastel Society Exhibition which runs July 14-24 at the Mall Galleries in London. I'm extra excited about this show as it has been cancelled twice, and is always such a fantastic large exhibition that showcases how pastel and other dry media are now a strong force within contemporary art. Definitely worth a visit.
For more details about Sarah's work visit her website HERE or find her on Instagram  @sarahbee.devon
The Pastel Society 122nd Annual Exhibition 2021
14 July to 24 July 2021
£5, Free for Friends of Mall Galleries and under 25s. Concessions available.
Tickets available HERE