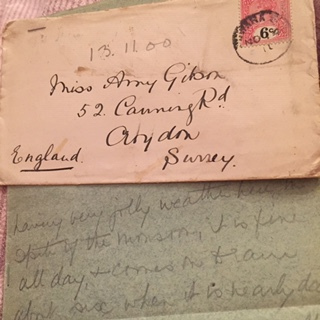 Elephant Nook
Newara Eliya
Nov 13th 1900
Dearest Tommie
We are really having very jolly weather here in spite of the monsoon. It is fine all day and comes on to rain about six, when it is nearly dark, so it does not affect us at all. I think the change is doing us both good, although things are so muddley just now, that we never know what we may have to do next. It is pretty well certain though that we shall not go back to Horekelly but to Veyangoda. Mr Hartor has had notice given him and is to go at the end of the month so we shall go there as soon as the house has been cleaned up. If George is not wanted for anything we shall most probably stay here until the end of the month and then go down to Colombo. I expect we shall go to Horekelly for a day or two to see after things, but the Boy and Solomon will do all the packing and bring the furniture by carts to Veyangoda. It will be a business bringing all our animals. I do hope my pussy will come all right. But of course nothing is settled yet and we must just wait and see. We may not be at Veyangoda too long as Mr Norman would much rather have George in Colombo but that will depend on how much the Home Office will raise his salary. He will have all the machinery under his charge and will have to visit Horekelly about once a month. Veyangoda is not much nicer than Horekelly in many ways, but the fact of its being near Colombo is the great point in its favour and we shall have a sort of feeling that we are on the way to living in Colombo. Nothing has been decided about the case yet so we don't know if it is to be retried or not, it is tiresome as it would have been nice to have got it off our minds but these things always take time so it is no good worrying.
Wednesday
We got our mail today just before lunch. It is so tiresome getting it so late just as our letters have to go off. It does not give one time to digest your letter before I answer it. Please thank Dor very much for her jolly letter. I was so hoping she would write and let me know how she enjoyed the dance. I have been wondering if she would go to the Addiscombe or not. It would seem rather hard to leave her at home. We should like a bread platter immensely but tell her not to hurry about doing it, any time will do. So far I have had one pair of shoes soled, the brown thick lace-up pair, the others I have worn very little and I have still one quite good pair of evening shoes.
George will be very pleased to have Hockey and thanks you very much for it. You see, if we do go and live in Colombo, some time he will be able to play again. Don't you worry about that cake, make it anyhow and it will be sure to turn out splendidly. I think I must have told you afterwards that I did receive the films all right, we have been busy printing photos taken on them now for Xmas cards. George has been busy all the afternoon cutting them straight etc and feels very virtuous in consequence.
He wants to go out now so I must be quick and finish up. Please thank Jack for sending the A.C.C. Report. George is pouring over it at this minute. Also George thanks him very much for sending the papers about the elections. He was so pleased to have them.
We really don't know if we are going to stay on or not. Mr Norman is to let us know tomorrow if he wants George to go back to Colombo or not. I don't think it is very likely as George has put it to him that we can't afford to live at an hotel so if they want us to go back, the Company must pay our expenses. As it is, having to come up here has cost us a lot and we shall have to be uncommonly careful for some time. You see when we are in Colombo, they pay George's expenses but not mine, staying at an hotel does mount up so, even for a few days. It is tiresome having to move just now too, but of course they pay for that, but all the same little things crop up that we have to pay. However we flourish on our worries and it will soon come all right again.
George is ready so I must say 'adoo'. I do hope mother is better. She must try and do as little as possible and rest as much as ever she can. I do wish you could be at home altogether and that money weren't so tight.
lots of love and kisses to everybody
your loving sister
Mab