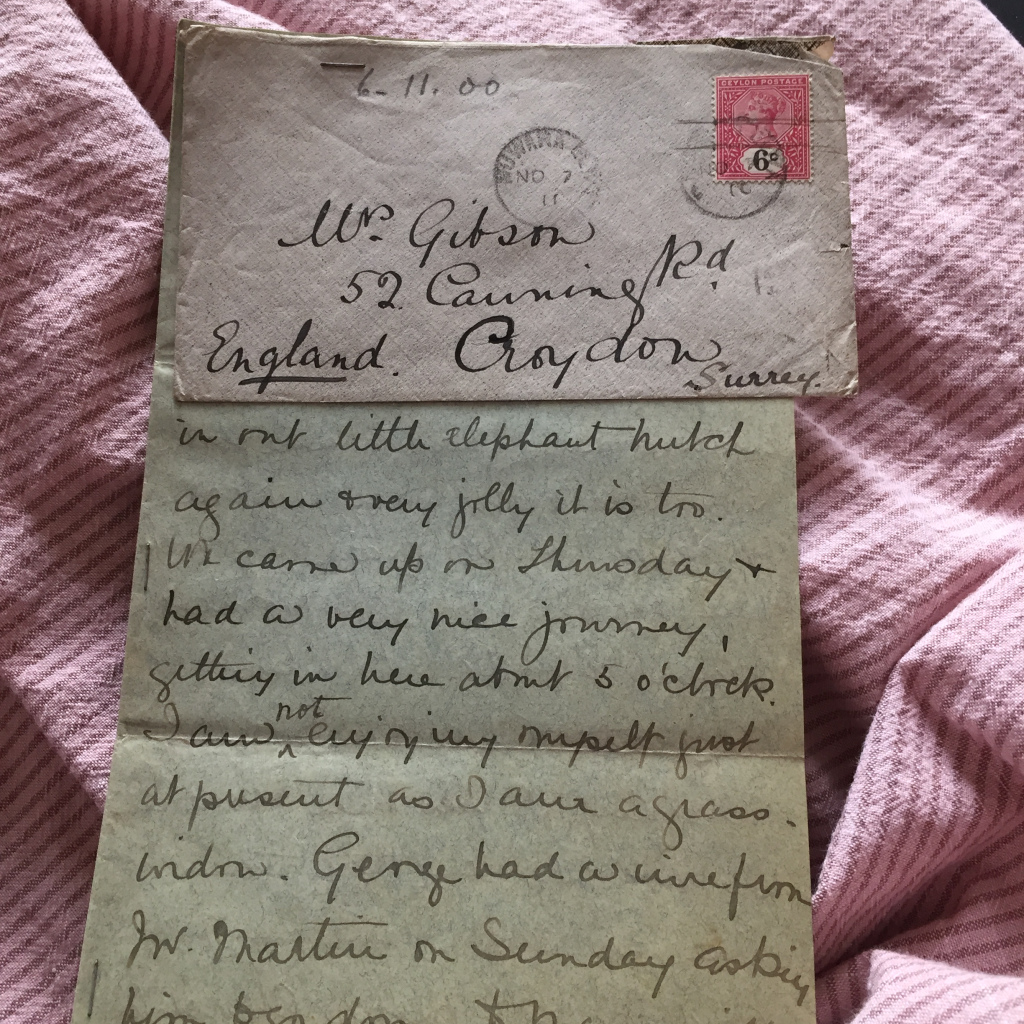 Elephant Nook
Nuwera Eliya
Nov. 6th 1900
My dearest Mother
Here we are in our little elephant hutch again and very jolly it is too. We came up on Thursday and had a very nice journey, getting in here about 5 o'clock. I am not enjoying myself just at present as I am a grass-widow. George had a wire from Mr Martin on Sunday asking him to go down to Marawila as further evidence was required evidently before the Attorney General decides the case. So off he went by the night mail on Sunday night and would go to Marawila in the coach on Monday and get to the courthouse in time in the afternoon. I had a wire from him last night to say he is coming back by tonight's mail so he will be here by 8.30 tomorrow morning and shan't I be glad to see him.
We went to church on Sunday morning, it was nice to go again. We have only been three times since we have been married and this is a proper church too with an organ and choir, not like the quaint one we went to before. I am revelling in the garden here, real English flowers, roses, yellow daisies, violets, verbenas, lovely arum lilies (very common here) and big tree fuchsias. Begonias grow very well here and so do those red leaved plants, coleus aren't they called? Maiden hair ferns grow all over the place, in holes in the walls, on the side of the banks, it is so scrumptious to be able to pick it as much as you like.
It was so tiresome, poor George went away without any luggage. It must have been horrid for him spending the night in the train with no pyjamas or anything. It was all Solomon's idiocy. I could have boxed his ears. George walked down to the coach office (one goes to take passengers to the train) and told Solomon to meet him there with his bag. But instead of waiting for George, he went off with someone else to show him the way and waited at the wrong coach office. He didn't have the sense to go to the right one when George did not appear but waited till the coach went from there, and then went to the right one but was of course too late. I expect he could have got it down somehow if he had really tried. You see, the station is not at Nuwera Eliya, but at Nanuoya nearly a thousand feet lower down, it takes nearly an hour to drive down or up as the road winds round and round and is of course tremendously steep in some places and on the slope the whole way. I wired to George to know if it would be any good sending the bag on but of course he wired back no, as by the time it got there, he would be coming back and, of course, being so near Horekelly, he could get anything he wanted from the house. I expect he slept there last night with Mr Van Dort.
I expect Mr Brine, the clergyman, will come to visit us as he saw us going into church and asked where we were staying and for how long. He is fairly nice but rather too smug.
By the way, Mr Brown is coming to Ceylon this month to conduct a mission in Colombo. I wonder if I shall see him when we go back. I quite forgot in my last letter to tell you that we say Charlie Antram the day he arrived. He was spending the night with his brother-in-law who had come down to meet him, at the G.O.H. and I spotted him at dinner. I sent a card across to him asking if he had had a good voyage. He looked very mystified at first until he caught sight of me and then he recognised me at once. We had a nice little chat after dinner and he told me scraps of news. He looked very well and not altered a bit. He was only going to spend ten days in Ceylon and was then going on to Assam to learn tea-planting. He had altered his plans of staying in Ceylon as this was a better offer.
George and I have joined the Club here. It combines everything, tennis, croquet, golf, and library and reading room. I have not liked to go alone as I don't know anybody but directly George comes back we shall go. It was rather unfortunate on Saturday. We went to call on the Wickwars, the only people George knows well enough, but Mrs Wickwar was ill in bed and the daughter out, however I expect she will return it and we are sure to see them at the Club.
We have not had much rain so far, only one wet evening. It is the rainy time here really so I hope we are going to be fortunate. It is so funny being so high up, sometimes a cloud comes right along the road when we are out like a wet fog but that is when we are closer to a hill, we don't get them here. We have tea growing all around us, it is not very interesting, just little low bushes, rather like evergreens. Of course it is kept pruned and not allowed to grow high. They pick just the three top leaves to make into tea, the tiny top leaf is the best, that is orange pekoe. When the leaves are picked they are put onto hair clothes with air blowing over them to wither and then after so many days they are sorted out and put into machines to be rolled.
Wednesday. George has not come this morning after all. I had a wire from him to say that he is coming by today's train, so he will be here about five. I expect when he got to Colombo yesterday afternoon, Mr Norman wanted him for something or other and he could not get away in time.
It rained nearly all night last night and thundered but not badly. The thunder is so curious up here because there are so many hills it resounds all around and goes on for such a long time. This is a hilly place. It wouldn't suit you. There is just a plain where the village is and most of the houses and then mountains all around, some of them covered with jungle. I went down to the village this morning and got caught in the rain, at least it was a sort of Scotch mist but very wetting so I had to come back in a rickshaw. With such hilly roads, you have to have one man to pull and one to push. I'm afraid they found me a tough job.
Please thank Amy for sending me the ambulance books, I quite forgot last letter. My tummy is very well now. I do hope you are feeling better. It is so tiresome, we shan't get our mail till tomorrow as it goes to Horekelly first, so I shan't know how you are. Has Jane's trial come off yet because I want to have a paper about it. Give my love to Mrs Grundy when you see her next.
This must go off to the post or it will miss the mail.
lots of love and kisses to everybody, from Mab