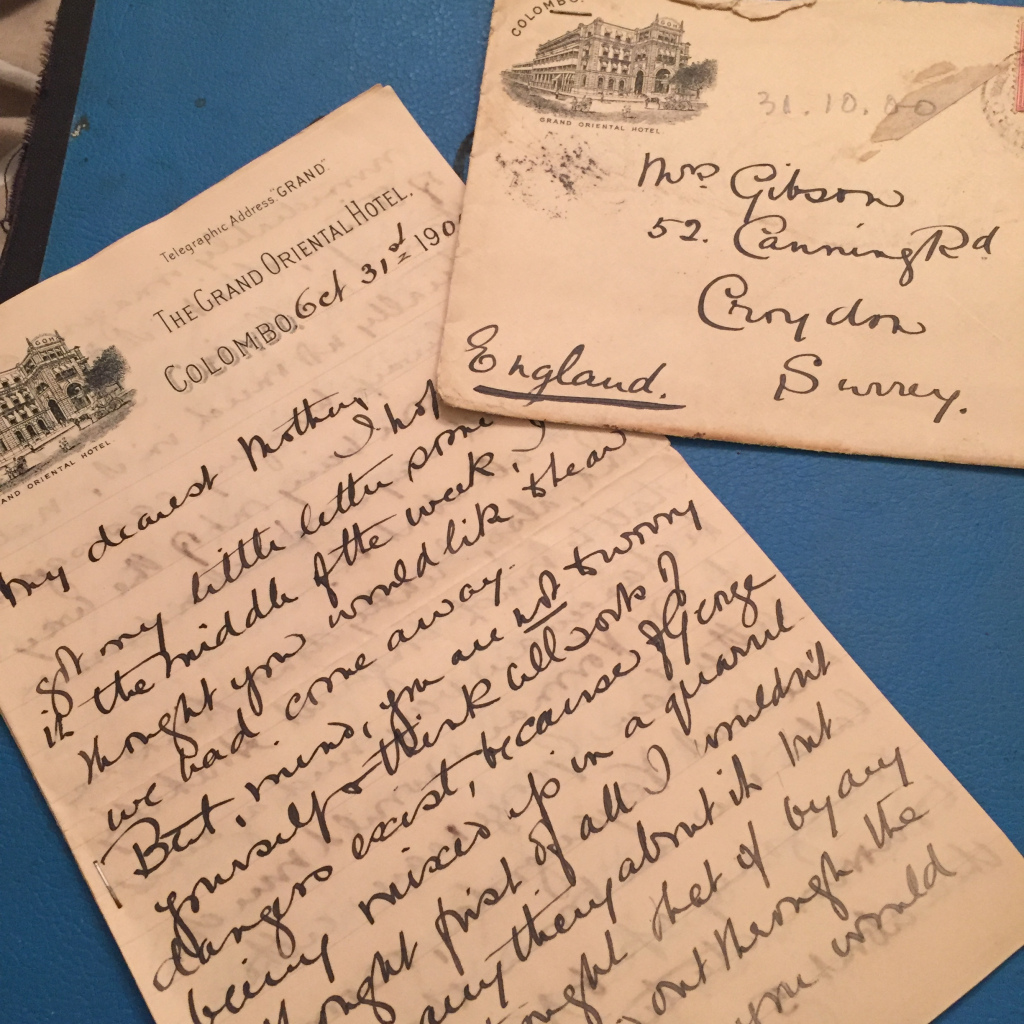 The Grand Oriental Hotel
Colombo
October 31st 1900
My Dearest Mother
I hope you got my little letter some time in the middle of the week. I thought you would like to hear we had come away. But, mind, you are not to worry yourself and to think all sorts of dangers exist, because of George being mixed up in a quarrel. I thought first of all I wouldn't tell you anything about it but then I thought that if by any chance it leaked out through the Bois'* via Lottie, you would immediately imagine all sorts of things, and think it much worse than it really is. There is actually not much in it – natives are always bringing cases against people – and us being out of the way, they will very soon calm down and forget all about it. And, also, I really don't think we shall be much longer at Horekelly, the chances are very much against it. Mr Norman would much rather have George nearer, either here or at Veyangoda, and sooner or later we are bound to be moved.
We are going up to Newera Eliya tomorrow, starting at 7.30 and getting there about 5. It is quite exciting to think of going on a train. The Boy and Solomon go up today with most of the luggage to get everything ready. We have to take all linen and knives and forks and a good many odd things and we are also taking various groceries that we have in stock as they will not have kept till we came back so there is a good deal of luggage. I have not been out much here as George has been at the office nearly all the time and I don't like going out by myself and had not much shopping to do either.
It is quite nice and cool. I am wearing my check skirt and it is not a bit too warm. We have got all our warm things for Newera Eliya as it is very cold there, not much over 60 degrees and down to nearly 40 at night so my flannelette blouses will be very useful and do them a lot of good to be worn again (I have aired them well, also blankets).
Before we came away, we did up our little box for you for Xmas as it would have been too late to leave it till we came back. It is coming as Company's goods, and very likely won't be sent off so you won't get it much too soon. When it does come, it must be opened as there is another box inside addressed to Mrs Gillespy that we want you to send on. Also some little parcels and some coconuts (not packets but whole nuts) for Fairbank. Neither Amy nor Dory are to peep inside the parcels but if the latter takes them they must be packed very carefully underneath their things. No one is to look till Xmas day or I shall be very cross. They are very quaint little offerings, but all home made. I am so sorry that Amy's letter about the things for the 'Chicks' was too late, as of course, I had packed up their things already. I never thought of bangles which was very foolish of me, and I'm afraid they won't like the things I have sent them nearly so well. The little animals are very cheap too and I will send them some later on.
Your new mantle does sound a nice one. I was very glad to hear you had really got it and it was off your mind. I am so sorry though to hear you are still feeling poorly and having neuralgia. You must feed yourself up and take some sort of stimulant or Coca wine** or something. I do hope it is not going to be a cold winter with coats so dear.
Tell Jack I want a pen-wiper*** very badly. The one I have now is only made out of patterns and is very hairy. If he feels extra generous, George also wants one badly for the office.
I have been so silly. I have packed up my last mail's letters in the box the Boy has got and I can't remember if there was anything special to answer.
We are going to tea with Mr Norman this afternoon if it is fine but each day it has started raining about four o'clock.
My tummy is all right now, but I have got indigestion rather badly. I think it is because I haven't taken much exercise lately and it will soon start getting all right when we start going out biking and walking at Newera Eliya. Our bikes are coming to Colombo by boat and may not be here in time for us to take on Thursday, so will have to be sent on afterwards.
Thursday morning, 6.30.
Just off, have been scrambling with the last bit of packing and am very hot. Now we are going to have breakfast and try to get to the station nice and early.
Lots of love and kisses to all
Your very loving daughter, Mab
*George's sister is married to Mr Bois.
** Coca wine was indeed a stimulant, made from the leaves of the coca plant.
*** Pen-wipers were used to remove excess ink from the pen nib.