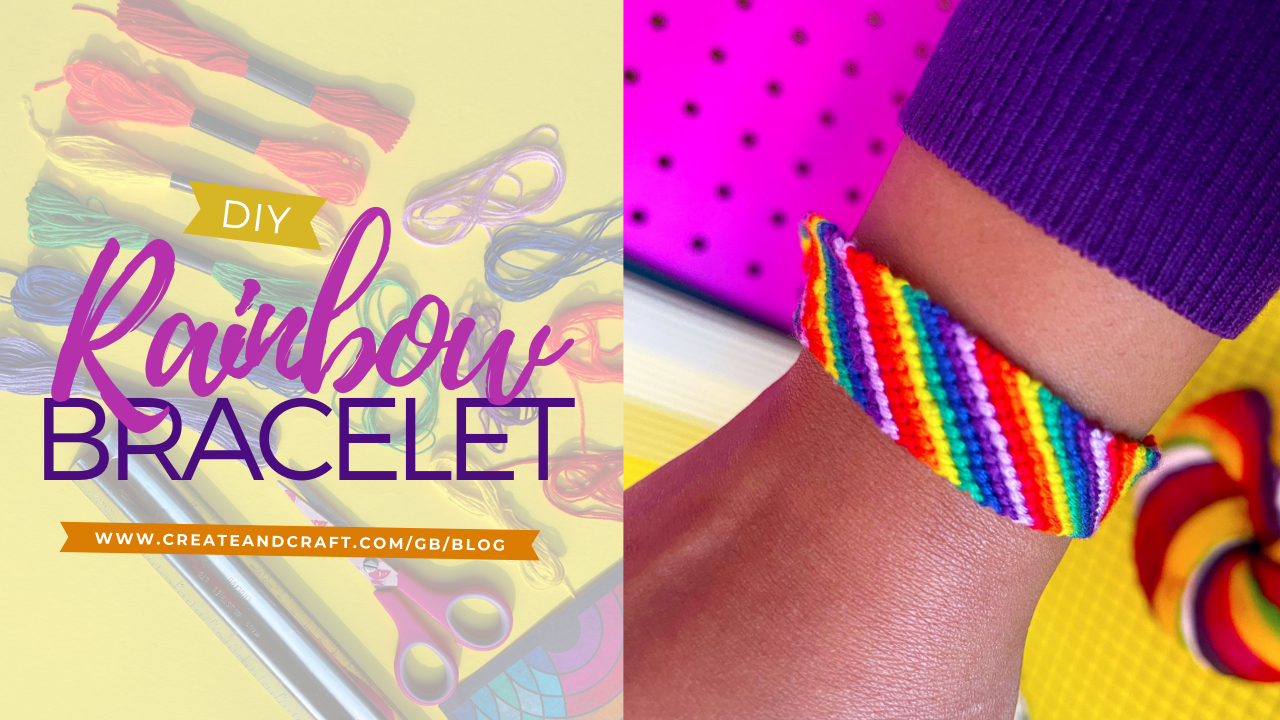 Love is Love! Rainbows are the iconic symbol of the LGBTQ+ community. Show your support and celebrate Pride Month this June, by making a bold and beautiful rainbow friendship bracelet, with our tutorial created by the fabulous Momtaz Begum-Hossain.
You Will Need:
How to Make A Rainbow Friendship Bracelet
Step 1:
Start by cutting 170cm of each colour of floss that you'll be using. This bracelet has seven colours.
Step 2:
Lay out your pieces in rainbow order, fold them in half and tie a loop at the top. Stick this loop down on to a table with washi tape to hold it in place and space out the threads so you can access them easily.
Step 3:
The same knot will be used for the whole bracelet. It's called a forward knot. You'll be doing it two times for each knot.
a: Start by taking the thread at the end, your red thread, and lay it across the second thread, the orange thread, as though you're creating the number 4.
b: Then take that same red thread underneath the orange thread.
c: Push the red thread up and pull the orange thread down so that you create a red knot at the top. This is your first knot. Repeat so that you have two red knots on top of your orange thread.
Step 4:
Just as you did the forward knot over the orange, you now need to do the same for every other colour. So keep repeating until your red thread has reached the end and created knots on every colour.
Step 5:
Now you've mastered one row, do the same for all the other rows. Take one thread at a time, in rainbow colour order and do two forward knots on top of each thread to create rainbow stripes. Keep going until you have enough to go two thirds of the way around your wrist. Children's sizes will need fewer rows than adult wrists.
Step 6:
Split the ends of the threads into four sections, plait them together and knot the ends. To wear your bracelet, position on your wrist, pull the plaits through the loop and tie up.
Looking for more bold and beautiful technicolour crafts created for us by Momtaz? Check out these rainbow-painted pride pebbles!