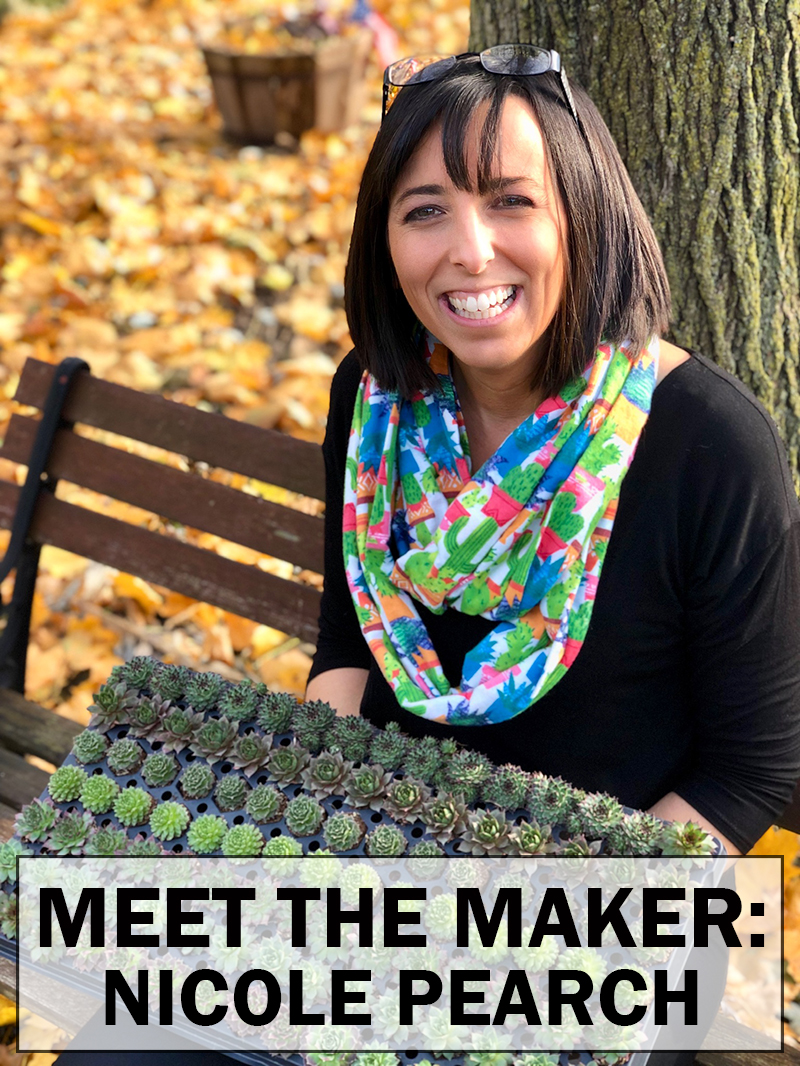 Meet Nicole Pearch, the owner of Party'n With Plants, an Ohio based company that sells themed fairy garden and terrarium kits (that include real dirt and succulents) all over the country. Nicole also hosts special how-to events and workshops all over Ohio.
Introduce us to you.
Hello, I'm Nicole Pearch, the Founder and Owner of Party'n With Plants!
I'm from Sharon Center, Ohio where I live with my 2 kids and husband. I've spent the majority of my life in Ohio but as soon as you meet me you'll notice my accent! I was born in Virginia but have lived all over the world due to my dad being in the Air Force. The early part of my life was spent living in an American base in Saudi Arabia where I was learning Arabic and English in a small school. From there I traveled to Hong Kong, Germany and lived in Egypt.
I started Party'n With Plants in 2016 with the goal of an extra income to pay off my student loans and within 2 years I was able to turn my business into my fulltime job and my dreams came true.
Some of my proud accomplishments are:
Featured on New Day Cleveland three times, 2018 Athena Young Professional Award Receipt of Medina County, featured in Akron Life Magazine as Editors Best, featured on Mom Cave, partnered and recognized as a leader with Etsy Corporate in 2019 to be one of 50 sellers to be part of Etsy U Pilot Program, interviewed by Pinterest Business Community Managers and interviewed and featured in an article by LinkedIn.
How did you get your start as a maker and what do you make?
I've always been a crafter and owned many other small businesses over the last 10 years, but my true maker passion wasn't found until I decided to take my love of miniatures and fairy garden into a business.
At Party'n With Plants, I make Succulent Fairy Garden and Terrarium Kits. I sell our garden kits online so customers all over the US can party with plants. I also host local workshops all over Ohio.
My company is unique as we are one of the only companies that ships out complete Fairy Garden Kits that includes the dirt and real plants, not seeds. Which means all our kits come with everything needed to immediately open and start planting.
Have you always had a creative side or did someone help you find it?
I've always been crafty and an entrepreneur! Starting as a teenager, I would set up at craft shows by myself selling jewelry, hats, and all my little creations through the years. I love starting businesses and dreamed of one day actually starting a business that would be successful. Party'n With Plants was finally the business I was meant to own and even though it took me 20 years to figure that out, all the lessons I learned through the years helped me get where I am today.
Have you turned your passion for creating into your day job?
Yes! I'm very proud of myself being able to quit my full-time job and do what I love, but also humble at the same time to help other entrepreneurs along the way.
Do trends help guide what you're creating? And if so, how do you identify them?
Yes, absolutely. As a business owner you must watch trends, listen to what consumers want, monitor changing buying habits and be open to change or you will not grow.
I watch trend reports posted by Pinterest 100 and from Etsy. They're my biggest source for new and changing trends for upcoming seasons. I also love seeing new products Darice is launching or sharing in their email communication to us customers. Even though, not all the new products fit into my space it's still good to know what consumers are interested in and why.
Lastly, I also watch what my competitors are doing on social media.
What trends are you seeing pop-up right now?
I see a trend of consumers who like items that are able to be personalized.
There also seems to be an increase in craft kit style of businesses growing as parents are looking for ways to keep their kids engaged and off screens!
Who (or what) gets you excited about the work you do?
My customers! I have customers who show up to my workshop wearing cactus themed clothes and that just excites me.
What's one piece of advice you'd share with other makers?
I love encouraging other makers to not be afraid to put yourself out there! Customers want to see who the maker is and their story. It's scary at first but so rewarding and fun when you step outside that comfort zone.
What goal(s) are you working toward?
My goals for 2020 are to continue to grow our ecommerce division of the business by finding new online platforms to sell on. I am also working on growing our network of brand ambassadors as that's had a positive influence on building brand awareness and sales.
What's your creative mantra and why?
I have two mantra's: "You get what you give" and "Drive your Dreams"
I mainly live by "Drive Your Dreams" because even some of my best friends told me by business was a bad idea when I shared my idea for Party'n With Plants.
What's on your studio playlist?
Love this question. My playlist changes between fun music like Pink or Taylor Swift, to calmer music on some days with underground Country Music that isn't mainstream. There's also a lot of days where it's just quiet and I have a post-it note and pen by my work space as some of my best ideas and thoughts come when I'm working and just quietly thinking!
When you're not creating what are you up to?
I'm a mom and love playing Legos or Clue with my kids! We like to pretend we are doing our own Lego Masters challenges at home all the time. I think it's really hard sometimes as a crafter to stop always tinkering around with our crafts and spend time with spouses and kids, so that is a goal for 2020! Being your own boss is hard to recognize that you aren't balancing a work life balance so I'm being more proactive with blocking my schedule appropriately.
Connect with Party'n with Plants on Facebook and Instagram and check out the company blog.
**While all local events are cancelled for the time being due to quarantine mandates, Party'n with Plants' ecommerce business is still running and shipping out kits within 24 hours of your order being placed. Nicole is also hosting special Facebook Live workshops and inspiration on her Facebook page and social media channels.
Makers make the crafting world go 'round. Are you a maker who wants to be featured on Darice? Send us an email at social@darice.com – we're looking forward to meeting you!
Darice was founded in 1954, by Pat Catan, an entrepreneur from humble beginnings who valued hard work and dedication. Today, Darice Inc. is a premier manufacturer and wholesale distributor in the craft industry.