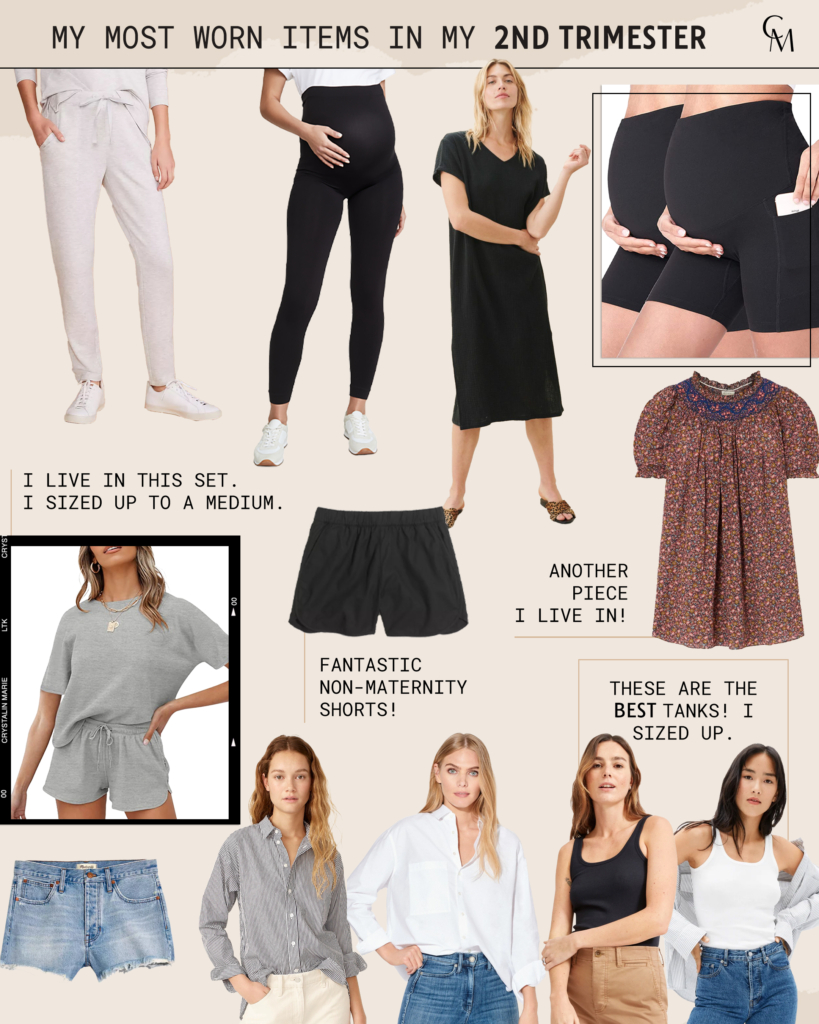 I know my fellow pregnant mamas have been waiting for more pregnancy content from me. Well, it's finally here! I was sort of wearing all my normal things up until the last month or so and I wanted to wait until I had enough feedback to share with you. I popped very early, so I do feel like getting dressed has been a bit of struggle. I've been wearing a lot of the same things and relying on a few basics to get me through the weeks. I recently picked up a handful of pieces that have made the biggest difference, too. Read on for details on my most-worn items in my 2nd trimester.
Jenni Kayne Caftan Dress xs – This is such a great summer basic, pregnant or not. The gauze material is breathable and it lays nicely even as the bump grows. It's also just SO comfortable! The simple silhouette allows you to wear it on it's own and layer it into fall.
J.Crew Button Down Shirt Petite 2 – Button downs have been my go-to piece during this pregnancy. The reviews say this shirt runs oversized, but I ended up sizing up and I love the fit. I like my button downs to be really oversized and the petite 2 fits well. Love this classic navy and white stripe, it elevates any outfit. I also really love that I'll be able to wear this in my 4th trimester and even after.
Madewell Pull On Shorts small – I polled you on Stories asking for non-maternity pull on shorts that are super roomy and these were a top recommendation. And, they don't disappoint. I sized up to a small and I've been living in these. They're so comfortable and flattering. I'm really big on wearing high rise bottoms even during my pregnancy and obviously, only certain bottoms will work for this. All maternity-wear are super low-rise to fit under the bump and I just find it super unflattering. I can't recommend these more!
Doen Dress xs – My most worn item out of the house for sure! I LOVE this dress so much – I need it in all the prints. It's just so comfortable and airy. It feels like pjs. Best thing about it, it's non-maternity so I get to wear it forever, lol. It runs big, so I took my normal size and there's enough room to take me through my entire pregnancy.
Lou & Grey Joggers small – I wore my normal Lou & Grey sweats all the time, so I decided to order them in 2 sizes up. These have been a go-to to lounge around in at home. They're so soft and the waist is pretty forgiving. Not sure how the size small will fit in the 3rd trimester, we'll see, lol.
Madewell Denim Shorts 25 – These have been the biggest surprise and best find in my 2nd trimester. I was desperate for a pair of non-maternity denim shorts and saw that these ran oversized. I decided to size up from my normal size and they fit wonderfully. Most reviews say to size down, so I would say I'm wearing 2 sizes up from what I would normally wear in these. These have saved me, lol. I'm actually hunting down the 26 and 27 so I can continue to wear these into my 3rd trimester – I know it will be hot in LA for a while, so I have plenty of time to wear denim shorts. I can't recommend these enough!
Amazon Lounge Set medium – I'm wearing this set way more than I thought. I sized up to the medium (normally wear the small) and the fit is great! The shorts are so roomy, but they do have a tie waist, so you can make them snug if they're too big or for even the 4th trimester and beyond. Love the waffle texture and pockets. Affordable and great to lounge around in at home.
Ingrid & Isabel leggings size 1 – I'm actually wearing these from my last pregnancy. I did order another pair as I know I'll be living them this fall. These leggings are more like tights, which many reviews say they don't like. I happen to really love them. They're thin and stretchy and super comfy. I don't want to feel restricted, which a lot of leggings do, so these are perfect. They're a bit sheer, but it doesn't bother me, lol. These also fit my petite frame, too, which is always a perk.
AYR Button Down xs – I never was a button down kinda girl, but this pregnancy and this shirt has changed my mind completely. I absolutely LOVE this shirt and wear it a ton. The xs fits oversized, so it will work throughout my entire pregnancy. It's thick and crisp, but not too heavy. It drapes beautifully and has an overall chic look no matter what you pair it with. Hands down, the BEST white button down.
Amazon Biker Shorts small – Been living in these shorts. They're the perfect length on my petite frame, they're affordable, and I've found multiple ways to wear them. You can actually dress up biker shorts, which is kinda of shocking, lol. I got the small and they have fit well up until now.. I think I'll order the medium for my 3rd trimester.
Everlane Rib Tank small – Another one of my favorite finds in my 2nd trimester. I was at a point where I needed to invest in some form-fitting tops (no, I do not own any, lol). I wanted something I could wear in this heat but also use as a base layer. I found these rib tanks from Everlane and absolutely LOVE them. I have both the white and black and they're amazing. I sized up to a small and they fit wonderfully. They're elevated and SO comfortable. Again, I love that I'll be able to wear these in my 4th trimester and beyond.
Turn on your JavaScript to view content