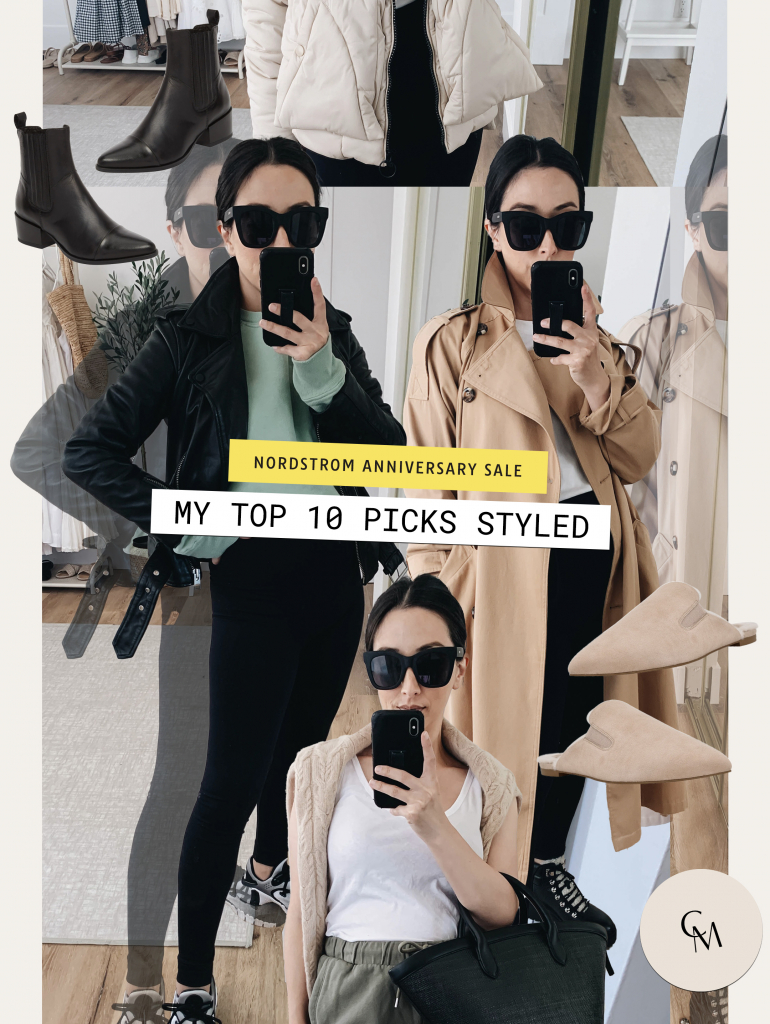 In case you're still shopping the Nordstrom Anniversary Sale, I wanted to share my top 10 products with you. I know the sale can be overwhelming, so if you're looking to narrow it down, these are my top products I ordered and tried on. This has been hands down the best NAS and a lot of these products are still in-stock. If you're favorite item is out of stock, you can always check back after the sale when a lot of returns happen. This is an inside tip if you really have your eyes on something.
1. All Saints Leather Jacket US6 – These leather jackets have been a part of the NAS the past couple of years. And they don't disappoint. What I love so much about these, they're relaxed. A lot of leather jackets are very stiff, the leather doesn't move. This jacket has a very worn-in feel, which makes it so comfortable! It does run really small though. I'm in a US6 and I can easily layer, but I would even consider going up to a US8. The sleeves run long on my 5ft frame, but the zipper detail at the wrist allows you to tuck the extra fabric under. I can't recommend this jacket enough!
2. Eileen Fisher Cardigan xxs – I absolutely love this cardigan! The material is a bit rough, so if you're sensitive, this may be a pass for you. I love the fit and color – perfect for fall! Cardigans are hard to find for petites, but this one is GOOD!
3. Frame sweatpants xs – I can't get enough of these! Just the fact that they work on my frame is everything! I love the olive color, too! The waist runs really big, but for my growing bump, they work perfectly! The xs has lots of room in the waist, but there's pull ties, so you shouldn't have any issues. These are thick, great quality, and soft!
4. Re/done high waist denim 25 – The only other pair of Re/Done jeans I had were pretty stiff. They do a lot of vintage styles, so the denim is stiff without stretch. These are butter soft, but still feel like quality, thick denim. These are like worn-in vintage jeans, if that makes sense. I always size up in Re/Done and would recommend it in this style. The wash is also the perfect light/medium blue. These are in my top 10 NAS purchases, so good!
5. Marc Fisher Faux Fur Lined Mules 5 – Another pleasant surprise! These are way better in-person, btw. The shape is nearly identical to Jenni Kayne and I love the faux fur inside – perfect for fall and winter (in LA). These run TTS and are super comfortable.
6. Vagabond Shoemakers Boot 6 – These are hands down my favorite purchase from the sale. I always looks for the perfect black bootie in the fall and winter and I can officially say, I found them. And they're at such a good price. These are the perfect bootie to wear with straight leg jeans as the shaft is snug and high. I would typically stay away from wearing a higher shaft with skinny jeans or leggings, but these will work with black leggings to skinny jeans. The shaft is snug so it will help keep you pants tucked, too. These have a more everyday vibe versus the Frame boots, if that makes sense. They can handle wear and tear better. The 6 fit me well and they're comfortable.
7. Marc Fisher Lace-up Booties 5.5 – These are very similar to the Marc Fisher Izzie boot that is very popular every winter. However, these don't have a long shaft, which makes them perfect for petite/short legs. I was pleasantly surprised by these! They're amazing – comfortable and not heavy. I went with a 5.5 so I have room for thick socks. Hiking/lug boots are very hard to wear as petites, but these work. These are in my top 10 NAS purchases!
8. La Montelliana Hiking Boot size 6 – Wow, these boots are amazing! Every boot I've tried like this has been uncomfortable or heavy. These are not heavy and so, so comfortable! Pricey, but if you've been on the hunt for a boot like this, snag these! The shearling interior is so cozy and keeps your feet super warm. And they're actually flattering on the legs. Another hiking boot with a low shaft for us petite girls. Definitely go up a size, though.
9. Avec Les Filles Puffer Coat xxs – I can't say enough good things about this puffer. It's the famous Amazon coat, but in a shorter cut. It's also softer, too! I looked all over for cream/nude puffers last winter and there really weren't many options. This one is such a pretty color – if you can snag this in your size, jump on it fast. The xxs fits really well on me with room to layer.
10. Bernardo Puffer Jacket small – I get a Bernardo coat every NAS, mostly just to show you, because I already have like 10. These are my favorite puffer jackets of all time. They're femine, flattering, and perfect for petites. This one might be my favorite of all the coats I own. I sized up to a small size this time not just because of the bump, but because I want to be able to layer. All my other coats from Bernardo are xs and they fit great, they're just more snug and layering isn't as easy.
Turn on your JavaScript to view content