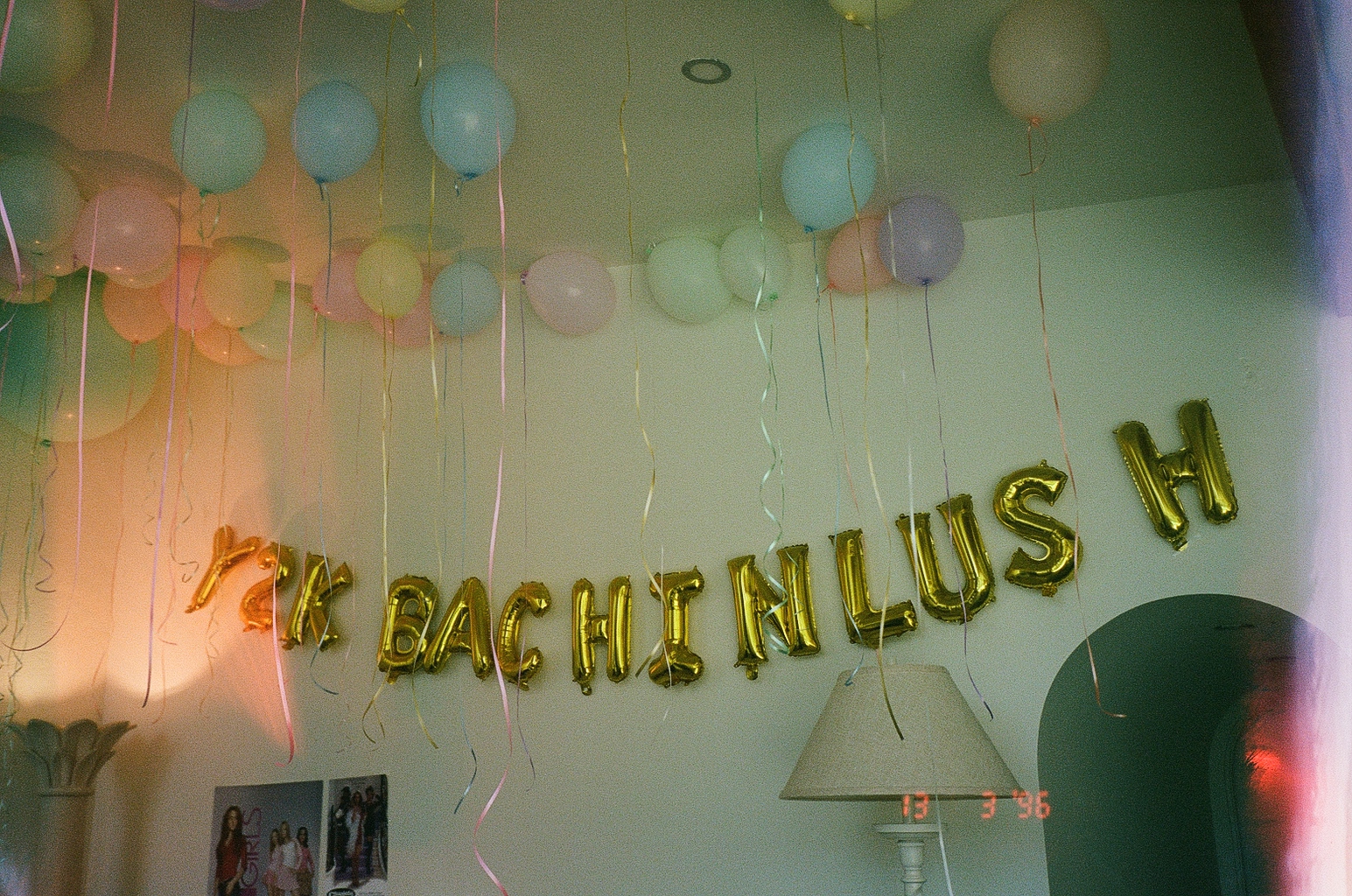 It's been 2 weeks since my Bachelorette weekend, and honestly- I am just feeling fully recovered. Not just because I had a massive hangover for days, but I went into a true post-Bachelorette depression. It's weird for it to be something we worked MONTHS to plan, and then three days and it's all over. Maybe it's prepping me for the fact that everyone says a wedding goes in a blink of an eye- which makes me sad already. GOOD REMINDER: BE IN THE MOMENT.
& in the moment I was, all weekend long during BACHINLUSH. I truly had the best weekend ever, my friends are the most amazing group of women ever, the things they did for me blew my mind, and it will forever be one of my favorite memories. I have been to so many Bachelorettes in my time, it was really cool that it was finally "my turn" & truly- my expectations were beyond exceeded.
I somehow managed to vlog MOST of the weekend, which was really impressive for considering when I start having fun I tend to forget about everything else… but I did a pretty damn good job & I am so glad I can share this epic weekend with all of you guys i this way.
the vibes were honestly immaculate & truly- my friends couldn't have done better when it came to planning the most ME weekend ever. Since I am the MOST nostalgic bitch when it comes to the early 2000's, we went with a y2k theme, & it was the epitome of iconic. 
Breaking down all the details below, as well as our weekend schedule, the "props" we got, and some of the looks I rocked!
♡ pink tulle dress | captain hat with veil♡
♡ details: my mom's airbrush t-shirt (lit with linda, ofc) | micheladas by Lauryn | my mom had life size cutouts made of me- so cute lol | my dreamy ass cakes by Sugar Rabbit Kitchen ♡
♡ wifey necklace | butterfly initial necklace ♡
BACHINLUSH WEEKEND SCHEDULE:
♡ FRIDAY: the girls arrived throughout the day & we all just hung out, got situated, laid by the pool, drank cocktails (arrival drinks for each girl, of course!). My friend Marchelle is an amazing cook so she whipped up the yummiest dinner for everyone & then we went to a private drag show in Palm Springs. It was a real HOOT & yea- this is when the camera turned off. Your girl had one too many blow job (shots)… and it def showed the next day lol.
♡ SATURDAY: the plan for Saturday was a picnic and a Y2K themed sleepover. We woke up, chugged water, and then got straight to the hair of the dog (much needed). Lauryn made the best damn micheladas ever, we ate breakfast by the pool, chilled for a little, & then got ready for the picnic. Picnic Collective came out and set up the CUTEST picnic ever. There was champagne in teacups with little flowers, croissants, cheese plates, fruits, snacks, and more. It was seriously A DREAM little tea party.
My friends also set up the cutest little lingerie tree- which is such a fun idea for a Bachelorette. Everyone bought me lingerie, hung it on the tree (clothesline works too), and then I had to guess who got me what. It was spicy & I got some REAL cute lingerie to choose from for the wedding night & honeymoon ;).
After that- my unofficial MOH, Torrie, surprised me with Mr. Hoodbrush, an airbrush artist. When we first started planning, I had mentioned how cool that would be, and she was "sooo bummed" that she "couldn't find one to come to Palm Springs". BUT SHE DID- and it was so cool. All the girls got a huge t-shirt to have airbrushed (mine said "sk8er boi" lol).
That night, the plan was to bedazzle the velour sweatsuits all the girls got with their goody bags while having a full blown Y2K movie night, butttt I forgot the projector at home & there wasn't a TV in the living room… so we ended up sipping wine, talking, doing personality tests on everyone, & honestly- it was perfect. I haven't had that time with my friends in so long and don't know when or if we will ever have that again. It was low key, and very special to me.
♡ SUNDAY: THE FINAL DAY. More micheladas, a bagel brunch, last minuets by the pool, & said our farewells! On the way out, my college roommate (Leslie) and I braved the heat and went to the Palm Springs Vintage Market before heading home. You know your girl had to squeeze in some vintage shopping while in Palm Springs (best vintage EVER!!).
♡ same dress from Friday night (but took off the hem) | floral head scarf (sold out- similar here) | white sunnies that I found on Amazon for $15 ♡
♡ we got the girls these pink velour sweatsuits & then a rhinestone kit for everyone to customize their suits. Such a cute idea and an essential for the Y2K theme… along with my Versace shield sunglasses (a must) ♡
♡ details: my best friend had this Burn Book custom made on Etsy & then brought an Instax camera so we could all take photos and then fill in a page- like a really fucking cute guest book for the Bachelorette weekend that I will cherish forever, along with the Girl Talk game (such an iconic game! she had to dig on eBay for this bad boy), a magic 8 ball, pixy stix, and fluffy pens (to play M.A.S.H., of course!!) ♡
♡ the cutest picnic set up from The Picnic Collective– they come out and set it all up for you and break it down! Amazing concept, and just so fun for events! ♡
♡ Lauryn coordinated the entire picnic- which was so sweet! Best friends since we were 12 🙂 ♡
♡ the lingerie tree- such a fun idea! loved guessing who everything came from…. until we got to the fluffy handcuffs from my mother ♡
♡ the squad ♡
♡ baby blue bikini from Amazon ($22- shook. I sized up thinking it'd run small, so it'd a tad big on me- but so cute!!) | custom cowboy hat from Happy For Fun ♡
♡ Funboy sherbert lounger float & Funboy floating drink station (filled with Roseade– soo good!) ♡
♡ another really cute Amazon bikini set ($21!!!) with my custom cowboy hat from Happy For Fun & Versace shield sunglasses ♡
♡ custom jelly cake from Sugar Rabbit Kitchen  ♡
K- THAT'S A WRAP ON BACHINLUSH. We all had the most insane time that we decided we have to do a girls trip maybe every 2-5 years. I am sure it won't happen as time goes on (I am tired just thinking about it), but in theory- it's a fabulous idea. K- thanks for joining along. xoxo