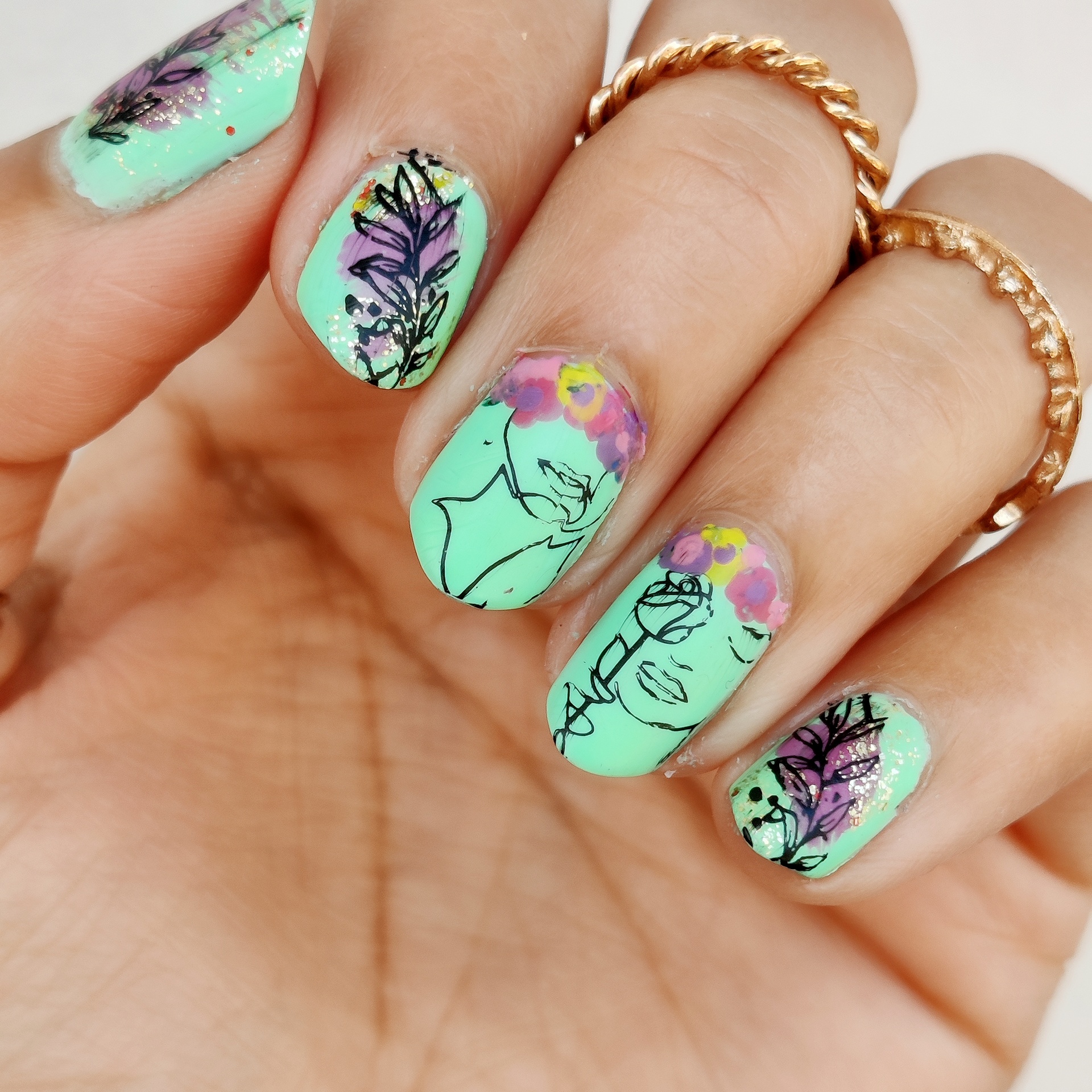 Cute Nature-inspired nails are so apt for around the year. Whether it is summer or winter, spring or monsoon, you can wear these nail art designs and flaunt your nails. I created so many nature-inspired nail art designs on various occasions. Some of them are perfect for winters, some for summers, some have a theme trending or for an occasion. Links to tutorials of all these nail art are also mentioned with them! 
Mother Nature Inspired Nails
Use Line figure stamping plates for creating this nail art. I added flowers on this line figure design using the dotting tool.
Refreshing Leafy Pattern Nail art
If you need something unique and refreshing for your nails in this summer heat, this nail art is perfect. Use pastel shades with a contrast darker shade.
Autumn Fall Inspired Nature Nail Art
Representing the color change of nature and leaves during fall, I created this nail art. I used metallic shades to give it jazz. You can use any shade of your choice, make sure it is a fall color for added effect. 
Spring Nature Inspired nail art
This nail art is a representation of new leaves growing in the spring season. Use delicate soft green shades for this nail art. 
Tricolor Vine Nail Art
Perfect nails for Republic day or Independence day, these tricolor nails will make your nails stand out!
Cute Black and Pink Floral nail art
If you love glitter and elegant black nails, this is perfect for you. It is super simple and anyone can make it. 
Abstract Matte dry flower nail art
This nail art a mix of various shades giving it that unique look. On top of a freehand design I added a dry flower pattern using a stamping plate. 
Delicate floral nail art
Such an easy freehand nail art. Muted colors give it a nice effect while the flowers and leaves pattern on accent nails make it stand out. 
This is the same nail art before making flowers on it. You can either leave it like this or add small dotted flowers on top of these leaves. 
Make sure to subscribe to my youtube channel and Facebook for new nail art tutorials and reviews. I hope you loved these nail art designs and will try them. 
Share your thoughts with me in the comments.
Lots of Love!!!
XOXO