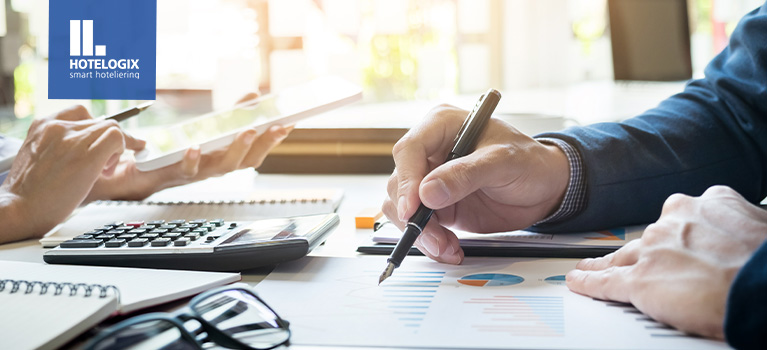 As part of the order of running a hotel, most hotel owners conduct nightly audits on their day's business to ensure that all accounts are reconciled, pending folios generated, revenue collated under various revenue heads, discrepancies in reservations checked, cash counters closed, and reports generated for the following day's activities. While some continue to follow the conventional method and conduct manual audits and employ a night auditor to do the job, others have resorted to the more streamlined way of extracting such financial revenue reports, by switching to Property Management Systems. These complex systems have the ability to uncomplicate for you the task of running an audit every night and produce a wide range of reports within minutes, which could be extremely beneficial for hotel business owners, if utilized well. These could give you an insight about those dimensions of your business that need to be given keen attention. Below, we have listed for you those night audit reports you absolutely must generate to guarantee efficient functioning of your hotel business.
The Night audit reports are generated at the close of a business day. However, we advise to conduct the night audit process around 2:00 AM, the following day, as to ensure all late check-ins/arrivals are checked-in into the PMS, Tariffs are posted to their folio before close of business day, and all running & pending invoice at Restaurants (POS points) are settled and closed.
Transactions Report:
A transactions report is a sort of a journal which consists of a record of all the postings and payments made in a day, in your hotel's reservations, folios etc, to give you a comprehensive picture of the day's activities. Any discrepancies noted are also included to this end. A user can view transactions, by segregating information under heads such as date, transaction type, checked in/out guest status etc. Large properties which make a number of postings all through the day can gain a better understanding of things by filtering transaction types. Such reports also make the job of a night auditor easier as they help them in cross-checking the postings various users have made during the course of a day.
Daily Financial Report:
A financial report is a break-up of a hotel's daily financial figures. It contains information, as per the specific date of reporting, about revenue generated, reservations made and the production forecast for the upcoming 14-day period. It is a cumulative of all the data that one requires to measure performance of a hotel based on ADR, RevPAR or other KPIs. This report would let one into the urgent issues that need handling, such as reasons for loss of revenue, status of production, errors performed by staff etc and help one in preparing for the upcoming weeks.
Adjustments Report:
The hotel adjustments report, as the term says, showcases the transactions that have been made as an adjustment. It lists the rebates and adjustment transactions made all through the day and can be viewed by organizing information using relevant filter headings. A night auditor must review such adjustments because such transactions remove already posted earnings from a hotel's system.
Payment Ledger Report:
A hotel payment ledger report provides an account of the receivables against any reservations which have not made a full payment and allows one to check what amount has in fact been paid. One can then ensure that the payments match the revenue indications. The report also lets a user check reservations by applying filters such as payment type/date or transactions linked with certain payments and even the dates booked for stay. This report is useful for hoteliers since it gives an aggregate picture of the status of payments, which their business should have received on a certain day or month.
Tax Report:
The hotel tax report basically provides you with a gist of the taxes and fees that apply for the current date, month to date, and year to date. Regularly updating the check-in and check-out of reservations is necessary to make sure that all tax related information is entered correctly, since these correspond to the services that have already been rendered.In a glance, this report lets a hotelier know their tax liability for a given date range.
Daily Revenue Report:
A daily revenue report allows a user to see the total consolidated and department wise revenue breakup which is generated during a specific period of time – to the date, month to date or year to date and also clearly states all the sources from which the said revenue has been generated. It is especially useful in understanding which sections of a hotel are underperforming and requires utmost attention to plan strategy and uplift the revenue figures.
Departures Report:
A departure report gives a user complete information about the movement of in-house guests – those scheduled to make an exit the same day and those that would be leaving only by the next day. If a night auditor prepares such a report every night, it would help the staff coming the next day to have a clear knowledge of the status of check-outs; whether there are any guests who did not leave at their scheduled time and also make arrangements for the following day's departures. The front desk, which coordinates with various departments of a hotel, must always know about the number of vacant rooms and those available and open for bookings, so that they can have the cleaning staff prepare the rooms for use. Hoteliers can particularly avoid the risk of overbookings by keeping a check on current occupancy with the help of these reports.
Arrivals Report:
Just like the departures report, the arrivals report gives the morning staff at a hotel a heads-up on the day's expected number of arrivals or for a select period. They can then use this information to see which guests have already been allocated rooms and those who are yet to and ensure that the allocated rooms are prepared and ready for check-in and make other arrangements for guests who have not been assigned rooms yet. In case of no-shows, this report would identify a discrepancy if a guest does not check-in and eventually cancels their reservation. One can then make necessary changes in their Property Management System to maintain accuracy of audits and departure reports. Overbookings can also be prevented with the help of this report, enabling proper logistics planning.
Summary:
Precisely put, a hotel night audit, usually conducted at the end of a day, assesses, and closes the flow of cash into and from a hotel's account and ensures the information rollover from one business day to the next. Therefore, it is crucial for a hotelier who wishes to keep a tab on his/her business's performance to conduct a daily and timely night audit. From tax reports to transaction reports, the list is nearly endless. A Property Management System like Hotelogix brings the ease into this task and generates 100+ reports by following a simple process. Make sure you conduct daily night audits with your hotel software and utilize the many benefits that this kind of information can bring for you.
Hotelogix Editorial Desk:
Hotelogix's team of researchers and writers are constantly innovating to share the latest trends from the travel and hospitality space. Got suggestions? Write to us on editorial@hotelogix.com.
​
​

​