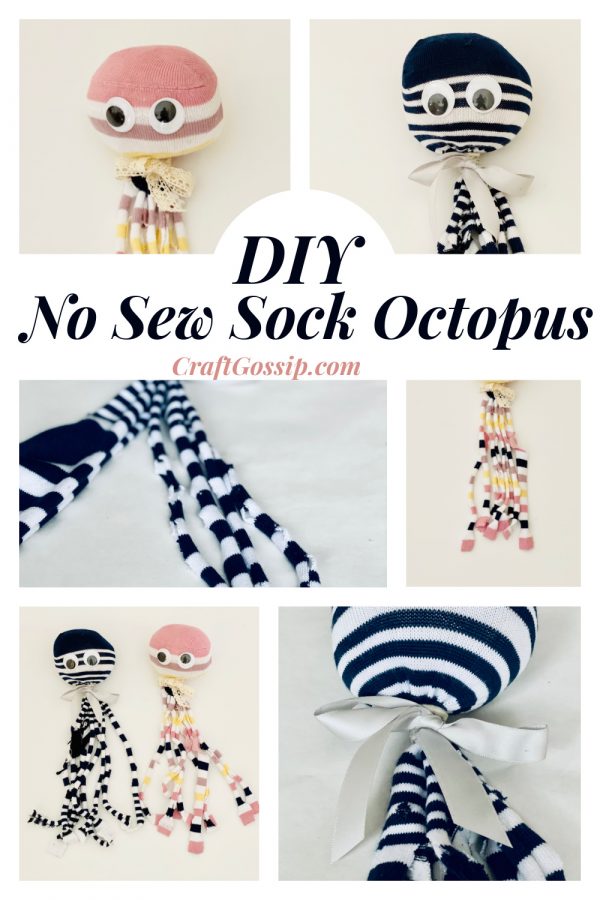 This craft tutorial shows you how to make an octopus without having to sew it. It is made using socks from Dollar Tree.
What you need
2 pairs of striped socks- Dollar Tree
1 bag of rice- Dollar Tree
Scissors for cutting fabric (makes it easier)
2 Ziploc plastic bags (sandwich size)
Hair ties- Dollar Tree (you could use rubber bands if you want) 
Ribbon of choice- mine was from dollar tree
Googly Eyes– Dollar Tree
Instructions
Instructions: These are for if you are making 2 octopus
Fill each Ziploc bag with half of the bag of rice. Zip tight and wrap around itself.
Next put the bag inside of the sock and mold around to form a ball for the head.
Using a hair tie (or rubber band) tight around as many times are you can.
Next using the scissors, cut the sock down the middle so you have halves, then cut the halves in half, then cut them again so you have 8 legs
Using your glue gun glue on the googly eyes
I cut a piece of ribbon about 8 inches long to tie a bow around the neck of the octopus