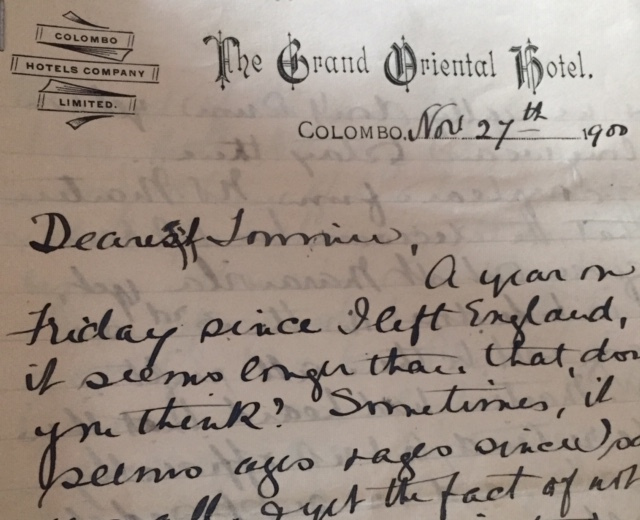 The Grand Oriental Hotel
Colombo
Nov 27th 1900
Dearest Tommie
A year on Friday since I left England. It seems longer than that, don't you think? Sometimes it seems ages and ages since I saw you all, and yet the fact of not having had any winter makes it seem wrong somehow.
We came down from N. Eliya yesterday, very sorry to leave although we ought not to grumble as we have been there a month all but three days, at least, I have. George, of course, missed four days when he went down to Marawila.
We are going to Horekelly on Thursday and we really don't know yet how long we are to stay there. George heard from Mr Martin that the decision has not been given out at Marawila yet. It is to be done on the 3rd so George will be there all right. Mr Martin had heard that it is to be retried but not officially yet and he said he supposed it would come off about the 19th or 20th. That will be running very close to Christmas so we might stay on at Horekelly till after as it would be rather horrid to be in the throes of a move on Xmas day. Mr Harbor leaves Veyangoda on the 12th and as we hear that the house will want a lot of doing up and whitewashing, it would hardly be ready for us before the end of the month.
Poor little Nancy. I am so sorry to hear of her being so ill and do hope she is quite well by now. However did she get it? I suppose she began by having a cold? Barbara has had German measles, hasn't she? Joyce has not had anything? Good little Joyce*.
George thanks you very much for the instalment of 'Hockeys'. He was very glad to get them.
I am sorry to hear that Alice is going. Nasty little beast to give notice just before the winter. I do hope you will get another all right and at any rate be able to make her stay on through December, but it is horrible to think of you again spending your holidays slaving over house-work.
I've forgotten when the Addiscombe dance is. I do hope you will sell all your tickets. Is Dorry going or not? Fancy Mrs D. sending us a cake. It is jolly of her. I hope your cold soon went; it is early to start one in October.
It is thundering something terrific. I must leave off as I am too near the window to be pleasant. Of course George is out. I wish he would come home soon. It is nearly five and I want my tea.
Wednesday
I am cross, cross. Yesterday George saw Mr Maldook and he asked us to go to dinner with them tonight where at I rejoiced at so much dissipation. This morning I had a note from Mrs Stanley Bois asking us to go to dinner this evening and on to a performance of 'San Joy' at the Public Hall, whereat I 'cussed'. It is too bad after such an age of dullness to get two invitations in the same evening and I want to see the Bois so much although at the same time I want to see the Waldocks too as I believe Mrs is very nice. I seem doomed never to see Mrs Stanley Bois as when we called before she was upcountry. Now to make me even crosser we have just had an invitation to a dance given by the Hockey and Football Club, of course George used to belong to it when he lived in Veyangoda. It is on Dec 14th and I don't see how we can possibly come down for it, as in the first place we can't afford it and I don't expect George could get away again so soon. If only we knew someone who could put us up, it would be all right.
Of course we would much rather live in Colombo than Veyangoda which is a beastly dull hole, its only advantage over Horekelly being that it is on a railway and only an hour's journey from Colombo but of course unless the mean skunks raise George's salary we shouldn't care to live here. Of course he has a raise every year but it is only abut R.40 a month which wouldn't mean much in Colombo. George will have a good deal more to do now but he is not to get more in consequence. Oh, dear, no. That is their artfulness. He is to do the work of two men on the salary of one. You see, they had a bad year last year and are on the economical tack. However they have got to pay both Mr Waldock and Mr Harbor six months salary in lieu of notice so perhaps when they have worked that off we may have a look in. One thing, it is rather a good thing to live at Veyangoda and that is it doesn't matter much how we dress, while of course in Colombo we should both have to get a lot of new things. I am not likely to have more than about two people to call on and if I want to come into Colombo for anything, my muslins are always with me. I have worn the creamy one a few times but have never worn my wedding dress.
I do hope you have not been and gone and spent a whole heap on Xmas presents for us, when I think of ours to you and what they cost us, really nothing at all, it makes me feel very mean. Of course George and I expect a present between us, at least you have given George one already, so tell Mother not to be so foolish. I know what an old nuisance she is with regard to presents for people. I don't know what she thinks we expect, but I am quite sure it won't be anything like what we shall get, but all the same I shall be very cross if you have spent a lot between you. I am so glad to hear you are sending us a Xmas pudding. We were so hoping you would but I did not like to ask for it, especially after demanding the cake and I thought perhaps it would be rather a bother and Mother especially as currants etc are very dear this year, aren't they. Of course I like almonds quite as well only did not think of them as we have always used walnuts, and besides I knew they were much dearer. I hope you have not been extravagant over that cake. I am very glad you iced it, even if it does get smashed, it wouldn't seem at all Christmassy if you hadn't. Oh dear, I shall hate Xmas in this beastly climate. Fancy eating Xmas pudding with the thermometer nearly 90 degrees.
Thursday
We were not entirely done yesterday, as when Mrs Bois got my note saying we couldn't dine with them, she wrote again asking us to go to tea instead. She sent the Victoria to meet us and after tea took me for a jolly drive in a dog cart. She drove and we had a very nice time. George stayed with Stanley and went to the Club with him. She brought me back to the hotel and took him back with her. We were rather late. It was past six and we had to start off for the Waldocks again at quarter past seven as they live a good way off, quite half an hour in a rickshaw.
We had a very nice evening, only just ourselves. Mrs Waldock is a very pleasant little woman, quite young, only 24 or 25. He is exactly like Charlie Davis both in face and build, only fairer and not at all shy. They have two boys, one two and a half and the other eighteen months, such jolly little chaps, she took me to see them in bed, in very spread eagle attitudes, the baby with his little nightgown well up under his armpits. I like the Bois too. Stanley is awfully nice, not a bit like Percy, taller and good looking with blue eyes and a very beautiful moustache. But he talks exactly like Percy, it is quite ridiculous. She is very pleasant and chatty. I don't think she is an ideal wife exactly as she is very selfish and shallow but she is very nice on the surface. We did not get back from the Waldocks till past eleven and we simply couldn't do our packing and be up again by six this morning so we are going by the afternoon boat to Negombo and then on by the coach on Friday. It won't make any difference to our bill here and will be so much less tiring. I have never been in the boat before. It is a fussy, flat-bottomed steamer, and of course can't go very fast in the canal, but it will be a change from that beastly coach.
I do hope to hear a good account of Mother next week. If only you can get hold of a decent servant soon. What a trial they are!
Much love and kisses to everybody
from Mab
*I remember meeting Joyce and her sister, Nancy, in a nursing home in Worthing in the 1970s. Can't quite work out their relationship to me. I think they must have been Mab's nieces so I suppose that makes them my first cousins twice removed?