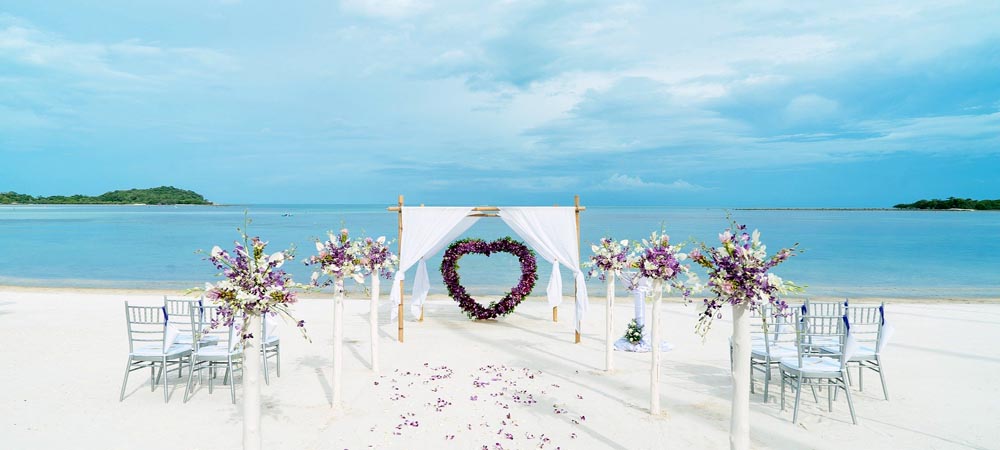 So in 2005, after having gotten engaged to my longtime sweetheart, we discussed the idea of a destination wedding.  Both living in NY with family members in the US and Hong Kong, we toyed with the idea of getting married in Thailand.  It was a dream at the time, but then came true after finding Explorient as our travel experts and trusted partner.  We never imagined that a destination wedding with over 60 guests from all around the globe could be planned in less than 6 months.  Here's how it happened…
I contacted Explorient through a friend's recommendation, who specializes in luxury travel to Asia.  I discussed with them my ideal destination wedding I had in mind along with my budget, and a long list of requirements for our guests. They in turn gave me several options to choose from in terms of hotels, activities and various inclusions. I did my own poking around on the web on each of the options and went with the one that best suited my vision.  Ultimately, we chose Anantara in Koh Samui, an intimate boutique style resort right on beach near the quaint fisherman's village of Bo Phut. We could not have made a better choice! The Anantara was large enough to accommodate all of us yet the intimate setting (beautiful grounds and amazing staff) felt like we chartered the entire resort for our private wedding. Explorient contacted them to begin my wedding plans.  All the negotiations and accommodation details were worked through by Explorient and was seamless to me.  Once our travel plans were finalized, we had our guests work direct with them to accommodate each of their specific needs (flights, bed preference, dietary restrictions, trip extensions, etc. etc.). Explorient did an awesome job and I was so thrilled not to have to deal with all the travel requests of each guest.
As for the actual wedding day details, I was graced with a wonderful wedding planner at Anantara through coordination with Explorient.  We communicated frequently through email for all my requests for the wedding details from the officiant, the cake, the menu, music and down to the details of type of flowers I wanted.  Everything was set weeks before our arrival (photographer, videographer, officiant, etc. were all arranged by our wedding coordinator).  My fiance and I arrived 4 days before the big day to iron out the details (and to start the wedding festivities!).  We finally met our wonderful wedding coordinator (Khun Pei) in person and walked through the details.  She took me to look at flowers and the local flower district, we went to souvenir shops to get supplies for welcome baskets for each the guest rooms.  She helped to negotiate deals for wicker baskets and small trinkets for each.  She was amazing.  Every detail was accounted for – even who will be doing my hair on my wedding day.  Khun Pei personally delivered each welcome basket to each guest room.  It was definitely a nice added touch to have some local and familiar snacks for each guest.  I also added candy, gum, and a welcome brochure to highlight the wedding itinerary, who to contact, optional local excursions.  We planned a welcome dinner for all our guests the day prior to our wedding day at the main restaurant which overlooked the Gulf of Thailand, which was absolutely breathtaking!
On the day of the wedding, it was ridiculously hot and humid (as expected in the middle of May in Thailand!), but they had cold towels, umbrellas and bottled ice water ready for each guest.  Something that hadn't even crossed my mind!  The wedding went off without a hitch! That very evening, we danced the night away with a fantastic band and some of the most amazing food I have ever had. The next few days, we broke off into smaller groups and ventured out and about the island. Explorient did a superb job arranging activities (snorkel trips, trekking, island tours, etc.) tailored to each group's tastes and interests. Some of our guests loved Thailand so much they even stayed in Thailand longer than we did by postponing their return!
All and all, it was the absolute perfect and the most memorable wedding for two of us, our families and friends. We couldn't have asked for more.
For those thinking about a destination wedding, here are some additional tips to consider:
Make sure you communicate often with your wedding coordinator and are comfortable with the level of responsiveness from him/her
Document your questions with detail – a language barrier could be difficult if your questions/concerns/requests are not clear and concise
Ask about ideas to make your guests feel more comfortable and at ease with overseas travel
Ask for discounts/group rates for local excursions for your guests and include a tour
Decided how you want your marriage legalized.  For us, it was easier to have a legal wedding back home prior to our wedding day (but we celebrate our Thailand wedding day).  I think if we wanted our wedding legalized in Thailand, we would have needed to go to Bangkok to the US Embassy to get our marriage document/license and then have the officiant legalize it on the day of the wedding.  For us, it wasn't pertinent that the wedding be legalized in Thailand so we chose not to do that.
Have fun and forget the small stuff.  There are definitely going to be details you forget or didn't go as planned, but don't sweat it…it's not that important compared to the fact that you are marrying the person of your dreams!!