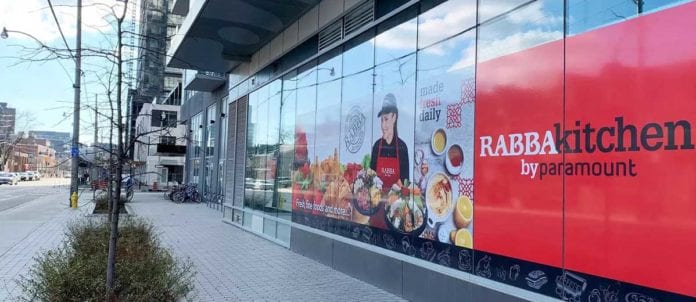 TORONTO — Paramount Fine Foods is partnering with Rabba Fine Foods to launch a shop-in-shop location following the fire at the Erin Mills Paramount Fine Foods location in Mississauga last month.
"While the fire has been devastating, it has reminded us just how supportive our community is — the outpouring of love has been truly overwhelming," says Mohamad Fakih, founder and CEO of Paramount Fine Foods. "While the Erin Mills location is temporarily closed, we remain as committed as ever to serving our Mississauga community. We are motivated to build back stronger than ever, keep moving forward and prove our resilience in this moment of adversity. This partnership with Rabba Fine Foods is a first step in doing that."
First founded in Mississauga, Paramount Fine Foods is dedicated to rebuilding its local status. Open 24/7, the new location will offer Lebanese-inspired meals, such as wraps, to-go boxes and krispo chicken menu items.
"Paramount Fine Foods is always looking for creative ways to reach our loyal customers in the GTA," says Fakih. "Following our Paramount Butcher Shop opening in Rabba Fine Foods earlier this year, we're excited to extend this partnership in offering Mississauga yet another way to access to their favourite Paramount meals."
The first Paramount Shop-in-Shop location opened June 21 in Mississauga, Ont. with two locations across the GTA also set to open.