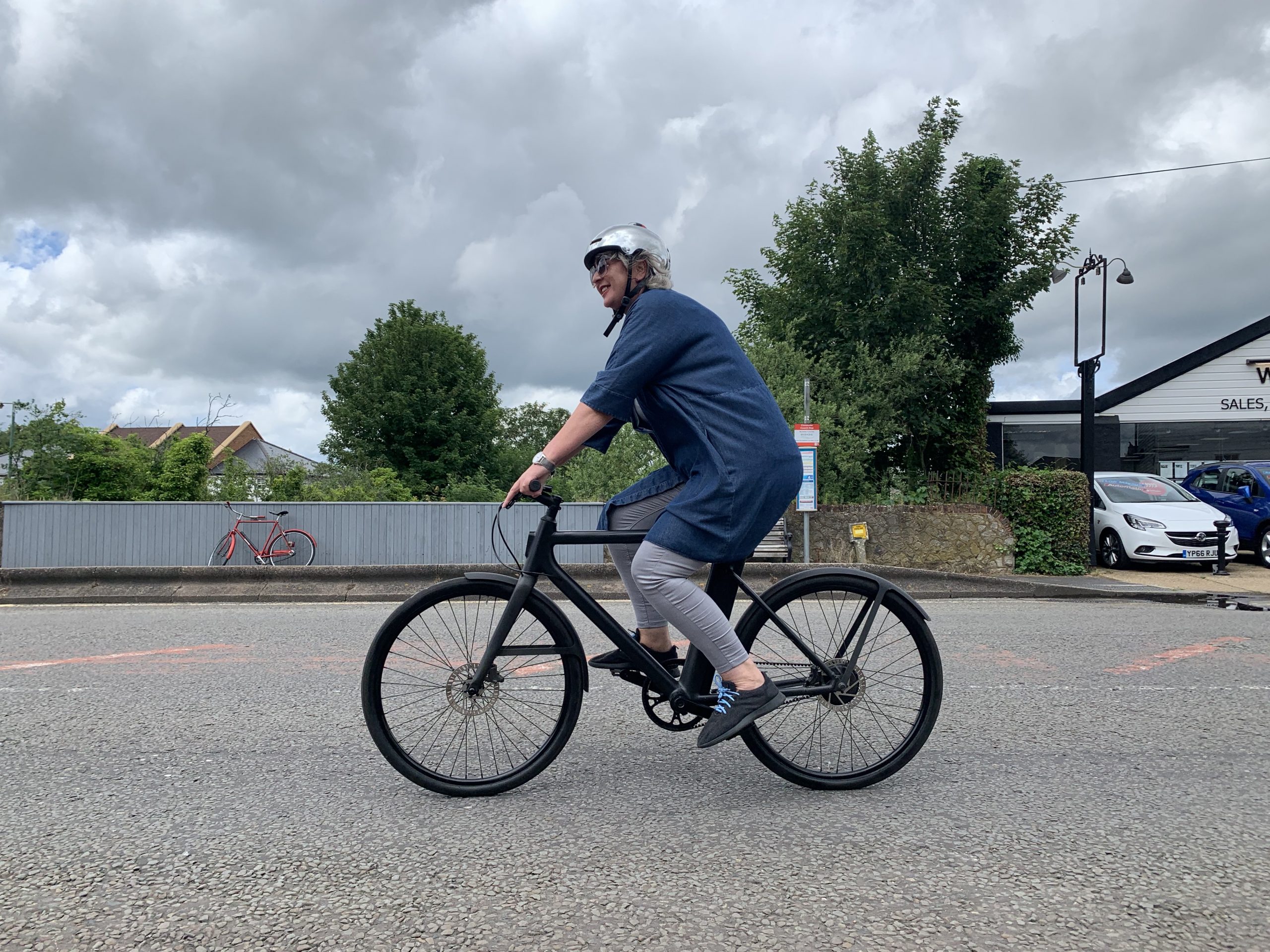 I'm a seasoned cyclist, riding London roads since I was 10 (don't tell my mum), cycling to work when I lived in London, then commuting from the country with a fold-up on the train. But now I'm working from home (WFH) almost all the time. The distances to places I need/want to go are greater than in London. I drive more than I'd like, but I'd rather cycle, so I'm considering an e-bike.
Having chatted to London Bike Show exhibitors, and proprietors of Swedish, Danish and Dutch bike shops – as well as seeing 'normal people' (not 'MAMILS' – Middle-Aged Men In Lycra) zooming up hills or swooping along faster than you'd imagine they could pedal – I knew that e-bikes were growing in popularity. And the stats confirm it: the Bicycle Association, the UK's national bike trade association, reports that since April 2020, over 3.1 million bikes were bought in Great Britain, about 15% more than in any of the last five years, and the e-bike market is set to nearly triple by 2023.
The notion that e-bikes are cheating is wrong. You go nowhere without pedalling. The power is there to assist, not do all the work, and you can't legally go faster than 15mph in the UK. They're ideal for looking smart without getting sweaty, hilly routes, physical restrictions, low fitness, roaming further, or carrying heavy loads.
During the pandemic, the number of people cycling rose. In the first four months, despite fewer people travelling overall, cycling rose by 100% on weekdays, and up to 200% at weekends. People took to two wheels for exercise, to avoid public transport, or because WFH freed up time for making local trips in a more leisurely way. Last year the government launched a Cycling and Walking Plan to create better streets for cycling and people, and enable people to cycle more safely, and a revised Highway Code that improves safety for cyclists, pedestrians and horse-riders is also on its way.
Trying and buying
The first e-bike I tried was London's Lime on-street e-bike sharing. Download the app, search for a bike, assess its range, scan its QR code and you're away, for £1 for initial rental, then 15p per minute. When you've finished, lock the bike and leave it anywhere (within reason). I was impressed by how easily I could accelerate away from traffic lights – uphill.
For a more realistic trial, I borrowed a Cowboy 3 (retail price £1, 690) for the weekend: zipping around central London, riding to a supermarket, visiting a pub in another village – and zooming up a nearby short, sharp hill (1:15, 6%), laughing at how easy it was. (I have done it unpowered, and it is hard.) Again, I felt safer at higher speed in fast-moving traffic, negotiating roundabouts and pulling away from lights. Travelling faster means it's harder to stop, but hydraulic disc brakes slowed me without wrist strain.
Cowboy e-bikes use torque, not gears, to adjust the power supply: push harder on the pedal for more power. They have built-in lights, along with theft and crash/fall detection (motion sensor) and a non-oily carbon belt instead of a chain, so no black-striped ankle. The app has useful features: bike location, turning off the power, and precise trip logging.
Book a test ride, with bike delivered to you, HERE.

Try: Lime in London or Milton Keynes; Hourbike in Lincoln; Citybike in Liverpool; Co-bikes in Exeter and Falmouth, or search for "e-bike hire".
The Cycle 2 Work scheme, where your employer loans you the money to buy a bike (plus kit such as helmet, lights and lock), has abolished its £1,000 cap, bringing e-bikes within reach. And although the idea is to cycle to work, no one stands outside your office checking.
Halfords offers 12 months interest-free credit on e-bikes.
Cycling Weekly magazine has useful buying guides.
Any disadvantages?
Weight: E-bikes can be heavy, weighing up to 26kg – something to consider if you have to heft it up steps, or take it on trains. And if you run out of power, riding home is harder.
Range: maximum range depends on battery size, your weight, hills and speed but can be as much as 80 miles.
Price: e-bikes start at around £1,000, and can reach 10 times higher.
Charging: a full charge takes three-and-a-half to four hours, although it will be 80% after an hour and a half.
Security: e-bikes, and their batteries, are attractive to thieves. Get a heavy-duty lock and keep bikes out of sight, attached to an immovable object or rack in a shed or indoors.
Tempted? Saddle up and try the new version of pedal power…
Adrienne Wyper is a health and lifestyle writer and regular TNMA contributor.