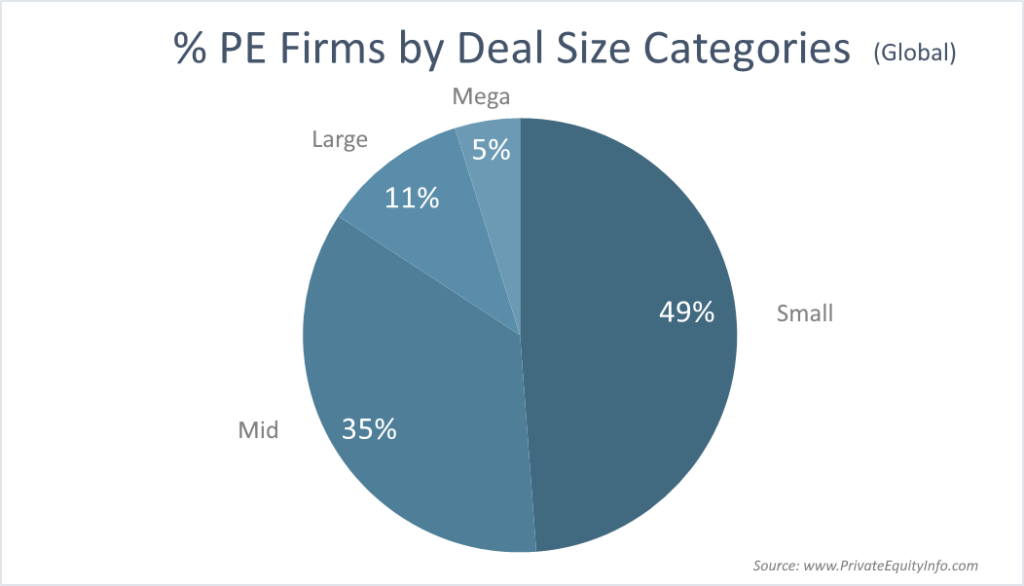 Years ago, we reported on the trend of private equity firms moving down market, closing smaller deals and moving away from the more competitive landscape of the larger deal space.
Previous Related Posts:
To see the effects of this trend now, I grouped the private equity firms from our M&A Research Database into four categories, based on the enterprise value of their typical platform acquisitions (add-on investments excluded).
Size Categories
Small ($0 – $50 million EV)
Mid ($50 – $250 million EV)
Large ($250 – $500 million EV)
Mega ($500+ million)
Interestingly, approximately half of the private equity firms now focus on smaller deals, with an enterprise value range of $0 – $50 million.
Global PE Firms
U.S .Only
The distribution is only slightly different for U.S.-based private equity firms.
About Private Equity Info
www.PrivateEquityInfo.com allows investment bankers to quickly find the right financial buyer for their client's company. For private equity firms, we also track all the investment banks and investment bankers to help PE firms developer their deal flow channels. Contact us to schedule a demo.