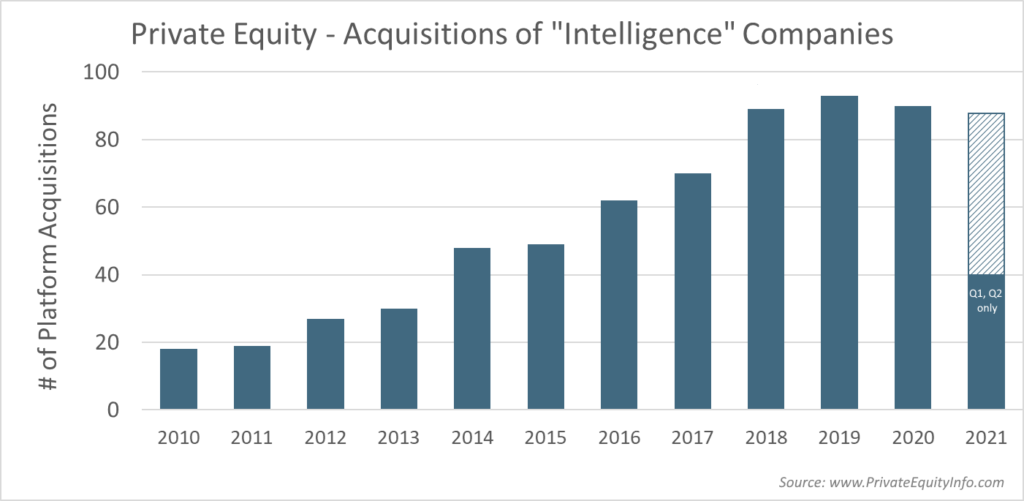 Private equity firms acquired 40 Intelligence companies as platform investments in the first half of 2021 (plus a number of add-on acquisitions).
Although Intelligence companies span a spectrum of applications and end markets, many of the 2021 Intelligence acquisitions group into three categories:
Artificial Intelligence
Business Intelligence
Security / Threat Intelligence
The following sections provide sample transactions for each category.
ARTIFICIAL INTELLIGENCE – SAMPLE TRANSACTIONS
Silver Lake Partners invested in Group 42 (Abu Dhabi, UAE), an artificial intelligence and cloud computing company.
Brighton Park Capital invested in XSOLIS (Nashville, TN, US), an artificial intelligence-based software platform that helps national health systems and payers streamline the utilization management process.
Advent International invested in Shift Technology (Paris, France), a SaaS provider of artificial intelligence (AI)-driven decision automation and optimization solutions for the global insurance industry.
BUSINESS INTELLIGENCE – SAMPLE TRANSACTIONS
TA Associates invested in Appfire (Burlington, MA, US), a provider of software applications for Atlassian developers. The company's portfolio of products include workflow automation, business intelligence, reporting, administration, and testing tools.
TPG invested in Gro Intelligence (New York, NY, US), an AI-powered knowledge company providing decision-making tools, solutions and analytics to the food, agriculture, and climate economies and their participants.
LLR Partners invested in Vehicle Tracking Solutions (VTS) (Commack, NY, US), a technology company helping fleet-driven organizations transform the way they make business decisions. IntelliShift, a division of VTS, provides connected Vehicle, asset, and operational intelligence Solutions through its cloud-based fleet and safety management platform.
SECURITY / THREAT INTELLIGENCE – SAMPLE TRANSACTIONS
Advent International invested in Cyware (New York, NY, US), a provider of threat intelligence and other cybersecurity solutions.
J.F. Lehman & Company invested in Trillium Engineering (Hood River, OR, US), a designer and manufacturer of highly engineered camera gimbals for unmanned aerial systems performing mission-critical intelligence, surveillance, and reconnaissance missions.
Carlyle Group, The invested in Two Six Technologies (Arlington, VA, US), a technology-focused provider to the Intelligence Community, Department of Defense, and other critical U.S. national security customers.
Private Equity Transactions
Watch 1-minute demos on how to quickly find transactions of interest.