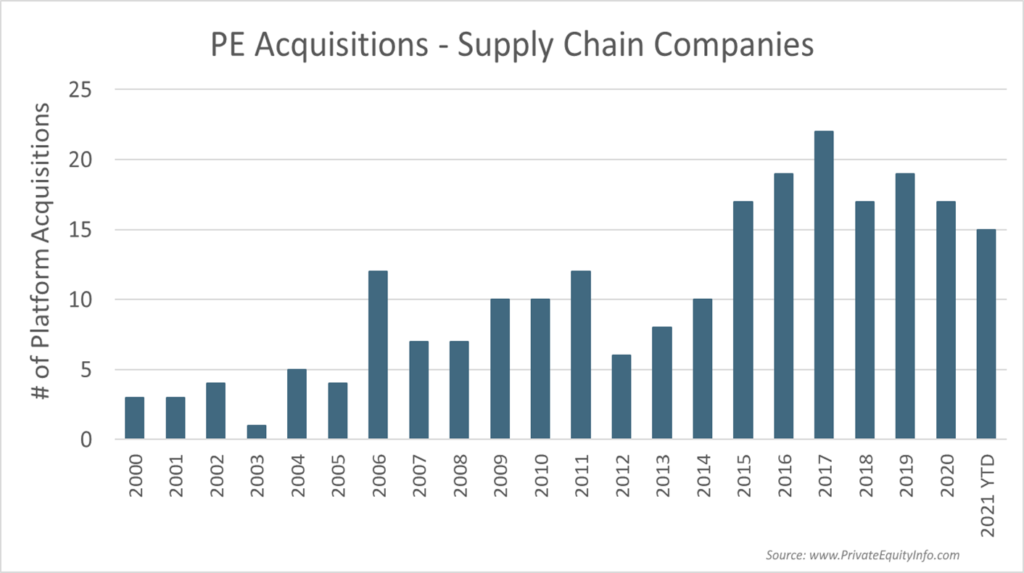 Our Private Equity Info Research Database shows 228 portfolio companies held by private equity firms in the Supply Chain space, with PE firms showing a substantial increased interest in Supply Chain companies in recent years.
The graph below shows the trend of private equity platform investments in Supply Chain companies over the last 20 years.
While Supply Chain Management encompasses a broad spectrum of markets, we noticed some grouping of the Private Equity acquisitions in the Supply Chain space in recent years into these three categories: Retail, Healthcare & Software. The sections below present sample platform transactions in each of these three Supply Chain sectors.
Supply Chain – Retail
April 2019 – Edison Partners invested in Suuchi (North Bergen, NJ, US), a next-generation supply chain platform for fashion brands and retailers.
March 2019 – Novacap invested in GHP Group (Chicago, IL, US), specializes in the development and distribution of seasonal products for major home centers, retailers and online retailers. GHP Group is the partner of choice for sophisticated retailers across North America, solving their logistics, distribution and supply chain needs.
June 2018 – LDC invested in Retail & Asset Solutions (Orpington, Ireland), a provider of supply chain management, stocktaking and merchandising services to the grocery and general retail sector.
Supply Chain – Healthcare
June 2021 – Warburg Pincus invested in Global Healthcare Exchange (Louisville, CO, US), a provider of cloud-based technology and services used for supply chain management by Healthcare providers and suppliers.
March 2021 – Platinum Equity invested in NDC (Nashville, TN, US), a healthcare supply chain company and distributor of consumable healthcare supplies.
April 2019 – Riverside Company, The invested in InVita (Baltimore, MD, US), provides supply chain software solutions to medical environments.
Supply Chain – Software
July 2021 – Plymouth Growth invested in Algo (Troy, MI, US), an innovator in end-to-end supply chain optimization software.
January 2021 – Thompson Street Capital Partners invested in Made4net (Hackensack, NJ, US), a provider of warehouse management system (WMS) and end-to-end supply chain execution software.
December 2020 – Welsh, Carson, Anderson & Stowe invested in TrueCommerce (Cranberry Township, PA, US), a provider of supply chain management software.
Private Equity Transactions
Watch 1-minute demos on how to quickly find transactions of interest in our M&A Research Database.