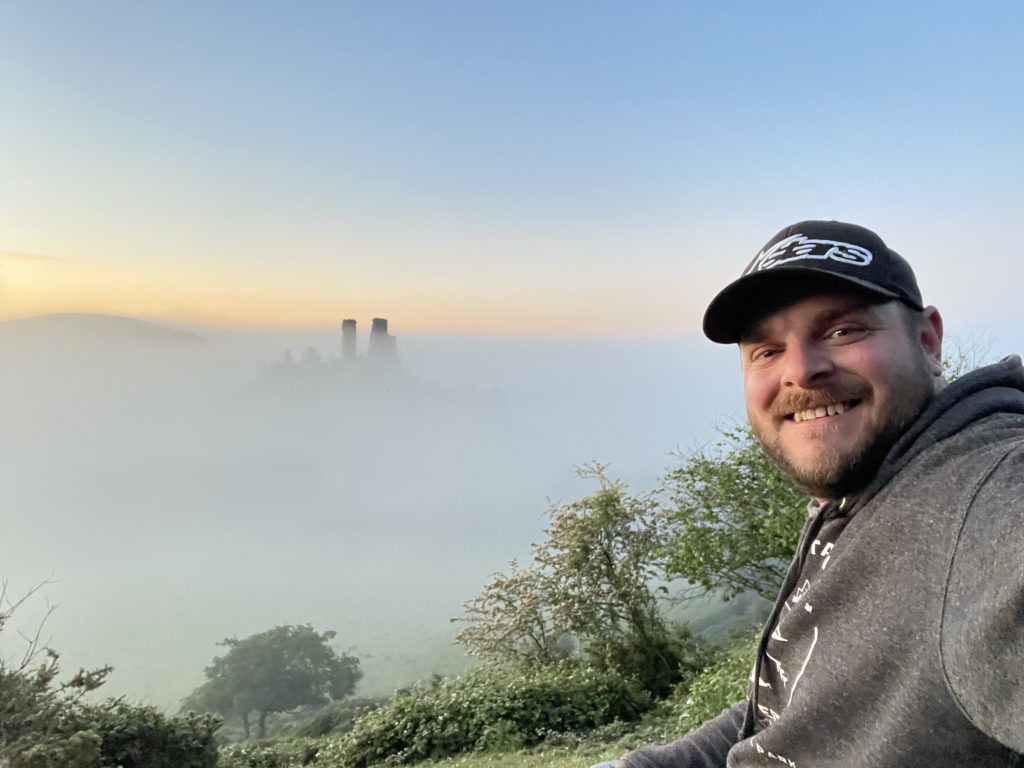 I'm Dave Williams and I'm back, which means it must be #TravelTuesday! Good morning to you all from the sunny UK! This morning I got up at 03:45 to walk up a hill and shoot a castle at sunrise, but this post is not about that. Here's what it's actually about (right after the scene-setting selfie): –
Whilst I was busy doing nothing, sitting on the side of the hill waiting for the light to be right when I heard a little noise from the bush beside me. From inside the bush, out crept two beautiful fox cubs. Sharp as a tack, I was ready with my iPhone camera. I always have my iPhone camera ready when I'm shooting because it's great to have a second camera primed and ready for anything that quickly develops, just like this. In this instance, the photo wasn't going to be 'art', more like proof that a thing happened. I slowly pivoted around to point the iPhone at the fox cubs but they'd spotted me, clearly having been absolutely oblivious to my presence before because I hadn't been moving! Here's what I caught: –
It sucks! The cubs had started to run back into their den by the time I hit the shutter button so all I got was a blur of panicked foxes. Keen to not disturb them and to get my castle shots I remained still and kept half an eye on the rest of the bush waiting to see if they emerge again, still primed and ready, but I wondered whether I'd be able to save the shot I'd gotten. I managed to get a frame with one of the foxes looking right at me, and here's how: –
Because I'd taken the shot with Live Mode active I could check through the sequence of frames that had been captured. We know we're shooting in Live Mode because the symbol on our camera app that resembles a target is yellow. By finding this image in my camera roll and hitting 'Edit' in the top right corner, a range of options opened up to me. The one I was interested in was on the bottom row to the left – that same 'Live Mode' symbol. Here's what we get when we tap it: –
The grey circle is the shot the iPhone has determined will be our 'Key Frame' but by tapping through the frames ourselves we can select the key frame we want instead, which is exactly what I did, resulting in this: –
I now had the frame of the fox cub looking at me, and although it wasn't a great shot it's a good example of what we can use Live Mode for on our iPhone if we think we've messed up a dynamic shot.
Just for some viewing pleasure, here's a shot of the fox cub from my camera this morning as well 🙂
This is one of many features of our iPhone camera that we can take advantage of, and there are plenty more to learn in the upcoming iPhone Photography Conference. I hope to see you there!
Much love
Dave