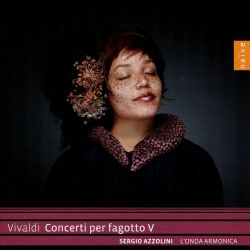 One thing that attracts classical music fans is the way old favorites sound familiar and yet new each time a piece is performed. Among this month's reviews are fresh recordings of Brahms' Symphony No. 2 conducted by
Herbert Blomstedt; Stravinsky's Rite of Spring conducted by
Pablo Heras-Casado, and Sibelius' Violin Concerto played by
Fenella Humphreys. Other pillars of the repertoire visited recently are
Pierrot Lunaire,
Schumann's Piano Quartet, and Mussorgsky's Pictures at an Exhibition in full orchestral color. What's your favorite?
Alamire, Fretwork, David Skinner – Byrd 1588: Psalmes, Sonets & Songs of sadnes and pietie
Louise Alder, Joseph Middleton – Chère Nuit: French Songs
Sergio Azzolini, L'Onda Armonica – Vivaldi: Concerti per Fagotto Vol. 5
Elizabeth Bates, Steven Hrycelak, Clifton Massey, Niels Neubert – Voices in the Wilderness
Mary Bevan, Kitty Whately, Ben Johnson, Ashley Riches – The Harmonious Echo: Songs by Sir Arthur Sullivan
Binchois Consort, Andrew Kirkman – Music for the King of Scots: Inside the Pleasure Palace of James IV
Herbert Blomstedt, Gewandhausorchester Leipzig – Brahms: Symphony No. 2
Ronald Brautigam, Kölner Akademie, Michael Alexander Willens – Carl Maria von Weber: Complete Works for Piano and Orchestra
Zachary Carrettín – Metamorphosis: Bach Cello Suties 1, 2, and 3
Elizabeth Chang- Transformations: Works by Leon Kirchner, Roger Sessions, Arnold Schoenberg
Teodor Currentzis, MusicAeterna – Ludwig van Beethoven: Symphony No. 7
Andrew Davis, Charles Groves, London Philharmonic Orchestra, London Symphony Orchestra – Robert Simpson: Symphony No. 5; Symphony No. 6
Freddie De Tommaso, London Philharmonic Orchestra Renato Balsadonna – Passione
Graham Anthony Devine – British Guitar Music, Vol. 2: Dowland, Britten, Rutter, Scott, Maw
Joyce DiDonato, Yannick Nézet-Séguin – Schubert: Winterreise
James Ehnes – Ysaÿe: Sonatas for Solo Violin
Ensemble Correspondances, Sebastien Dauce – Septem Verba & Membra Jesu Nostri: Buxtehude, Schütz, Dijkman
Isabelle Faust, Orchestre de Paris, Pablo Heras-Casado – Stravinsky: Le Sacre du printemps; Eötvös: "Alhambra" Concerto
Ádám Fischer, Tünde Szabóky, Nadine Weissmann, Düsseldorfer Symphoniker – Mahler: Symphony No. 2
Matthias Goerne, Seong-Jin Cho – Im Abendrot: Wagner, Pfitzner, Strauss
Augustin Hadelich – Bach: Sonatas & Partitas
Fenella Humphreys, BBC National Orchestra of Wales, George Vass – Sibelius: Violin Concerto, Op. 47; Humoresques, Opp. 87 & 89; Nors S. Josephson: Celestial Voyage
Paavo Järvi, Zurich Tonhalle Orchestra – Tchaikovsky: Symphonies Nos. 2 & 4
Patricia Kopatchinskaja – Schoenberg: Pierrot Lunaire
Karl Larson – Scott Wollschleger: Dark Days
Les Arts Florissants, William Christie – N'esperez plus mes yeux: Airs sérieux et à boire, Vol. 3
Albrecht Mayer, Deutsche Kammerphilharmonie Bremen, Vital Julian Frey – Mozart: Works for Oboe and Orchestra
Clyde Mitchell, Northwest Sinfonia – Christopher Tyler Nickel: Symphony No. 2
MultiPiano Ensemble, English Chamber Orchestra – Mozart: The Complete Multipiano Concertos
Ursula Oppens – Fantasy: Oppens Plays Kaminsky
Orsino Ensemble, Pavel Kolesnikov – Belle Epoque: French Music for Wind
Antonio Pappano, London Symphony Orchestra – Vaughan Williams: Symphonies Nos. 4 & 6
Francesco Piemontesi – Bach Nostalghia
Lucile Richardot, Les Cris de Paris, Geoffroy Jourdain – Berio to Sing
François-Xavier Roth, Les Siècles – Beethoven: Symphony No. 3; Méhul: Les Amazones – Overture
François-Xavier Roth, SWR Sinfonieorchester Baden-Baden und Freiburg – Richard Strauss: Complete Tone Poems
Santtu-Matias Rouvali, Philharmonia Orchestra – Prokofiev: Symphony No. 5
Jordi Savall, Pedro Estevan – La Lira d'Esperia
Lan Shui, Singapore Symphony Orchestra – Russian Spectacular: Mussorgsky, Balakirev, Borodin
The Sixteen, Harry Christophers – Good Night, Beloved
Choir of St. John's Cambridge, Andrew Nethsingha- Magnificat 2
Marek Štilec, Czech Chamber Philharmonic Orchestra – Paul Wranitzky: Orchestral Works, Vol. 1
Christian Thielemann, Wiener Philharmoniker – Bruckner 3
Michael Tilson Thomas, San Francisco Symphony – Berg: Violin Concerto; Seven Early Songs; Three Pieces for Orchestra
Trinity College Choir, Cambridge; Stephen Layton – Cecilia McDowall
Trio Wanderer, Christophe Gaugué, Catherine Montier – Robert Schumann: Complete Piano Trios, Quartet & Quintet
Various Artists – Tansy Davies: Nature
Les Vents Français, Eric Le Sage – Hindemith: Wind Sonatas