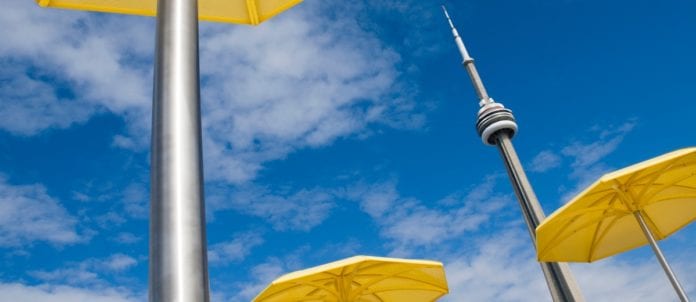 TORONTO — Earlier this month, RendezViews and Collective Arts Brewing announced they would transform one of Toronto's largest patios into a one-of-a-kind art park.
RendezViews opened last year — taking over a parking lot at Richmond Street and John Street — and is a partnership between neighbouring restaurants, The Fifth and The Ballroom.
"I wanted to use the power of art to re-store hope, joy, optimism and vibrancy to the city," says Oliver Geddes, owner, The Fifth.
Hamilton-based Collective Arts Brewing, known for its vibrant designs on its canned, saw the opportunity for a match made in heaven.
"We are thrilled to collaborate with RendezViews this summer.  This is an exciting opportunity to create a space in the heart of downtown Toronto to safely celebrate summer with friends while enjoying incredible art, music, food and drinks," says Matt Johnston, co-Founder and CEO of Collective Arts. 
The two featured artists, Bruno Smoky and Shalak Attack (Clandestinos Art) will have the former parking lot, as well as the adjacent mural at The Ballroom as their canvas.  The 80 picnic tables will also be painted in four distinct colours: bright yellow, pink, green and turquoise. 
"Times have changed and Toronto wants and deserves something that meets the moment — an evolution of a destination Toronto doesn't have but needs right now," says Barry Taylor, director of Operations, The Ballroom.
The patio/art installation will feature a roster of Collective Arts' craft beverages including Life In the Clouds IPA, Dry Gin & Soda with Grapefruit, Lemon & Thyme and Mango & Pineapple Hard Tea.