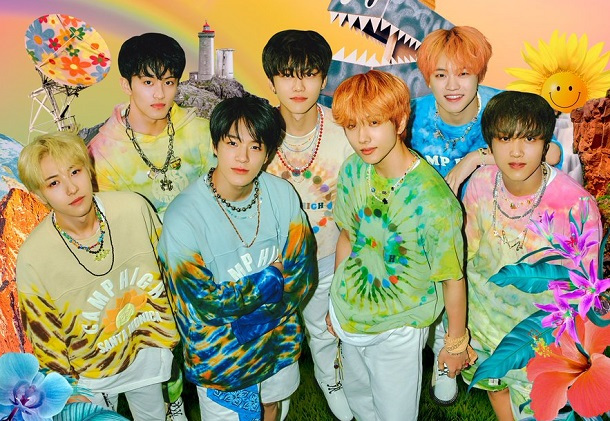 NCT Dream's Hot Sauce had an interesting trajectory for me. On first listen, I was repulsed. That chanted chorus felt like a jackhammer to the skull. Then, something switched, and I found myself bopping along. The instrumental's percussion and guitar became highlights and I was happy to embrace Dream's aural madness. That lasted about a week before the chant regained its divisive power. It's hard to believe this chorus comes from the same group who delivered My First And Last's buoyant hook.
Repackage title track Hello Future might not compete with Dream's absolute best work, but it's a welcome return to form. The hot sauce has cooled down and the boys have embraced another standout chorus. This isn't surprising, given the all-star team behind the track. Longstanding SM composer Kenzie joins with Adrian McKinnon and producer-team-of-the-moment Moonshine. Together, they craft a song that's a little off-kilter but very enticing.
Hello Future will disorient you from the start. There's no real introduction, as the percussion and rap come in together full-force. I like this approach, especially given the gurgling – almost robotic – bass running underneath. It's brash without being obnoxious. But more importantly, Hello Future blossoms into a sunny chorus that brings a welcome shot of melody. This contrast between verses and chorus reminds me of NCT 127's Limitless. If that song played the part of dark, rugged sibling, this one's the happy-go-lucky optimist.
And while Hot Sauce utterly misused Haechan's impressive vocals, Hello Future gives him a chance to shine. A surplus of power notes powers the chorus with an enjoyable sense of lift. If I had it my way, I'd bump up the entire track's tempo to give it even more drive. But, along with SHINee's Atlantis, this is a repackage track that far surpasses its predecessor.
 Hooks
9
 Production
8
 Longevity
9
 Bias
8
 

RATING

8.5